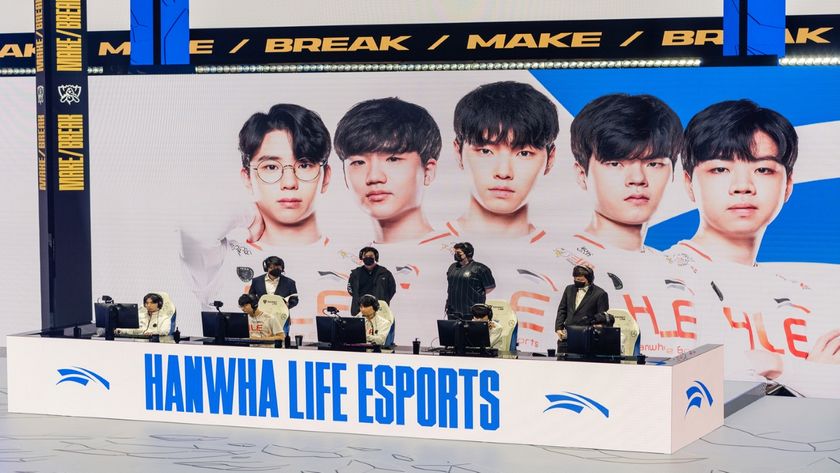 Play-In Day 5: Hanwha Life Esports make quick work of Beyond Gaming
Beyond Gaming are officially out of Worlds 2021 after having to play the final against Hanwha Life Esports without their star mid-laner.
As the dust settles, it is Hanwha Life Esports who pull through to the Group Stage after decimating Beyond Gaming three-zero in the finals. The PCS squad were dealt a heavy blow just hours earlier with their mid-laner, Chien "Maoan" Mao-An being suspended for the rest of Worlds 2021 after being caught in a gambling scandal. Nothing can be taken away from Hanwha though as they thoroughly deserved the victory, taking advantage of the precarious situation Beyond was in.
Just 24 hours beforehand, Beyond were on fire having just come back from two games down to knock out Galatasaray Esports. And then, the news broke and from there, you knew it would take a miracle for them to pull through. Even without an actual mid-lane specialist on standby, the team had to turn to their substitute top-laner, Yu-Ting "PK" Hsieh to play the mid-lane role. And to make it interesting, he had to go up against Jeong "Chovy" Ji-hoon. Fun.
Game One
The first game of the series between Beyond and Hanwha started fairly slowly with both teams sitting back and deciding to farm. However, Beyond was already losing both the top and middle lane after just five minutes with Park "Morgan" Gi-tae and Chovy decimating their opponents in terms of creep score. It went from bad to worse when Beyond gave up the first blood in the bottom but managed to at least secure a kill in return for Chiu "Doggo" Tzu-Chuan. It soon became a bloodbath soon after with both teams trading kills.
Transitioning into the mid-game, it was clear that Hanwha had the better strategy in terms of taking control of the map whilst being able to take objectives. Beyond were struggling to keep up with the farm, especially when they're playing with a stand-in. The only advantage Beyond had during the mid-game was the two Turret advantage, but even that didn't last long. Before too long, the game soon evened itself out with Beyond being able to soak up the pressure from Hanwha over time.
Heading into the late game, a fight soon broke out just outside the Dragon's pit. After a long and arduous battle, it was Hanwha who came out on top, being able to catch Beyond trying to escape and made them pay with four kills to two. Hanwha was finally grouping up to take out the middle Outer Turret of Beyond but found both Doggo and Wu "Kino" Hsin-Jung out of position and went for kills instead. This gave them an easy opening to the Baron, which forced Beyond to contest. But with two men down, it was a do-or-die situation to which Hanwha chose death, taking out two before anyone else from Beyond could respond.
By then, Hanwha had taken a commanding gold lead along with experience, out-levelling on all their core champions. Soon after, the LCK squad were pushing down all three lanes, destroying all the Outer Turrets and most of the Inner Turrets. Unfortunately, Beyond got caught out in the middle lane and Hanwha leapt at the chance of being to end the game then and there. With their backs against the wall, Beyond couldn't do much else but fight to the end and they did so valiantly, losing four and eventually, their base.
Game Two
For only the third time, Hanwha gave HyeokGyu "Deft" Kim Miss Fortune in game two after a solid display in the previous match. He had five kills and nine assists, showing just how potent the champion is in the current meta. Beyond decided it was time to bring out Doggo's Vayne, a champion he is renowned for in the PCS. The second game started differently this time as Beyond managed to secure the first blood for Doggo just two minutes in. Sadly, their lead didn't last very long as Hanwha grew more and more into the game, asserting dominance when necessary.
When we hit the mid-game portion, Hanwha was already slowly pulling away from Beyond in terms of gold and levels. For the most part, it looked like the LCK squad were comfortable in game two, being able to keep Beyond at arm's length and ensuring they have enough space to farm and push. By 20 minutes, Hanwha was already pushing into Beyond's base, wiping out two as well as taking out the Turret and Inhibitor in quick succession.
By the end of the game, Hanwha had accrued 28 kills to Beyond's nine, the highest of the series. They were easily picking off Beyond all over the map, happily trading kills in the process knowing that their pushing power was way too strong at that point. Both Chovy and Jeong-hyeon "Willer" Kim had massive impacts on the game, fishing with nine and 12 kills between them. Try as they might, Beyond just could not unlock Hanwha's defences.
Game Three
In the last and final game of the series, it was Beyond this time who went for the Miss Fortune pick on Doggo who had great success on the champion yesterday during their three-game rout over Galatasaray. For Hanwha, they decided to stick with Willer's Lee Sin once more after his impressive game two performance. And rightfully so as he was rewarded with the first blood on the top lane seven minutes into the game. Unlike games one and two, this featured very little bloodshed as both teams were more content with farming.
But it wasn't too long before Hanwha decided to up the tempo of the game, mowing down Beyond's Turrets with ease as well as throwing in a few kills in the mix. By 18 minutes, Hanwha was already at the front of Beyond's base, pushing both the middle and bottom lane in simultaneously and stretching the defences thin. They managed to secure the bottom Turret before retreating, getting another kill or two, and the Baron for good measure.
Hanwha soon went for the killer blow, pushing the mid and bottom lane once more until all of its structures were down. Another fight soon broke out at the entrance of the base in the bottom lane but Beyond was not farmed enough to take Hanwha head-on. They ended up losing three and soon after, the match.
Group Stage
With that emphatic three-nil victory, Hanwha lands themselves in the Group Stage. Unfortunately for fans of Beyond, their time at Worlds is officially over. The team should leave with their heads held high as they have performed admirably, being able to mount comebacks when push came to shove. Doggo also deserves a special mention for his performance during their run in the tournament, putting the team on his back on multiple occasions.