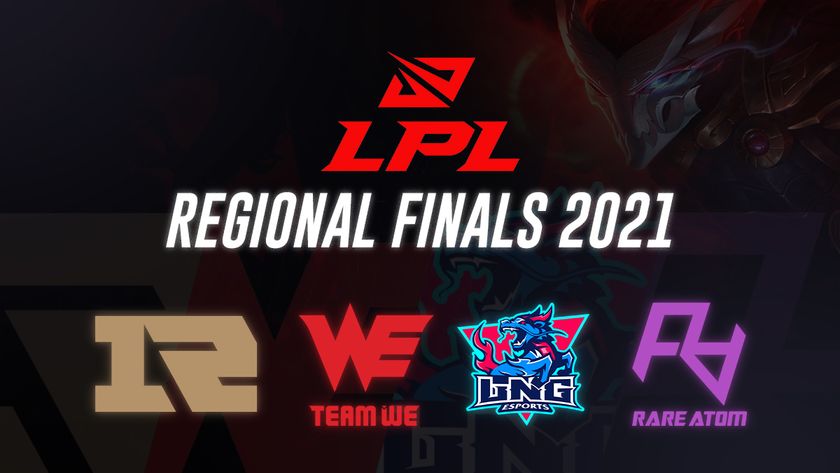 The LPL Regional Finals draws down to just RNG, Team WE, LNG Esports, and Rare Atom
There are just two spots left for the LPL to head to Worlds 2021; who will take it?
The grand final of the LPL Summer Split is about to take place between
FunPlus Phoenix and

EDward Gaming , but of course, you would've already known that with both FPX and EDG being outstanding performers during the season. Placing first and second respectively in the group stage, many predicted that both these teams would be heading to Worlds and true to form, it looks to be that way.
The outcome of this grand final doesn't count for anything in the grand scheme of things; whoever wins will automatically qualify for the group stage portion of Worlds whilst the loser will also qualify due to Championship Points alone. With FPX and EDG placing first and second in the standings, it automatically means that both teams are now a shoo-in to be heading to Europe later this year.
With that said, we'll be putting our focus on the LPL Regional Finals instead. Due to LPL's recent performances (winning MSI 2021 in particular), China was given four slots in total to Worlds. With two already being taken, that leaves only two more to be claimed. This comes in the form of a four-team elimination bracket to determine who will be taking the last two spots.
LPL Regional Finals
Participating Teams

Royal Never Give Up


Team WE


LNG Esports

Rare Atom
These are the next top four teams - in their respective order - that are vying for a spot after FPX and EDG. Both Team WE and LNG would be buoyed by their recent performances during the playoffs as both teams managed to overcome every obstacle thrown at them to make it that far into the bracket. The fact that Team WE were just one series away from the grand finals shows just how close the team came to securing a spot. LNG, on the other hand, had to settle for fourth place after losing out to EDG. Not to mention, both Team WE and LNG were able to dispatch RA and RNG respectively.
Even though RNG had an underwhelming summer overall, their Spring Split results helped pull them through to a third-place on Championship Points, granting them a spot in the upper bracket. This means that they are one best-of-five series away from heading to the group stages at Worlds. However, they're joined by Team WE after garnering enough points to finish fourth overall in the standings.
As for LNG and RA, they will have to go head-to-head for a slot in the lower bracket finals. There, they will face off against the loser of the upper bracket final match. The winner of this best-of-five will go on to feature in the Play-In stage of Worlds and be the region's fourth overall seed.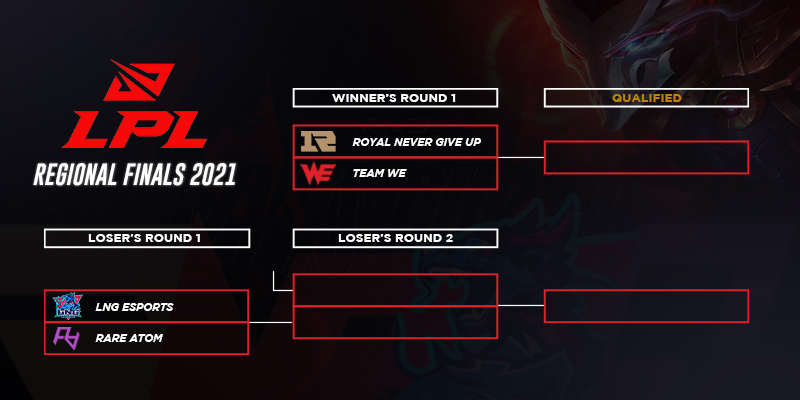 And then there were two
After winning MSI 2021 earlier this year, not many would've expected RNG to perform this badly during the Summer. While they did manage to pick up some steam during the group stages, they never really looked confident enough to go all the way. As for Team WE, they have had a miserable past few years with mediocre performances to show for it. However, this Summer was something different with the team almost having a Cinderella run to Worlds. While they have not been to any international tournaments since 2017, they will be hoping for this year to be different.
LNG is the youngest team on the list with the organisation being around for only two years or so. They have yet to taste any real success so far with the team firmly planted in the middle of the pack. While they do pose a real underdog presence, is it enough for LNG to go all the way? Lastly, there's RA who have always been around, but never more than that. They have always been a mid-to-low table team so to see them fighting for a spot to Worlds is encouraging to say the least. While many will write off their chances against LNG, an upset is in the cards for them given how they've been performing so far this season.
If we're judging based on previous performances alone, RNG might have the upper hand against Team WE, having beaten them 2-1 during the group stages. As for RA, they'll fancy their chances as they've already bested LNG before. But putting those past performances aside, this will be a best-of-five and the team with the higher points will get to choose the side.
For both RNG and Team WE, they each have a possible second chance of heading to Worlds, provided they win the lower bracket finals. Team WE have been knocked out from the lower bracket once already this season, can they break that curse? RNG, on the other hand, will be hoping that they can find the composure and experience to carry them through. As for LNG and RA, it's anyone's guess at this point but our money is on RA to just take it in a tight series.