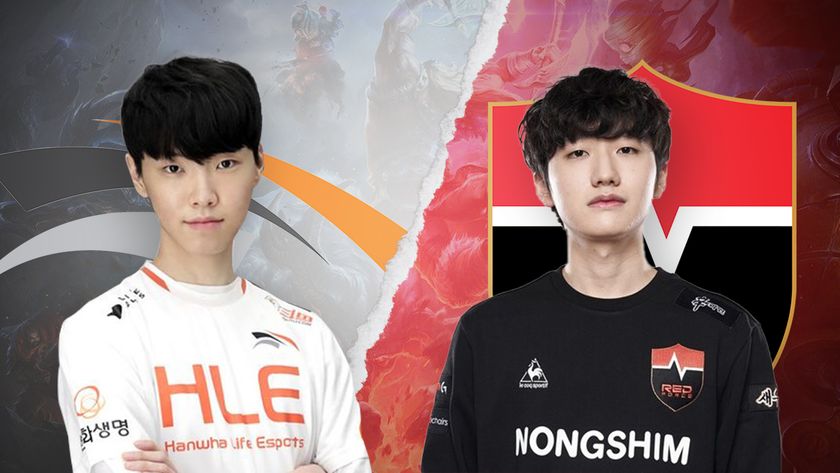 The LCK Regional Finals for Worlds 2021 is drawing to a close
The LCK Regional Finals is heating up as Nongshim RedForce prepare to take on Hanwha Life Esports in a best-of-five that will essentially determine who goes to Worlds.
[UPDATE] HLE takes out NS RedForce in a 3-0 stomp that sees the organisation make it to Worlds for the first time. As for NS RedForce, the loss sees their great run come to an unfortunate end.
---

Nongshim RedForce is preparing to go head-to-head with

Hanwha Life Esports in a best-of-five that could not have been scripted any better. After losing in their last best-of-five meeting during the Spring Split playoffs, NS RedForce has come into the Summer Split in spectacular form. They finished third overall in the group stages and ended up in the semifinals of the playoffs, before losing to the eventual winners,

DWG KIA . As for HLE, they've had a Summer worth forgetting, finishing third from last and not even qualifying for the playoffs. However, they can count their lucky stars to still be in contention due to their Championship Points.
As it stands, the LCK Regional Finals only has three teams remaining with

T1 waiting for the winners in the finals. There, they will play another best-of-five series to determine who will head straight for the group stages to join DWG and

Gen.G or who will have to play additional games in the Play-In stage. T1 has the advantage heading into the regional finals for finishing third-highest in the overall points tally, behind DWG and Gen.G respectively. From there, it also includes NS RedForce, HLE, and

Liiv SANDBOX , who were unfortunately already eliminated yesterday by HLE.
Who will take it?
With T1 all but confirmed a slot for Worlds 2021 already, the last and final slot now comes down to just two teams: NS RedForce or HLE. If history is any indication, HLE has the upper hand in this scenario as they've beaten NS RedForce four out of five times this year. After sending them home during the Spring Split playoffs, HLE also began this Summer season with a 2-1 win over NS RedForce. However, they did lose their last game but if anything, HLE holds a mental advantage over NS RedForce.
The fact that they've beaten them four times this year alone shows how much HLE knows about their opponents. While it remains to be seen if HLE can replicate that some form again, especially in a best-of-five. If the last match were any indication, HLE will have to be on their toes against NS RedForce.
The biggest driving factor that HLE have got going for them is Jeong "Chovy" Ji-hoon , who has always been their standout player whenever they face NS RedForce. His mid-lane plays have been immaculate; his timing and precision have also been on-point, which has been crucial for HLE to get their mid-laner into great shape for the rest of the game. However, don't sleep on their ADC,  HyeokGyu "Deft" Kim as he is capable of pulling off insane plays from next to nothing.
While the cards may be well and truly stacked against them, it doesn't necessarily mean that NS RedForce won't be able to take it. The team has managed to overcome one adversity after another this season by finishing third, their best overall performance so far. Still a relatively young squad, they've got a wealth of talent on their hands as well in the form of Tae Woo "Gori" Kim and Seo "deokdam" Dae-gil . Both players have been in stellar form as of late, but when the going gets tough, it's hard for the players to dig deep and stay focused.
In terms of drafting and overall map positioning, HLE holds a superior advantage over NS RedForce. They have been able to read their movements time and time again, forcing them into making costly errors and taking bad fights in the process. When it comes to Chovy, Deft, and the boys, it seems that things could not have worked out better for them.
The Finals are approaching
With T1 waiting in the wings for the winner, it's anyone's game at this point. At the time of writing, HLE holds a one-nil advantage over NS RedForce in the series. It's essentially a best-of-three for them now as they just need to win two more games to face-off against T1 in the finals.  After a disastrous game one, not many are considering that NS RedForce can take the series.
There are still four more games to be played and I can see NS RedForce taking it to five games. What happens in game five, however, is anyone's guess. It all depends on who gets a good start in the early game by securing the Drake and having greater map control over the opposition.
HLE still does have a lot to show for their work as the only reason they are still in contention for a spot at Worlds is due to their Spring performances. If they do win the series, they will go on to face T1, who they have faced off against on multiple occasions over the years.
Of the 15 games they've played together, T1 holds 10 wins over HLE's five, which will surely be taken into consideration if HLE manages to go that far. As for NS RedForce, they have both faced each other four times with both teams winning two matches each.
We will find out who will face T1 in the finals in a couple of hours. If you're not watching the series between NS RedForce and HLE, you're missing out!