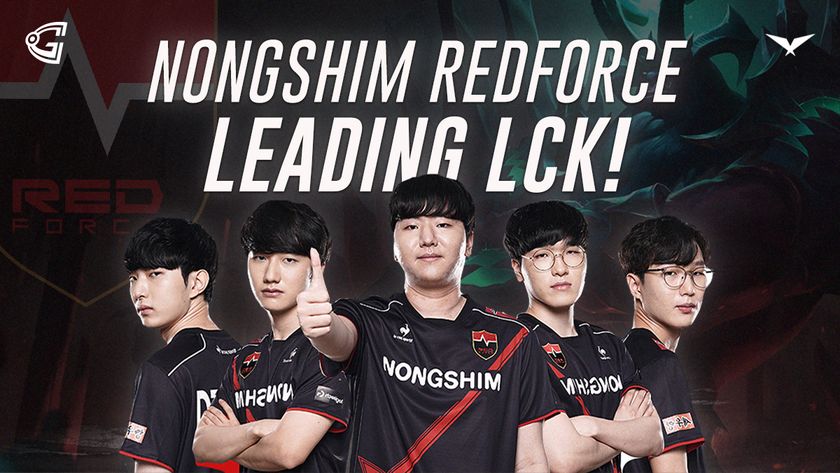 Nongshim RedForce leads the charge in the LCK Summer Split
Nongshim RedForce has quite literally been a force to be reckoned with.
Not many could've predicted that with just three weeks left in the LCK Summer Split, it would be

Nongshim RedForce sitting comfortably at the top. They've been able to take out some pretty strong teams as well whilst also dropping games against some unlikely opponents. All in all, it's been an eventful Summer Split for the young squad.
Out of the 13 games that they have played so far, NS RedForce has won 10. This also includes doing the double against arguably South Korea's top team,

DWG KIA . This happened in a space of two weeks where NS RedForce came out on top twice, winning 2-1 both times. Of course, this is huge news seeing as DWG.KIA is one of the top teams in the world at the moment.
In-between taking down South Korea's top-seeded team, NS RedForce were also able to take down one of the most prolific teams in LoL history,

T1 . While T1 has been underperforming over the past couple of years, they are still a feared them, largely due to Sang-hyeok "Faker " Lee . But NS RedForce has kept their heads down, worked hard, and came out on top twice.
Nongshim RedForce - a potential dark horse?
Having gone unbeaten in their last six games, all the momentum is currently with NS RedForce. This is far from how the team performed during the Spring Split, where they only managed seven wins and 11 losses in the group stage. To make matters worse, they got knocked out in the first round of the playoffs against

Hanwha Life Esports .
But this time, they have totally flipped the script and come out guns blazing.
One of the reasons for this could be their acquisition of Tae Woo "Gori" Kim , formerly of

EDward Gaming during the off-season. Ever since his arrival, he has been the standout performer in the LCK Summer Split, taking home nine MVP titles from their 13 games.
Ever since switching from China back to his homeland, Gori has stood out for NS RedForce in the mid lane. This comes amidst a host of mid lane stars that are currently plying their trade in the LCK region, like Faker and Heo "ShowMaker" Su .
The former T1 and EDward Gaming mid-laner has proven that he is a force to look out for, proving the doubters wrong once more. He's only played 34 matches so far, winning 22 in the process. He's also played 14 different champions so far whilst showing great superiority in three in particular: Sett, Ryze, and Akali. So far, he's not lost when playing any of these three heroes.
Aside from Gori, both of NS RedForce's jungler and bot-laner, Wang-Ho "Peanut" Han and Seo "deokdam" Dae-gil have stepped up to the plate, putting in key performances during the team's route to first place. They were both instrumental in NS RedForce's two-nil win against T1, closing out the two-game series with them after winning the first series a couple of weeks earlier. Lee "Rich" Jae-won also deserves a special mention for his clutch performances on Lee Sin versus DWG.KIA during their series in week four.
What next?
NS RedForce only has five games remaining with their fates firmly in their hands. They go into week eight knowing that two wins from two will all but seal their slot for the top seed heading into playoffs. However, there are a few obstacles in their way, mainly

Liiv SANDBOX . They have been on a hot streak at the moment, winning their last three in a row. But what makes for a more compelling read is their last two victories, which game against both

Gen.G and T1.
NS RedForce should be cautious of the mid-table team as they will be out to cause an upset while building on their winning streak. Pundits and fans alike are looking forward to the match, slated to start on June 30, 4.00 pm GMT+8. If they're able to overcome that, they will also have a date with Gen.G on their last game of the group stages on the very last day.
If all goes well, they will have a chance to move ahead of the pack and book themselves a slot in the semifinals of the playoffs. This gives them an extra day to survey their potential enemies who are playing in the quarterfinals. As it stands, that will be between Liiv SANDBOX and T1, which should turn out to be quite a saucy encounter.