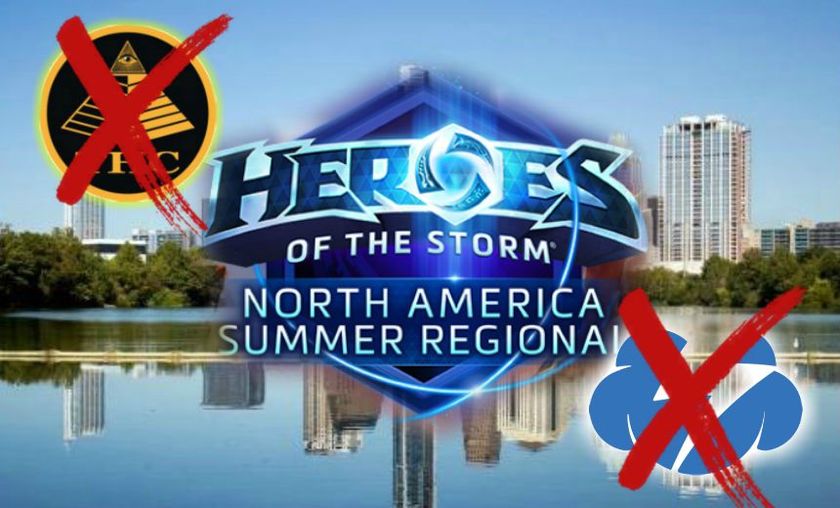 Titans fall, and dark horses rise after Day 1 at DreamHack: Austin
DreamHack: Austin Coverage Hub
The days of certainty are long gone. New blood is rising in the ranks threatening the typical kings of North American Heroes of the Storm.
The first day of DreamHack: Austin for the first North American Summer Regional was quite lengthy Friday, but definitely worth it.
Group A play was fairly typical with a few curve balls thrown in. The talk of the group and usually the match everyone looks forward to was yet another Cloud9/Naventic face-off. This was the fifth time the teams have met, with their rivalry tied at 2-2.

While first seeing the result that Cloud9 took the match 2-0 it didn't come without some good ol' cheese picks thrown in. Both teams made HUGE statements in game one, Cloud9 taking Rexxar last pick with a Malfurion/Tyrande double support backup, followed by a counter Azmodan pick on Naventic. 
The Azmo pick didn't fare them well, however, dropping the first map to Cloud9. Going into game two, drafts on both sides were just too close to predict a victor: 


Bans
* This player was a stand-in for this match
Game two was certainly a classic North American rival game. The consistent back and forth between the two giants, we never really knew what to expect next. On a map like Towers of Doom where team fights are completely unavoidable, Cloud9 was simply able to utlitize team work and positioning better than Naventic and took the series. 
Naventic is not out yet, they will play Panda Global in the lower bracket finals and Grand Finals could definitely become a C9 v. Naventic game (again). However Panda Global, with there brand new roster (basically ex-Team Blaze), being able to take game 1 off of Naventic in the first round shows they could have what it takes to contest that.


Upper Bracket
Round 1 - Best of 3
Round 2 - Best of 3
Lower Bracket
Round 1 - Best of 3
Round 2 - Best of 3
Group B was one of the most exciting groups of the day, especially with the anticipation during the 90 minute technical delay.
Tempo Storm
and
Astral Authority
(Gust or Bust) met first and while Tempo thought hey were pulling out smart tricks with a Lili/Brightwing combo in game one, Astral Authority shut it down hard with
KilluZiion
's ETC and
Equinox
's Illidan.
The draft for game two truly got the hype going with KilluZioN back on ETC and Equinox on his classic Kerrigan, which we haven't seen for some time now.
Bans
* This player was a stand-in for this match
The beginning was scary though, with two easy quick kills coming at the hands of Tempo Storm barely a minute into the game. Equinox had a slow start on Kerrigan, but the team was able to keep up momentum and experience and get the first gem turn in.
While the level leads uncertain, AA made a risky move going for the boss with the death timers on Tempo dwindling down. You can see TS head that way as they knew it was coming and was considering attempting the boss steal with, but Falstad's Gust was definitely a Bust in this case, coming in too late and merely pushing AA into the wall, only delaying the inevitable.

Tempo Storm fell to the lower bracket and lost 2-0 to COGnitive. Not only is this the first LAN that Tempo Storm hasn't won ONE map, but the first major tournament that Cloud9, Tempo Storm, and COGnitive have not all been in the top four together.
Despite taking the Tempo Storm win. Astral Authority isn't immortal, going into game 3 tieing it up against Gale Force eSports redemption was on the line. GFE had a cheeky Kerrigan pick and an obvious Falstad pick, as is roflcopters strongest and most popular hero. Experience was fairly equal until Gale Force passed level 13, after that AA had no hope for contention. GFE had a full core push with a mortar punisher, but Astral's defense via Li-Ming and ETC was JUST enough to push them back off of their 71% core and get two solid kills in, denying GFE level 20.
After regrouping and taking down two AA Heroes, GFE pulled out a hail mary rushing straight to the core. Death timers were not on their side with AA all rising back and completely wiping Gale Force with their core left at 18%. The comeback was too little too late though, with all of GFE's towers being up, AA didn't have the time to push even one lane far enough to take the win. A lengthy back and forth team fight ended in a wipe AA and GFE immediately took the core and the series.
Upper Bracket
Round 1 - Best of 3
Round 2 - Best of 3
Lower Bracket
Round 1 - Best of 3
Round 2 - Best of 3
TNC and Tempo Storm are the only teams completely out now, and with the double elimination format, anything could happen.
Matches get started back up Saturday 11:15 CST and by the end of the day a new champion will be crowned and guaranteeing them a position at the Global Summer Championship at DreamHack: Summer in Sweden.
Follow us on Twitter @GosugamersHotS for more Heroes of the Storm esports news.