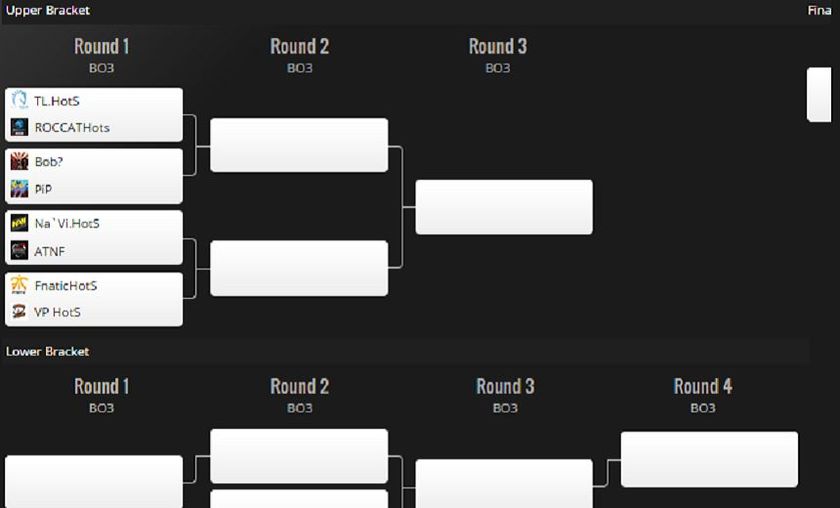 Enter the Storm Cup #3 playoff brackets revealed

Team Liquid vs. ROCCAT will start the bracket on September 11th, at 16:00 CEST, paving the way for a weekend filled entirely with pro EU Heroes.
Coverage hub • Official website
After nine grueling qualifiers and fantastic group stage play, Enter the Storm 3 is on the final stretch. Eight teams have made it to the playoffs bracket and the pairings have been drawn.
Upper Bracket
Round 2 - Best of 3
Round 3 - Best of 3
Lower Bracket
Final
Team Liquid and ROCCAT will open the competition on Friday, September 11th. Although Liquid are still considered the kings of Europe, their aura of immunity was shaken recently as they finished fourth at MGA and lost in the first round of the Stormgrounds Invitational, dropping 0-2 to Bob?. The teams have met each other twice already at the ZOTAC June finals and DreamHack Valencia and both series went 2-0 to Liquid. Can he panther rake the horse remains to be seen.
Speaking of Bob, this up and coming roster is one to look out for this weekend. Captained by former Gamers2 carry player Adrian "adrd" Wojcik and known for their wide variety of strategies, the European crew is up to 84% win-rate in the past two months, boasting wins over VP, Team Liquid, Fnatic and Gamers2. Bob's first match in the playoffs will be against Pirates in Pyjamas, a team they've already met and defeated four times, most recently in the European Road to Blizzcon.
Na`Vi against Alternate Fancy could be another tense quarter final. Fancy got a tough draw in the group stage, sharing a pool with Team Liquid, and here they are again, battling the other European juggernaut, currently ranked #2 in the region. Although nothing is ever certain in high-stakes heroes, Fancy are the clear underdogs – although they've shown dominant performance against the rising teams in Europe, they have consistently struggled when paired against the leaders of the old continent, and Na`Vi is definitely one of those.
Finally, Fnatic is meeting Virtus.Pro in the fourth quarter final. The two teams are neck and neck in the rankings and are struggling with their fluctuating records. Virtus.Pro swept Group D of Enter the Storm, steamrolling through qualifier ranking leaders MYM, while Fnatic survived the group of death, finishing second behind Bob and eliminating ETS #2 runner-ups Gamers2 in unexpected turn of events. Both players are also slated to play in the Blizzcon EU regionals and this will be a mock battle between them. A mock battle with so much on the line!

The teams are competing for a $10,000? cash prize pool and state of the art PC's and accessories provided by Alienware and ROCCAT. You won't want to miss the conclusion of this tournament; it's been a long time coming.
Follow us@gosugamersHotS for more eSports news.
---

More on GosuGamers Heroes of the Storm: