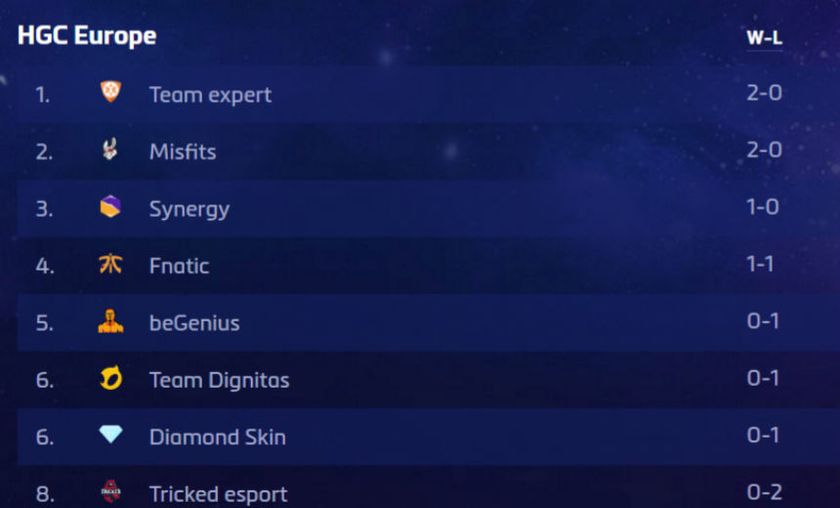 HGC 2017 EU Power Rankings End of Week 1 Edition
How do the teams in HGC 2017 Europe stack up going into Week 2?
My Rankings going into Week 1:
Fnatic
Misfits
Team Dignitas
Team expert
Tricked eSport
Diamond Skin
BeGenius ESC
Synergy
MY Post-Week 1 Power Rankings
1. Misfits (2-0)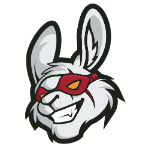 Results this week: Defeated Team Dignitas 3-0; Defeated Fnatic 3-2
A heartbreaking 2-1 loss in the tiebreaker at ESL Gamescom denied Misfits the opportunity to go to BlizzCon. If Misfits was hoping to ease their way back into tournament play after such a devastating loss, they definitely did NOT get their wish - instead, Blizzard threw them into the deep end, scheduling Misfits to play against Team Dignitas and Fnatic on opening weekend.
While most teams would crumble against such stiff competition, Misfits rose spectacularly to the occasion, crushing Team Dignitas 3-0 and outlasting Fnatic 3-2, putting themselves in prime position to be the #1 EU team going into the Western Clash.
2. Fnatic (1-1)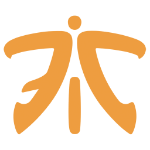 Results this week: Defeated Tricked eSports 3-1; lost 2-3 to Misfits
Coming into this week, they were unofficially the kings of Europe due to their shocking victory over MVP Black and 2nd place finish at BlizzCon. This meant that everyone would be gunning for them, particularly Misfits, who were denied a spot at BlizzCon by Fnatic.
This pressure certainly didn't faze Fnatic, as they pulled out several interesting strategies, including Chromie on Tomb of the Spider Queen as an Auriel/Gul'dan counter and Xul/Azmodan on Dragon Shire.  The Chromie experiment has worked out brilliantly for Fnatic; the Xul/Azmodan strategy failed after Fnatic got overly aggressive and threw away the game against Tricked eSports. While Fnatic went 1-1 in this week's matches after falling to Misfits in an epic Game 5, there is no doubt that they are one of Europe's top 2 teams.
3. Team Expert (2-0)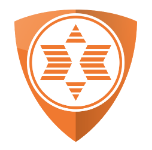 Results this week: Defeated Diamond Skin and Tricked eSports 3-0.
Team expert had a dream opening week, getting to a 2-0 match record without dropping a single map. They are consistently winning the draft phase against their opponents, and executing ruthless team synergy behind adrd's brilliant Medivh/Ragnaros and badbenny's fantastic Warrior play. Misfits and Fnatic, you are on notice: this team is for real and will be an extremely tough out.
4. Team Dignitas (0-1)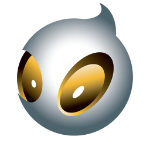 Results this week: Lost to Misfits 0-3.
Team Dignitas dropped Atheroangel after the Gold Club World Championship and picked up Zaelia, a promising up-and-coming player in the European scene. While it wasn't surprising that they would not be able to handle Misfits given the need to build up team synergy with a new player, the 0-3 loss revealed another weakness: the draft phase. Team Dignitas inexplicably allowed Misfits to pick Ragnaros in all 3 matches, while also securing a Zeratul or Leoric to help combo with the Sulfuras Smash. The question is: Can they fix their problems in time to make it to the Western Clash?
5.  Synergy (1-0)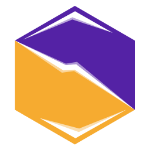 Results this week: Defeated BeGenius ESC 3-1
Russian teams only participated in some of the HGC 2016 events because of visa issues, and their performances when they did attend were hit or miss, particularly toward the end of the year. So there were some questions about how well they would do here in HGC 2017, particularly when no Russian team qualified until the last qualifier.
Although this week's match versus BeGenius ESC saw a few head scratching moments from both sides, Synergy ultimately pulled away for a convincing 3-1 revenge win after BeGenius ESC had defeated them in the 2nd HGC 2017 qualifier 3-2.
6. Tricked eSports (0-2)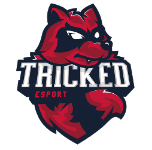 Results this week: Lost 1-3 to Fnatic and 0-3 to Team Expert
If Team Expert had a perfect opening week, it's hard to see how things could have gone much worse for Tricked eSports. Many thought that this team was on par with Team Expert and a serious contender for a top 3 spot in Europe should one of the three  titans (Misfits, Fnatic and Team Dignitas) falter. So far, Tricked eSports is struggling both in draft phase and in giving away free kills during the game. They have a lot to work on if they hope to make it to the Western Clash.
7. Diamond Skin (0-1)
Results this week: Lost 0-3 to Team Expert
It was announced just before HGC 2017 started that mTRaiDbawZ wouldn't be able to participate in HGC 2017 due to health issues and had to be replaced by Sportbilly. Such a last minute replacement would undoubtedly affect team synergy, and indeed SportBilly struggled mightily versus Team Expert, particularly when playing Zarya.
8. BeGenius ESC (0-1)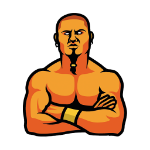 Results this week: Lost 1-3 to Synergy
A new team consisting of mostly French players that formed when HGC 2017 was announced, they had some success in the qualifiers, actually beating Synergy (then Russian Circus) 3-2 to qualify.
This week, there was a rematch in HGC itself, and this time it didn't go so well. Numerous mistakes were made by both teams during the match, but ultimately BeGenius ESC's mistakes were the more costly ones and too much to overcome. Considering their only win was when Synergy inexplicably decided to draft Uther, BeGenius ESC has a lot to work on if they want to stay in HGC 2017 and avoid relegation.
The HGC 2017 action continues Friday, January 27 @ 18:00 CET / 9:00 am PST.
Follow us on Twitter @GosuGamersHotS for more Heroes of the Storm news and coverage from around the world.