Purple hoists the American Championship trophy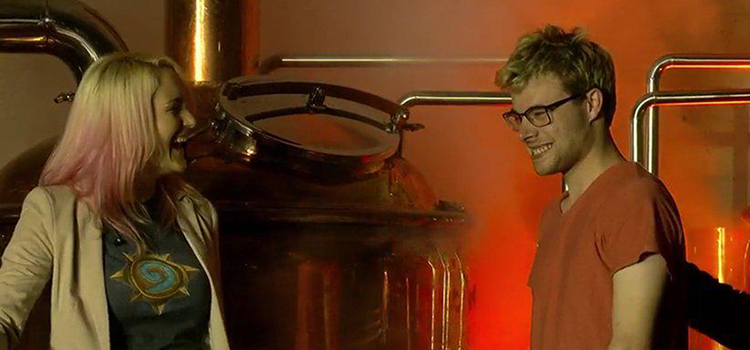 The GamersOrigin player is the first champion of the Americas region after a five-game final against Hotform.
In the time span of two days, Ryan "Purple" Root went from being the most likely candidate for the local throne, to being almost eliminated on several occasions, to actually becoming the best player in the Americas.
It was a tough road for the GamersOrigin playing coach. His opening match against Vinicius "Coreia" Pupo wasn't as one-sided as many probably expected as the Brazilian put up a good fight and dragged their series to full five games. Barely getting out of it alive, Purple than stumbled onto Justin "JAB" Black, who demolished him 3-0 in the winners match of Group A, leaving Purple one loss away from elimination. In the decider match of the group, Purple once again had to face Coreia and play another tense five-game series to eventually earn a seed for the playoffs.
The direct elimination matches were no picnic either. With Patron Warrior in his line-up, Purple would've likely preferred to meet anybody else but Victor "Nias" Shelstad, the upcoming player who made his name as a Patron slayer during the online qualifier. Down 1-2 in the series and playing the unfavorable Handlock versus Patron match-up, Purple had to summon all his strength to reverse the score and make it to the grand finals.
An all-Canadian final match was thus formed between Purple and Dylan "Hotform" Mullins. The ROOT Gaming player took the lead early on with his Tempo Mage, but the retaliation from the former Archon coach was swift: He locked his Druid and Warrior in the next two games and scoreboarded a final 3-2, accepting the title of the first ever Americas champion.
Aside from crowning Purple, the tournament in San Francisco also completed the full line-up for the World Championship, which is as follows:
Europe:
ThijsNL

Neirea

Lifecoach

Ostkaka
Americas:
Purple

Hotform

Nias

JAB
China:
Asia-Pacific: