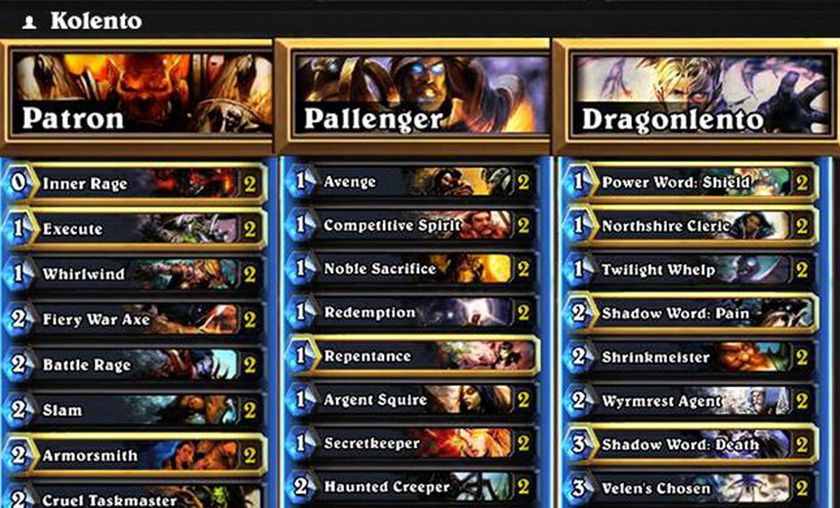 Decklist spotlight: All decklists from StarLadder phase #1

Click here for VODs, results, schedule and decklists
48 decks from the European, North American and Korean meta, all available now.
The first group stage of StarLadder Season I saw the triumph of players like Stanislav Cifka, ThijsNL, Firebat, Dog and the Hellraisers' trio of Lostov, Kucha and ShtanUdachi. As the tournament gets ready to move to its second group stage with the best eight, how about we go back and review the decks used in the Round of 16?
Unsurprisingly, a lot of Patron Warrior and Handlock were played, as well as Druid and Hunter. With the launch of TGT, however, the Secrets Paladin became a staple tournament deck and several players even swapped out the Patron for the good old Control Warrior.
Check out all decks below. If you're looking for more cool TGT decks, visit our deck library.
Cipher: Handlock • Patron • Midrange Hunter

Lifecoach: Patron • Handlock • Combo Druid

Lostov: Midrange Paladin • Combo Druid • Handlock

Zalae: Midrange Hunter • Patron • Combo Druid

Kolento: Patron • Secretadin • Dragon Priest

StanCifka: Handlock • Control Warrior • Combo Druid

Surrender: Zoo • Patron • Oil Rogue
?
ThijsNL: Patron • Combo Druid • Handlock

Firebat: Oil Rogue • Patron • Combo Druid

Kucha: Secretadin • Patron • Midrange Hunter

Lothar: Secretadin • Patron • Combo Druid

Ostkaka: Aggro Paladin • Patron • Combo Druid

Dog: Tempo Mage • Oil Rogue • Combo Druid

Forsen: Freeze Mage • Zoo • Combo Druid

Orange: Tempo Mage • Control Warrior • Hybrid Hunter

ShtanUdachi: Handlock • Control Warrior • Combo Druid