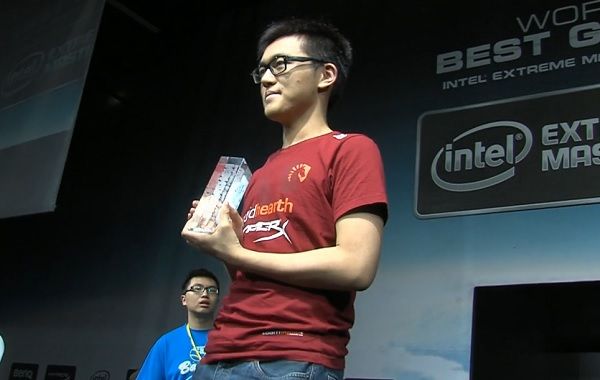 Amaz channels Ragnaros into IEM Shenzhen championship
Jason "Amaz" Chan is the winner of IEM Shenzhen after overpowering Azeri 3-0 in the grand finals. Amaz will be walking away with $4,000 and his second major championship in a row.
Following his success at Millenium Cup at the end of June, Amaz does it again as he takes another championship in Shenzhen, China, after beating Taiwanese player Azeri.
Azeri became the first grand finalist at IEM Shenzhen following a clean 3-0 sweep against player Jeanno. The Hong Kong player was undefeated so far in the tournament, packing wins against tournament favorites Gnimsh and Massan in the group stage and a 3-1 over compatriot Jackychan in the playoffs but couldn't extend his streak further. Azeri's Druid was unfaltering and the Taiwanese banked one win after another and was into the grand finals three games later.
Amaz's road to the grand finals, on the other hand, was arguably more spectacular. The face of Liquid Hearthstone started the playoffs with a flawless score against MaSsan but had to endure one very hard series against Rdu. In a re-match from the DreamHack Summer grand finals, the two players went to the very last game and it was only Amaz's unparalleled "control" over Ragnaros that won him the game, sniping an enraged Grommash in the face of lethal damage. Once VODs are up, make sure to check games four and five for some quality Priest action and Frodan and Gnimsh shouting their lungs out of excitement.
This set up an Azeri-Amaz grand final but the Taiwanese player couldn't quite bring it against the Millenium Cup champion. Starting off with a Druid, Amaz took two decisive games in a Druid mirror and against Azeri's Shaman and was forced into a Druid/Warrior match-up in game three. Getting beaten down to just four life, Amaz somehow managed to stabilize on the back of a Marked Yeti which protected his hit points for a few turns. Despite the solid board, however, Amaz wasn't quite safe as Alexstrasza eventually hit the field following an Execute on Amaz's taunted and threatening lethal next turn. Once again, though, the luck of the draw came to save Amaz and a Ragnaros top deck followed by a snipe on Alexstrasza decided the series: Amaz 3:0 Azeri.
Amaz's victory brings him on the top of the worldwide GosuRankings as he's the first player to break the 1,270 points mark. His climb comes on the back of a ten-match win-streak and since the DreamHack Summer finals, Amaz's win-rate in competitive matches since the start of June is at the stunning 92,85%.
Round 2 - Best of 5
Round 3 - Best of 5
IEM Shenzhen standings
1.
Amaz - $4,000
2.
Azeri - $2,000
3-4.
Rdu - $1,000
3-4.
Jeanno - $1,000
5-8.
Strifecro - $500
5-8.
Jackychan - $500
5-8.
Massan - $500
5-8.
Xiaosoul - $500