DreamHack champion Rdu joins MYM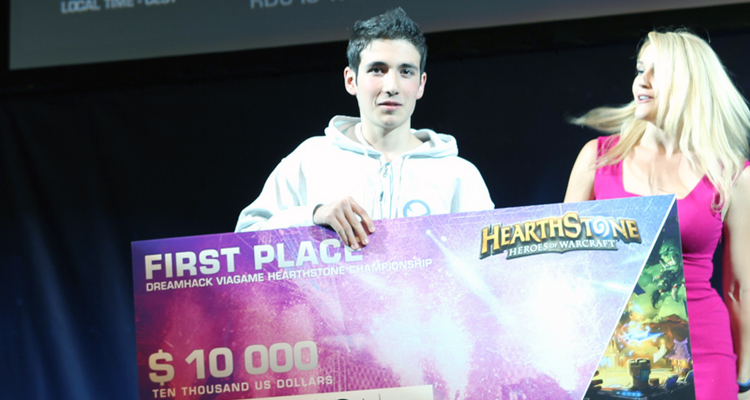 Rdu with the DreamHack Summer first place cheque
Meet Your Makers sign Romanian powerhouse Radu "Rdu" Dima of DreamHack fame. The DH Summer champion joins an already strong roster with players such as ThijsNL, Semijew, Ignite and Skip.
With DreamHack Bucharest and EU vs CN Masters top 4 finishes as well as, most recently, an unexpected victory at DreamHack Summer over players like Amaz, Reynad and Ek0p, the 17-year-old Romanian already boast an impressive Hearthstone career. One week after banking the $10,000 cheque in Jönköping, Rdu also finds a professional home as Meet Your Makers extended him a contract.
Rdu comes in as the eighth member of MYM Hearthstone, a team which was founded earlier this April after picking up the remains of the disbanded Reason Gaming and Team Phoenix, signing weekly cup pillars like ThijsNL, Ignite, Skip, Kunzi, Semijew as well as the then #1 on EU ladder BlazingGlory. With $13,000 of winnings in under two months and currently holding the #1 spot on the GosuRankings, Rdu will be fitting right in.
"
I am extremely happy that Radu chose to join us from the multitudes of offers he had," MYM captain Lewis "Blackout" Spencer told GosuGamers. "I know me, Thijs and Ignite are all really good friends with him, and it's awesome to be able to play with one of your good friends as well as one of the best players in the world currently."
Meet Your Makers HS roster:
Blackout

Ignite

Kunzi

Skip

Semijew

ThijsNL

Rdu

BlazingGlory
Additional links: