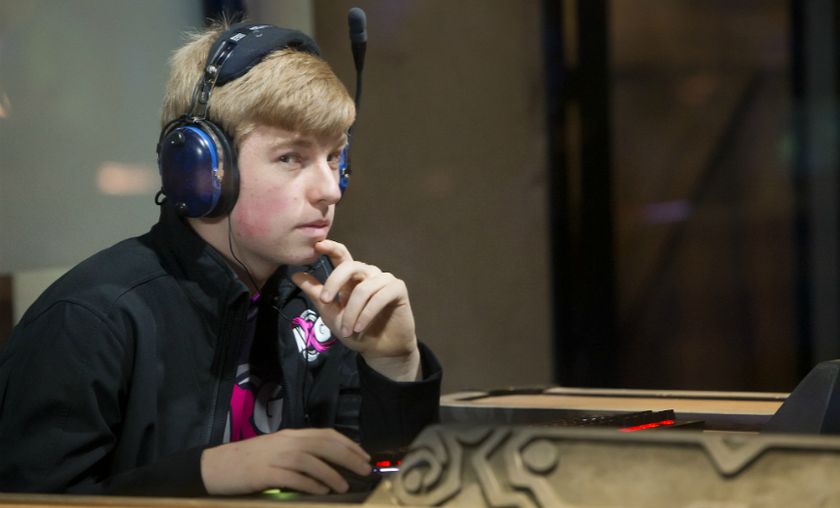 Amnesiac: "My parents could not be more supportive. It means the world to me."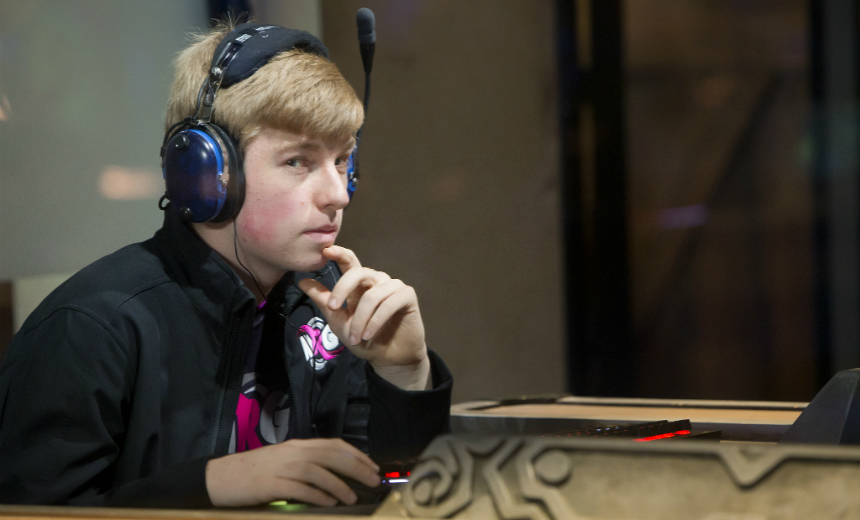 On March 13th this year, Hearthstone history was written. At age 15, William "Amnesiac" Barton became the youngest player to ever win a Hearthstone Championship Tour tournament by claiming the Winter Championship crown in the Americas region. He had been hyped up by the team he was on then, Team Archon, but no-one really knew who this "prodigy" was. However, after his victory, nearly everyone knew, and the community was quick to embrace Amnesiac. He was on his way to qualifying for the Spring Championships as well, but had to drop out of the Preliminaries due to a family member graduating. Quiet times lay ahead, but this didn't prevent Amnesiac remaining as popular as ever. If a poll on the Hearthstone subreddit is any indication, Amnesiac was one of the most popular picks to win Blizzcon, second only to ThijsNL, one of the most popular Hearthstone streamers.
Amnesiac started off strong in the group stages, convincingly defeating Yulsic and eventual finalist DrHippi. However, that's where the dream ended. Although he took a quick 3-0 lead over Pavel, the Russian pulled off one of his many amazing comebacks, winning the series 4-3. The day after Amnesiac was eliminated, our on-site editor Tom "Matthieist" Matthiesen spoke with Amnesiac. They talked about his year, Blizzcon and how Amnesiac shaped up to be one of Hearthstone's most promising players.
---

Hey man, how are you doing?
I'm doing ok. My loss is still a little bit fresh in my mind, but it's a cool convention and I'm glad to be here, hanging out with some friends.
How do you feel about the loss?
I'm happy with how I prepared, and I'm happy with how I played for the most part. I made one mistake in a game I actually wound up winning. I should have gone face instead of trading, so I messed that up. I can't say I played perfectly or anything, so I guess I don't have any grounds to complain. As I said overall I'm happy with how I played and prepared, and it was things that happen one in a million times that got me. That happens, and I'm actually kind of fine with that.
You've had quite the breakout year. How has that been for you?
I definitely didn't expect to reach the top eight at Blizzcon when I started playing at the Winter Preliminaries. And even though it ended kind of sad, it's been an awesome year and I can't be upset about it. I got top eight, a lot of exposure, meet people, was signed by a team, so it's been an amazing year.
You broke out under Team Archon's banners, but later they disbanded, and after a while you signed with NRG. How did this affect you?
Being teamless didn't affect me as much. At that time I was taking a backseat at the game. It was at the beginning of Summer and wanted to start the school year well, so I wasn't playing as much Hearthstone. I was playing a lot of tennis tournaments, so for me that was quite a busy time outside of Hearthstone.
Amaz was on NRG, and I hit it off with the team manager, Andy. We got along really well and Amaz and I have gotten along really well in the past, so it just made sense. It just matched, we had similar interests and goals we had for ourselves and the organization. It's not that different from when I was on Archon actually. I go about my Hearthstone career the same way I used to. It's cool that they do stuff for me, and I represent them, just as it normally goes between player and team.
You're a highly competitive player, not only in Hearthstone. How does that attitude work for you?
It eliminates this whole "pride-factor" that a lot of people have. For example when they don't want to play aggro or something along those lines. Like "I don't like playing Shaman" or "I don't like playing against Shaman and so I'm going to ban that", whereas I just do what mathematically is the best thing for me to win. I don't care about how I feel about it. It leads to having the maximum amount of percent to win any best of five or best of seven, which is a really big deal.
I still believe I was one of the best - if not the best - player at Blizzcon
You've shown a great deal of confidence in yourself, for example during player interviews. Have you always been that confident?
I would never be confident in myself if I didn't think it was justified. I still believe that I was one of the best - if not the best - player who came to Blizzcon. As I said I was very happy with how I played and prepared, so I wouldn't do anything differently in the grand scheme, maybe one or two plays. I'm happy with how I did and I'm still confident that I'm playing well, I'm on my game and still one of the best players in the world.
I wouldn't call myself arrogant to the point where I'm skipping out on doing things to improve my game. I'm not so confident that I'm not going to practice, or that I'm so confident that I just won't think about my ban and ban something randomly just because I don't need that edge. I'm confident because I'm doing all the things I can possibly do and I know that some people aren't. I just know that I have an edge. It's not an irrational confidence, I know that I'm mathematically doing more than others so I do have an advantage and I do have an edge.
It's quite remarkable for someone of your age to make it this far into such a big tournament. How does your age affect it all?
Honestly, I don't think it matters that much. When I interact with people I sometimes feel like I'm not the kid. Some people are actually kind of childish and I feel like I'm not. The age thing hasn't been an issue in so long. The only age thing that happened for Blizzcon was that I literally legally needed a guardian to come with me, whereas the other players didn't. But I never threw temper tantrums because things weren't going my way or the food wasn't good. I don't behave like some rowdy teenager.
In terms of competitive experience, I think I have more than most of my competitors. Different from other professional gamers I play sports, and I have done so from a really young age. I played soccer, tennis and basketball up until I was about twelve, and from then on I played just tennis and basketball. Even though it wasn't with huge crowds, I've been performing in front of people who are watching and expecting things and I've been pushing myself competitively for a long time. I kind of know what it's like to be under that pressure and to have worked hard. That's what, I feel like, gives me an edge over a lot of my competitors, as opposed to an age gap.
When I interact with people I sometimes feel like I'm not the kid
How do you manage to balance tennis, basketball, Hearthstone and school?
Well you have to pick what you love, and I wouldn't give up anything I do now. I just work really hard to balance it all. Between the opening week and Blizzcon, instead of staying here I flew back to my home to do nine days of school work in three days, which is really really hard, then did my line-up and preparation too and came back out. I got all that done because I care about both those things, to the point where I'm willing to make things harder for myself so I can make it work. The same goes for my sports. I just find time, because I would never give them up.
What if at one point you have to make a choice, and pick one or the other?
Well, sometimes already you have to make a choice. It's, hmm, more about doing things in bursts. So there are times where things are not particularly important for me to be practicing Hearthstone, and then I have time to focus on other things a lot more. But the last few weeks  it has been really important for me to practice a lot and I played a lot of Hearthstone. Maybe the other things have been a bit on the backburner, but I still keep up with them. It's more about what's at the forefront of being important and focussing on that, but you still have to balance everything.
Let's talk about you and Hearthstone. Where does your love for the game come from?
The thing about Hearthstone is that you can get a lot of edge without just mindlessly practicing a thousand games. This is a really big appeal for someone like me, who doesn't have much time. I don't think in any other eSports I could play at the highest level and combine it with other things I value.
When I was younger I had a lot of time to play. When I was in eighth grade I just played, because in eighth grade you don't have many responsibilities and school doesn't really matter. Back then I played so much ladder every day and got good with decks through repetition. However, now that I have less time I can still play on a really high level because you don't need the repetition if you understand how to think about the game. I think I'm now getting at a point where I have a good understanding of how to win match ups, how to delegate your resources and what the win conditions are.
When did you decide to play it competitively?
Well I wouldn't play competitively if I was bad. I had some succes on ladder, but when I qualified for the Winter Preliminaries I thought: "I play it this much, and it's working out. I should really play this competitively. Why not?"
In such a short time you've been embraced by both the community and the players. What's that been like?
Well as for the players, I don't see them as "the big guys" anymore; we're friends now. I guess for many people it might've been easy to get a bit of a swelled head at a young age when you're having a lot of success. My parents did a really good job raising me. They always raised me not to be overly proud of anything. They raised me to be proud of my accomplishments and have confidence where it's due, but they didn't raise me to be an arrogant asshole. That part of my upbringing is honestly a really important reason. It makes me keep reality in check and have my feet on the ground even though I have had some success.
My parents raised me to be proud of my accomplishments, but to not be an arrogant asshole
Do they follow what's happening in Hearthstone?
Well they don't know anything about the game, but they could not be more supportive. My mom took me out to the opening week, sat down with Thijs and said: "Alright explain to me what's happening, I want to know what's going on, I want to learn." He tried really hard, but she still hasn't learned and still watches, and after my loss she texted me "Good run, love you". They don't have to understand what's going on, but they're here for me and trying their best to support. That means the world to me.
We didn't see much of you after you won the Winter Preliminaries. Was that a deliberate choice?
Not really, there just wasn't that much stuff to play in. I participated in some online stuff I got invited to, like the FACEIT Invitational, but outside of the Preliminaries there wasn't that much to play in. I wasn't worried about doing as well as at Summer Prelims, because I had already qualified. Besides there not being many tournaments, school was kind of picking up at that point, so it seemed like a good time to drop back a little bit. Lastly streaming was a little harder because I had internet issues, so it was multiple things coming together at once, but I wouldn't say it was deliberate.
I take it we'll see more of you next year?
Yeah for sure. My logic is: if it takes that much to beat me in the top eight of Blizzcon, I've got some serious game next year. I'll definitely play a lot of ladder this month, make sure I qualify for the first Preliminaries of 2017.
Who will help you prepare?
My main practice partners now are mostly players from Luminosity Gaming. Muzzy and Chakki are the people I practice with above all else, and I have so much respect for both those guys. Muzzy's probably one of the hardest working people in Hearthstone. He goes to school and still plays a ton, streams a ton and spends a lot of time improving his game. Chakki is honestly just one of the smartest people in the scene. He's been my main pracitce partner for a few months now, and I've seen my game go up so much. My line-up, preparation, everything goes astronomically up when you're working with someone like him. Those two guys are a big reason why I'm able to say I've had a great Blizzcon.
To wrap up the interview, any last shout-outs?
As I said my parents and my practice partners, but also my Team, NRG, and our sponsors BioSteel, CyberPower and Twitch, because they make a lot possible.