[Opinion] GGFORALL leaves some feeling left out
Title image courtesy of ESL
ESL's new women's CS:GO initiative GGFORALL is under fire from those that feel excluded. 
Ahhhh Sh!t, here we go again. 
Every time *insert X organization* announces a new initiative intended to provide opportunities and bolster the support for women in esports, it seems that we go through this over and over again. 
In lieu of my rant, I'm going to extend the benefit of the doubt and try to engage in constructive conversation and shed a bit of light on why this topic is such a tinder box that ignites instantaneously and spreads like wildfire on social media. 
#GGFORALL
ESL, one of the biggest event organizers for CS:GO, has just unveiled its new #GGFORALL initiative designed to provide support to the women's CS:GO scene.
The project has planned online regional leagues boasting a $500,000 prize pool that will lead to an offline LAN final to be held in 2022. A new women's council and talent development program will also be developed alongside the leagues.
The spark that lights the fire
Fantastic news for many, but not so well received by all. The problem has mostly stemmed from men in the scene that feel discriminated against by being excluded from the league. 
I recently read a quote that said 
'When you're accustomed to privilege, equality feels like oppression'
Sometimes others don't see how or where one group is already being isolated or pushed out of a scene, especially when it doesn't affect them. 
In-game toxicity is a problem overall for all. But for many women that are trying to enter or are fighting for a place in the competitive scene, it goes much deeper and further than the typical trash-talk or aggressive/insulting behaviors or reactions.
Gender-based discrimination
Gender seems to become the focal point anytime a woman appears within the scene – as opposed to focusing on mechanics, skill, or talent.
Tweets from women in the community are always showing up on social media. Articles and content that objectify women surface every so often. Discrimination accusations and experiences continue to be brought to light. 
According to the National Sexual Violence Resource Center, one in five women in the United States experienced completed or attempted rape during their lifetime. One in three female victims of completed or attempted rape experienced it for the first time between the ages of 11 and 17. 
So these threats and harassment in the game come with a heavier reality for most than a typical insult. It can be a trigger for PTSD or experiences in their or someone close to them's lives. It is a real threat that many face even outside the game. 
That is on one extreme. On the lesser side of things, it can completely kill the motivation or drive to pursue a career. 
Gamasutra conducted a study regarding sexual harassment in online video games and the impact it has on women in esports or gaming.
Specifically, it points to the consequences and damages sexual harassment has on aspiring women.
In our survey with female players (Fox & Tang, 2016), we found that sexual harassment have direct and indirect effects to withdrawal from gaming. As they experience more sexual harassment, they are more likely to withdraw from gaming (e.g., "If I'm being harassed, I quit in the middle of a game"), they ruminate more, and their perception of organizational responsiveness to harassment decreases (e.g., "To my knowledge, they [administrators, moderators, etc.] investigate harassment complaints no matter what type of harassment it is"). The rumination and organizational responsiveness also affect female players' likelihood in withdrawal from gaming. The relationship for general harassment only showed a direct relationship to withdrawal from gaming. We noted that female players pre-emptively avoided experiencing sexual harassment through gender masking, but are still affecting by being bystanders of others' sexual harassment.
According to Gamasutra's study, witnessing such an affront has similar effects on the community and the industry as a whole.
Sexual harassment can create a stressful environment to people who are indirectly exposed, this is called ambient sexual harassment (Glomb et al., 1997). Bystanders are worried that they may be targeted next and such hostile environment resulted in similar consequences on their physical and psychological health (Miner-Rubino & Cortina, 2004; Hitlan et al., 2006).
In another study by gamezindustry.biz, 59% of women hide their gender while playing games online to avoid harassment, 77% of women surveyed said they had experienced gender-specific discrimination while gaming regarding gatekeeping (65%) or patronizing comments (50%) and 44% said they had "received unsolicited relationship asks."
"A journey of a thousand miles begins with a single step" 
Leagues are created by and for women only such as FSL and DotaValkyries in Dota 2 and Game Changers in Valorant --so that they have a safe and nurturing environment in which to grow. 
Through the opportunity to compete in ongoing events that are broadcasted and sponsored, women could start to develop professional experiences and mindsets. They could network, find mentors, practice, and thrive.
The concept of these projects is to be more divisive but to eventually lead to a place of more inclusion. It has to start somewhere though, where women can gain the competitive drive, experiences, and skills in a positive atmosphere that won't run them out. 
The end goal, as we talked once with Emma "Catfish" Brown, co-founder of Dota Valkyries, is to eventually see all genders playing together in mixed teams and events. 
In August of 2015, Maria "Remilia" Creveling competed in the North American League of Legends Challenger Series as part of the Renegades League of Legends lineup. The mixed-gender squad ended up taking the championship title. She only competed with Renegades in that league for close to a month before she left the team, citing pressure and harassment she received related to her appearance (Remilia passed away in 2019 in her sleep).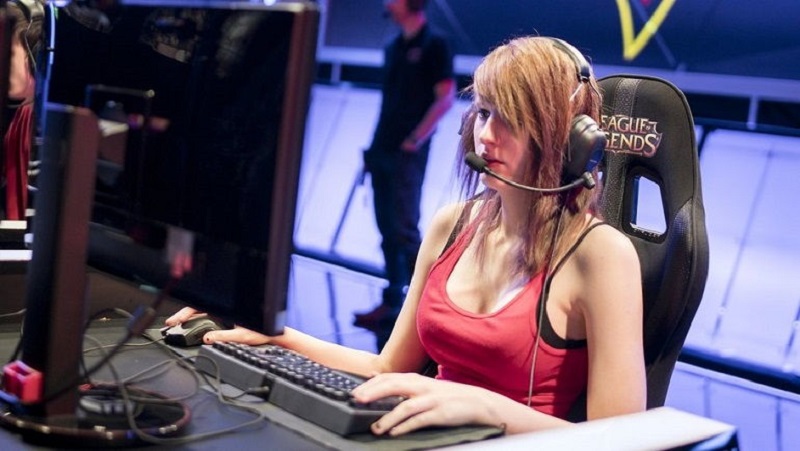 Evil Geniuses announced in 2021a new Valorant team. One that was mixed gender. The team is composed of three men and two women. They were to be led by Christine "Potter" Chi along with Ronan "Osias" Javelona, Nolan "Temperature" Pepper, Claudia "Clawdia" Che, and Aleksandar "Aleksandar" Hinojosa. The team only last until the summer when Clawdia left in June and Potter transitioned to head coach in August. 
But with so few examples to choose from, it is clear that the scene isn't ready for the mixed-gender teams.
Moving forward 
Auguste "Semmler" Massonnat is a professional Counter-Strike: Global Offensive caster and host, who also works in the Overwatch League. He is one of the main personalities in the CS:GO scene due to his prominence and longevity, having started his career in 2013. 
I'm not just picking on Semmler, there are quite a number of supporters to his comments and others voicing similar opinions. It is just that he is in a prominent public position. And as so, he has a responsibility to uphold standards that should build up a scene instead of perpetuating or endorsing discrimination, hate, or gatekeeping. 
Do we want our future esports generation to be this self-centered and lack empathy? It is sports, it is competition, but it doesn't make us less human.
Social Media creates a great opportunity for teams, organizations, and players to leverage their influence and reach to enhance engagement, establish one-to-one relationships, tell the stories of the team, and pass on their ideals as well as their credo. 
It is a chance to create and shape the culture of esports into something that reflects the passion and competitive spirit as well as establishing a community and place of belonging. 
**Opinions are reflective of this writer only and do not represent those of GosuGamers as a company or organization.