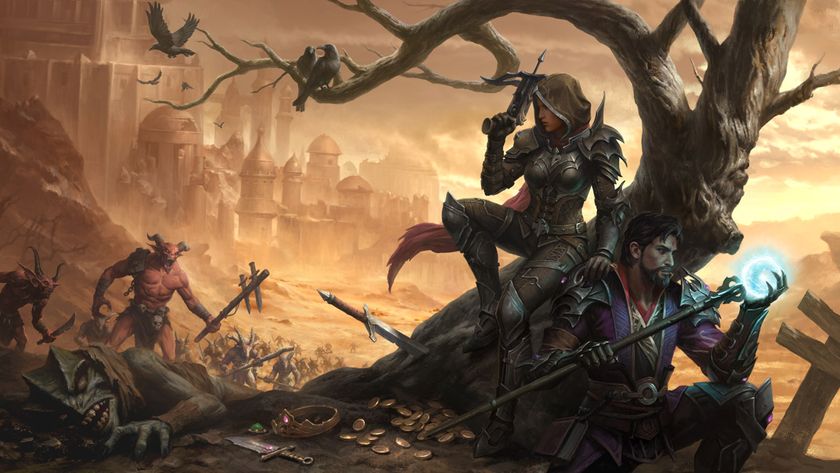 Diablo Immortal is a harbinger of things to come for Blizzard's future games
Image: Blizzard Entertainment
Diablo Immortal's problems are a dark sign of where Blizzard plans to take its franchises next.
Blizzard Entertainment's Diablo Immortal launched this month in Asia, and we've been playing quite a bit of it since. This spin-off takes the Diablo franchise to mobile devices, slimming down the classic looter-slasher experience into bite-sized adventures players can take on the go. Diablo Immortal hasn't had the easiest time of it, dating back all the way to its disastrous first reveal at BlizzCon 2019, but it's still a surprisingly addictive experience that's fun to play both on the go and on PCs. 
For a while, that is. Hacking foul demons to bits, swapping gear and hording loot is all well and good for the first stretch of the game, until it starts getting harder to level your characters up and get access to higher tiers of gear. Before the game reminds you, in increasingly less subtle ways, that there is an easier way through all this mind-numbing grinding and soulless repetition - but it's going to cost you. 
Diablo Immortal's issues are legion and thoroughly well-documented at this point, but they also point to a larger problem at Blizzard Entertainment. The once-beloved games publisher is seeking easier and quicker ways to make a profit from their games, and has begun pushing into the mobile space with that in mind. This mobile game is not the real problem. It's just a dark harbinger of things to come for the future of Blizzard games. 
This is how it starts
Blizzard Entertainment is not the same company it was 10 years ago. A swathe of its veteran leadership and core developers departed after a series of lawsuits and allegations ranging from a toxic workplace atmosphere to sexual misconduct, culminating in a 2021 lawsuit from the California Department of Fair Employment and Housing. In 2018, CEO Mike Morhaime stepped down and was replaced by J. Allen Brack. In 2021, Brack stepped down and was replaced by co-leads Jen Oneal and Mike Ybarra. That same year, Oneal departed for greener and less problematic pastures, leaving Ybarra in sole leadership of the company. And of course, in 2022, Activision Blizzard entered a new deal to be absorbed into Xbox Game Studios by 2023. 
This nigh-constant change of leadership is a microcosm of the turmoil that has churned within Blizzard for years now, but it isn't the only contributing factor. Reports that Activision views Blizzard as less profitable than its Call of Duty studios have come up time upon time again, especially in recent years where Call of Duty has not only managed to sustain annual releases, but a battle royale franchise as well. Blizzard can't hope to keep that pace up with its own franchises. Sequels like Diablo 4 and Overwatch 2 take years to develop and release, and expansions for its live multiplayer games like World of Warcraft and Hearthstone only inject these titles with short bursts of renewed life, and even that has diminishing returns over time. 
One could argue that the worst of Blizzard's woes have already come to pass, and it's all uphill from here. After a dearth of new game releases, the company has two major titles lined up for this year and the next: Overwatch 2 and Diablo 4, along with a new survival game. Not only that, but Blizzard has already seen immense financial success from Diablo Immortal in just the first month of its overseas release, and the game still has a ways to go. When Blizzard's lack of new releases in 2018 was blamed for the larger company's underperformance, then-CEO J. Allen Brack vowed to put several new projects in development across multiple Blizzard franchises as a fix. Brack is out now, but he clearly kept his word in the long run. 
Why mobile games?
Whether we like it or not, Diablo Immortal has proven to be a massive success for Blizzard. In just the first two weeks after its launch, the game whipped up US$20 million worldwide - long before it was released in SEA regions like Malaysia, Hong Kong, Vietnam and Indonesia earlier this week. That's a lot of money, and most of it can be attributed to the game's heavy hand with microtransactions. Every time players log into the game, they're directed towards the online shop that sells bundles, chests and cosmetics for real-world money. 
That's not even the worst of it, of course. Players have found that to get the highest-tier gear in the game, you'll have to buy Legendary Crests to beat Elder Rift dungeons all for a chance to get a five-star Legendary Gem drop. The chances of you getting a five-star Legendary Gem, which is used for valuable gear upgrades, are measly at 0.05%. Then there's the battle pass, which gives you free items as you progress through the game, and a host of extra bonus items you have to pay real-world money to unlock. Playing Diablo Immortal without paying a cent is like wandering through a hedge maze, where all the walls disappear the second you pull out your wallet. 
That's fine, right? This is just one game and if you don't like it, don't play it. It's that easy to avoid as long as you're not a fan of the franchise - but what if you're a fan of Warcraft? Blizzard announced Warcraft Arclight Rumble a few months ago, a free-to-play mobile game that seems to be the company's take on casual strategy games like Clash Royale. If you think that game won't have a microtransaction problem, you haven't been paying attention. What about Overwatch 2? The hero shooter sequel launches as yet another free-to-play title, with an all-new in-game store for players to purchase battle passes and a variety of new cosmetic types. 
And then there's Diablo 4. Blizzard has promised its microtransactions won't be anything like Diablo Immortal, only, "built around optional cosmetic items and eventually full expansions." However, Overwatch 2 proves that cosmetic-only microtransactions can be pretty extensive - ranging from the simple battle pass unlock to the more complex add-ons: gun charms, skins, emotes, flags and more. Microtransactions can still feel invasive even if they're not geared towards gameplay. Pay-to-win purchases are just the most extreme end of a spectrum consumers should not want any part of in the first place. 
There's something good in there… somewhere
The impact of Blizzard's fierce push for increased profit margins is clearly visible in its latest and upcoming games, and that's a real shame. There's still a lot of talent left at this company, even after the recent tsunami of scandals and staff departures. Diablo Immortal is actually a pretty fun and addicting game, if marred by bad lag and strange game design choices, but it wasn't totally irredeemable in my eyes until those Legendary Gems came into focus. Overwatch 2's new hero and maps are a showcase of the original game's ingenuity - so far, at least. Diablo 4 is shaping up to be the game fans have waited on for years now, with brilliant visuals that herald a return to the franchise's darker and more grotesque installments. 
The unfortunate case of Diablo Immortal shows us that Blizzard is willing to take the term 'free-to-play' to its absolute limits, which casts doubt on how consumer-friendly any of its future products are going to be. This is a company that finds new ways to fall from grace every other year, and at some point, we need to stop expecting it to get back up.