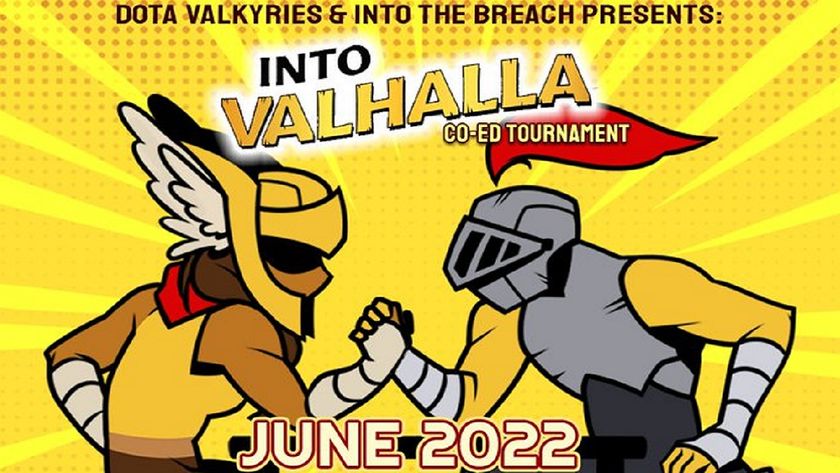 Into Valhalla viewing details
Dota Valkyries and Into the Breach have partnered up for a co-ed charity tournament to support Safe in Our World. 
Into Valhalla is a co-ed Dota 2 charity tournament supporting Safe In Our World, designed to provide a safe competitive space for women and non-binary players.
This event is yet another in a string of positive and progressive initiatives from Dota Valkyries to create change and promote healthy gaming for all. 
The main goal of Safe In Our World is to create and foster worldwide mental health awareness within the video game industry; to eliminate the stigma surrounding mental health, to make it a natural topic of discussion, and to promote the dialogue surrounding mental health so people are not afraid to reach out for help if they need it.
DotaValkyries is a project and initiative that aims to support women in casual Dota 2 as well as in the pursuit of a professional career. 
They launched one year ago and since then has made not just a footprint but a deep impression for women within the Dota 2 scene. 
The organization has supported women across all aspects of industry work from background and support functions to competing in online and LAN events and to showcasing their talent in broadcasting and coaching. 
Teams
A team must consist of a minimum of 5 players, with a minimum of 2 female or non-binary players and a maximum of 3 male players. This includes any registered subs. 
HUNT
aqui la chicks
Average Beer Enjoyers
Sailor Guardians
Double Tap
HiveMind 2: Electric Boogaloo
Zero Opacity
xxx123
Queer Eye for the Ogre Magi
Queen of Hearts
Claymore
Underlord Secret Keeper
Goodnight Snes Undertale
Format
Participants

Thirteen teams

Eight teams advance from the group stage

Group Stage – June 6th - June 10th, 2022

Two groups
Single round-robin
All matches are Bo1
Top four teams from each group advance to the playoffs
Remaining teams are eliminated

Playoffs – June 11th - June 12th, 2022

Double-elimination bracket
All matches except Grand Final are Bo1
Grand Final is Bo3
Schedule
Group Stages
The Group stages will be 5 games played in the week before the playoffs, so from the 6th to the 10th of June. The default schedule for these matches will be as follows: 
Monday 6th - 19:00 CEST
Tuesday 7th - 19:00 CEST
Wednesday 8th - 19:00 CEST
Thursday 9th -19:00 CEST, 20:30 CEST
In the case of a tie there will be two extra games added on Friday 10th

Friday 10th - 19:00 CEST, 20:30 CEST
Playoffs
Saturday 11th 

Upper Bracket Quarter-Finals 

11:00 CEST, 12:30 CEST, 14:00 CEST, 15:30 CEST

Upper Bracket Semi-Finals
Upper Bracket Finals

Sunday 12th 

Lower Bracket Round 1
Lower Bracket Quarter-Finals
Lower Bracket Semi-Finals
Lower Bracket Finals
Grand Finals
Broadcast Talent
Host:
Commentators:

 Cap (Austin Walsh)
 BSJ (Brian Canavan)
 Epidamnos (Liam Gilson)
 T-Panda (Rikumikko Matias Kangasmäki)
 Wishful_Kit (Kit Vickery
Engish Broadcast: twitch.tv/intothebreachtv
Prize Pool
The prize pool for the tournament is £500 GBP (~ $625) in addition to gear provided by Xtrfy
Place
£ GBP
Team
 1st Place
£250
 TBD
 2nd Place
£125
 TBD
 3rd Place
£75
 TBD
 4th Place
£50
 TBD
5th-6th Place
-
 TBD
 TBD
7th-8th Place
-
 TBD
 TBD
8th-13th Place
-
 TBD
 TBD
 TBD
 TBD
 Underlord Secret Keeper*
* Underlord Secret Keeper withdrew from the tournament on 6th June