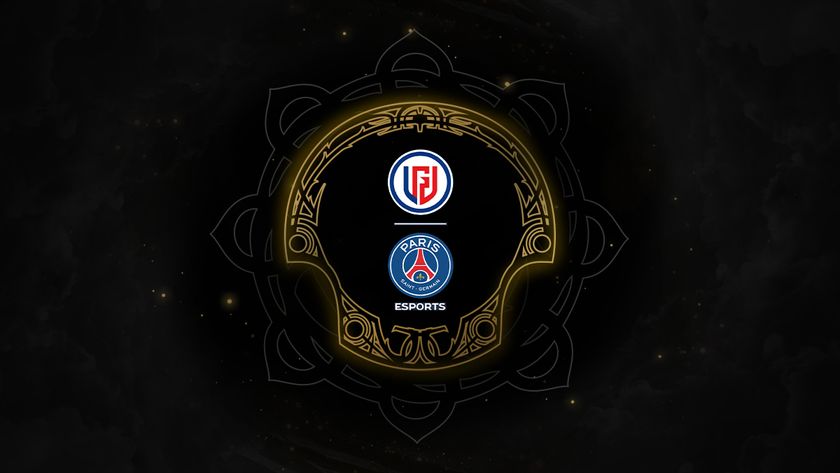 PSG.LGD are the only undefeated team on Day 1 of TI10 group stage
First day of the group stage at The International 10 is done and dusted. After a total of 40 matches held across both groups, PSG.LGD remained the only undefeated team while the defending champions, OG went 5-1.
PSG.LGD and OG are seeded in different groups, which means that the fans will have to wait for the playoffs for a possible matchup between these two. Until then, both teams aim to top their respective groups so they can pick their first opponent for the playoffs.
While OG were close to ending day one with a 6-0 sweep through their three series, PSG.LGD had just two match-ups scheduled for the opening day and  they had a clean cut through Quincy Crew and Team Spirit. Their performance puts them at the top of Group B, followed by Elephant who went 1-1 with Fnatic, but swept beastcoast 2-0.
Upset of the day
Despite losing pretty hard to PSG.LGD, beastcoast kept their morale high and delivered the only upset of the day by taking down 2-0 Team Secret. The series MVP was without a doubt Adrián "Wisper" Céspedes Dobles who carried the team from the offlane on a Timbersaw. Throughout the entire game, he kept disturbing the lanes and disrupted Secret's farm, allowing his Sven all the space needed for a perfect game. Even with Héctor Antonio "K1" Rodríguez topping the networth, Wisper was still the one able to taunt Secret in their own fountain and land a Rampage.
Wisper played on the same aggressive stance and had a similar role in game two on Sand King. Although he didn't really have the opportunity to score another rampage, his initiations, team fight presence and overall control of the game allowed beastcoast to walk with a clean 2-0 victory.
While group B has a clear leader after the first day of group stage matches, in Group A three teams are tied for first place with a 5-1 game score. 
OG started their campaign for a third Aegis of Champions with a strong Clinkz carry performance from Syed "SumaiL" Hassan against Alliance. He played the hero in both games and finished with a total 35/2/16 K/D/A while Alliance looked to catch their adversaries off guard with a Queen of Pain played in the support 4 position in game one and in the mid lane in game two. Unfortunately for them, the mind games didn't work on OG and moving forward, they were facing a grim day one as they also lost 0-2 to Virtus.pro.
The latter are tied for first place in the group after stopping OG's undefeated run with a carry Dawnbreaker. The young CIS team was the only one to actually draft Dawnbreaker on the opening day of TI10. They started by giving it a go in the support 5 position vs Undying and moving forward, they elevated their Dawnbreaker draft versus OG. In their match versus Team Undying, they made use of her global map presence paired with Bounty Hunter, also in the support position and a mid lane Storm Spirit, able to zip across the map and find the track kills set up by Bounty.
In the series against OG, they moved the Dawnbreaker to carry position while still pairing her with Bounty Hunter and Storm Spirit, but also adding Io to the draft for even more skirmish power. Their strategy worked perfectly in the early, mid game stage, but they underestimated OG's resilience and lost the game after having a nearly 30k gold lead at the 45-minute mark.
OG identified Bounty Hunter as being the key hero in VP's strategy and first banned it in the next game. They let Dawnbreaker pass, however, and VP did not shy away from trying it again. They went for a high sustain line-up with Necrophos and Undying and played on the same fast-paced stance from game one, while also keeping the focus on buildings with an offlane Nature's Prophet, which allowed them to breach the high ground and take a game from OG.
Invictus Gaming is the third team tied for the first place in Group B after taking a 2-0 victories over Evil Geniuses and T1, but interestingly enough tying the series with Team Undying.
Group Stage Day 1 Standings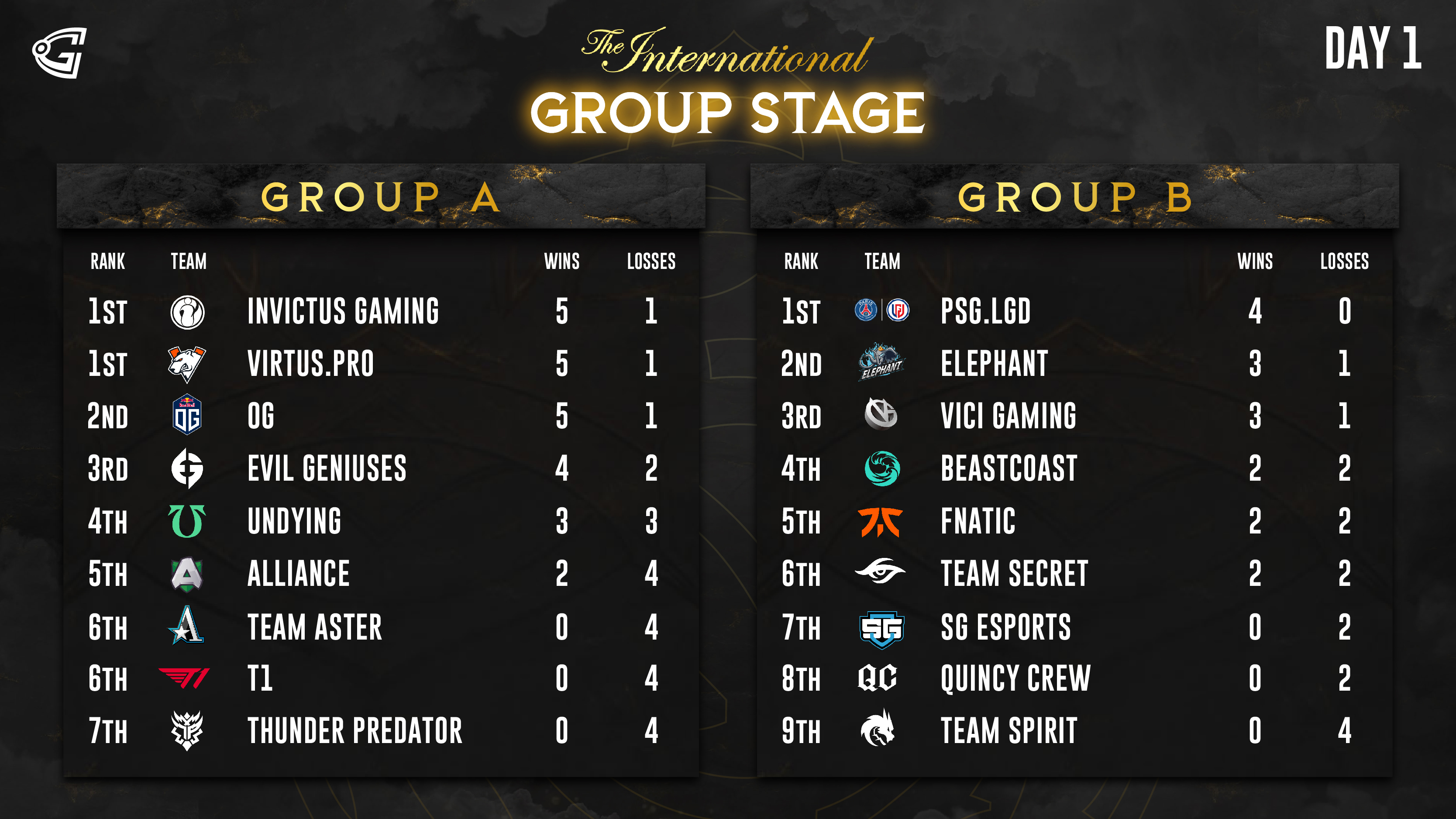 In terms of hero picks and possible group stage meta, day one revealed a high variety of drafts and a few brave approaches.
Alliance were the only ones to play a support Queen of Pain, while OG put Legion Commander in position 5. Fnatic tried to trick ViCi Gaming with a first pick Weaver, which proved to be a support 4, while the flavor of the day was Monkey King played mostly support 4, but also in the carry and mid lane roles. More about that in our special TI10 Unmuted recap edition below. 
Day 2 of group stage matches will kick off on October 8 at 09:00 CEST, the full schedule can be found HERE.