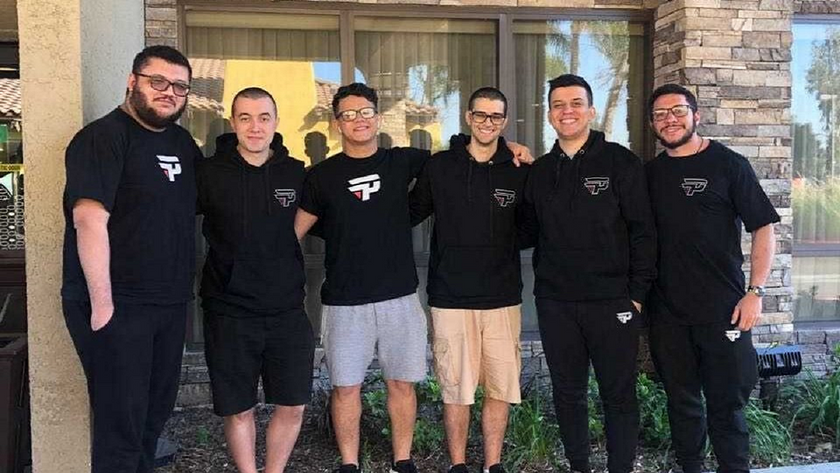 Summit 11 Minor; First two casualties of DPC 2019-2020 season
Summit 11 Minor kicked off as the first event of the DPC 2019-2020 season yesterday and already was witness to the first two teams eliminated. 
The start of the new season is always a highly anticipated event for players and fans alike. It is the first step to be taken on the Road to The International and the slate is clean and clear. 
Teams start jockeying for an early point advantage and momentum, new rosters are put to the test and trial players attempt to secure a lasting impression and permanent place in the lineup. 
The Summit 11 Minor has given some lesser-known and newly formed teams a chance to gain exposure, points and leave a striking footprint on the landscape. More importantly, it grants one team the opportunity to get into the Majors, something they narrowly missed out on in qualifiers and now have had time to retool their strategies and tweak their weaknesses. 
Unfortunately, the light was just fleeting for two of those teams. After just one day of competition in the group stage, two teams — Ad Finem and paiN Gaming have already dropped out of contention. 
Hailing from Brazil, paiN Gaming is stacked with veteran players and notable names. Despite going undefeated in the group stage of MDL Chengdu Major qualifiers, the team lost in the playoffs when they really needed it and were relegated to the Summit Minor qualifiers instead. Their slump followed them for the first series and the team quickly dropped to the lower brackets where they rose up and prevailed to redeem themselves and find a place in the DPC season after all. Regrettably, paiN Gaming was unable to find their footing in LA and the team were unable to secure a single win in the groups. Their games against Invictus Gaming were underwhelming and the second match lasted a mere 16 minutes. As dejected as one might be after a series stomp as such, the Brazilians fought long and hard against NiP in the elimination series to keep their tournament run alive. Both matches were approximately one hour long each, but paiN was unable to turn things into their favor.
Originally formed in December of 2015, Ad Finem's TI6 qualifier run was nothing less than thrilling and their most stand out performance and moment was their incredible run at Boston Major where the team took an astonishing 2nd place finish and the hearts of fans around the world. Their run lasted two years total with the teams disbanding in December 2017 and going their separate ways. Reformed now for the new season, Ad Finem returned and quickly made headway in the European region, snatching a place in the first minor —a strong start with lots of hope and promise. Unfortunately, they were unable to secure a single series win, taking only one game off of HellRaisers in group B. 
 The event resumes today, November 8th with more group stage action. Two more teams will bid farewell to the Summit 11 Minor and the playoffs will be set. 
Summit 11 Minor Teams
 jfshfh178*

 HellRaisers**

 NiP

  Ad Finem

 Invictus Gaming

 Geek Fam

 Chaos Esports*

 paiN Gaming
*jfshfh178 has replaced Virtus.pro who withdrew from the event three weeks ago.
**Hellraisers will be playing with a stand-in, Semion "CemaTheSlayer" Krivulya as Ilya 'ALOHADANCE' Korobkin has been benched. 
*** Chaos will be playing with a new offlaner, Jonáš "Saberlight-" Volek,  following the departure of Syed Sumail "Suma1L" Hassan immediately after the team qualified for the event.
Per Valve DPC rules, a team that removes a player after securing a slot at a minor or a major, will have a 20% deduction to the points obtained during that event in addition to the normal penalty.
The normal penalty is a 40% penalty on points earned from that tournament.
Summit 11 Minor Groups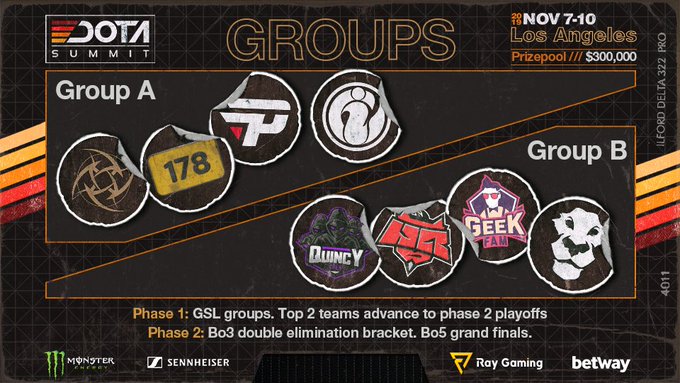 Summit 11 Minor format
Group Stage:

Two GSL groups
All games are Bo3
Top two teams advance to the Playoffs
Bottom two teams are eliminated

Playoffs:

Double elimination bracket
All games are Bo3
Bo5 Grand Finals
Dota Summit Minor prize pool and point distribution
| | | |
| --- | --- | --- |
| Place | Prize Pool | Points |
| 1st | $72,000 | 140* |
| 2nd  | $60,000 | 120 |
| 3rd | $54,000 | 110 |
| 4th | $42,000 | 90 |
| 5-6th | $24,000 | 60 |
| 5-6th | $24,000 | 60 |
| 7-8th Ad Finem | $12,000 | 40 |
| 7-8th paiN Gaming | $12,000 | 40 |
*Since the minor winner also gets to participate in the major, they will only get points for the event in which they placed better (e.g: If they place last in the major, they will only get 140 points for winning the minor. If they place 8th instead, they'd get the 450 points for the major but not the 140 points from the minor)
Summit 11 Minor
Between November 7-10th, eight teams determined via qualifiers will battle it out in Los Angeles, California for the lion's share of the $300,000 prize pool and 660 DPC points as well as the highly coveted spot at the MDL Chengdu Major taking place in Chengdu, Sichuan on November 16-24th.