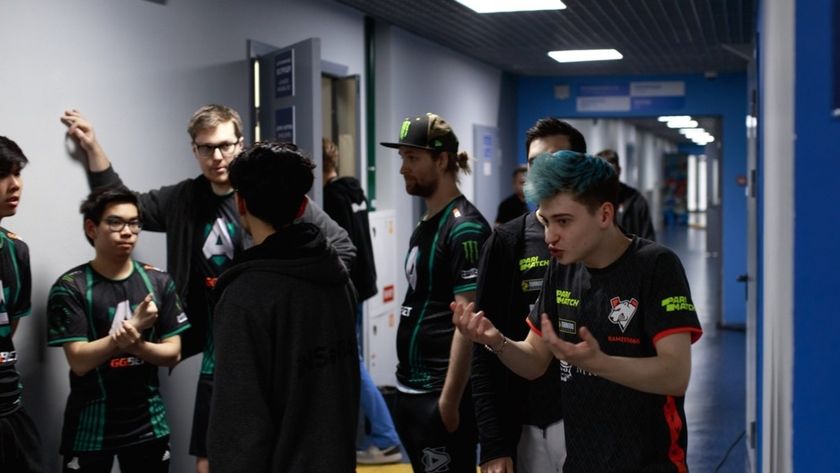 EPICENTER Major: Virtus.pro walking tall into Championship Sunday
Title image courtesy of EPICENTER
The EPICENTER Major has reached its final day and Virtus.pro seeks to hoist the trophy in front of a friendly home crowd.
Today began with a contentious bout between PSG.LGD and TNC Predator. The result may have been a two-game sweep in TNC Predator's favor, but the series offered so much more. Both teams waged vicious assaults to turn the tide on multiple occasions. TNC Predator overcame an early deficit to secure an advantage in the series, but PSG.LGD made the case abundantly clear that TNC Predator would have to bring their best to eliminate them. The Filipinos did not disappoint. Timothy John 'Tims' Randrup connected on a few influential Blackholes in game two to secure the series.
Alliance returned to play after earning a spot at The International yesterday but appeared to be recovering from a bit of an emotional hangover. Virtus.pro asserted dominance from the opening battle horn, onward. Game one was a massacre on a biblical scale. Alliance found no answers to the onslaught except conceding defeat and dropping the "GGs". Alliance's preparations and change in strategy before game two appeared to return immediate dividends. Virtus.pro was forced onto their heels but hadn't quite lost their balance. Several miscalculations on Alliance's part opened a window for Virtus.pro to take fight after fight with perfectly timed Ravages. The event ended abruptly for Alliance, but the war was won all the same.
The English talent at the event propped up Virtus.pro versus TNC Predator as a highly anticipated series. Reality unfolded in an entirely different manner. In game one, Roman 'RAMZES666' Kushnarev's Weaver tormented TNC Predator with uncontested access to the entire map. The hero was unkillable and that fact was displayed when TNC Predator lost on a last-ditch effort to bring him down. TNC Predator bounced back and seemed poised to send the series to a decisive game three. However, the Filipinos fell victim to one of the ugliest "322" collapses in recent DOTA 2 history. The victory propelled Virtus.pro to another Championship Sunday.
Championship Sunday commences tomorrow at 11:30 CET with the Lower Bracket Finals followed by the Grand Finals.
Upper Bracket
Round 3 - Best of 3
Round 4 - Best of 3
Lower Bracket
Final
EPICENTER Major
The last DPC event takes place in Moscow, Russia at the VTB Ice Palace June 22-30, with 16 teams competing for the lion's share of the $1,000,000 prize pool and more importantly, the highly coveted DPC points. The last four TI9 invites will be determined at the event, making this the most intense major of the season so far.