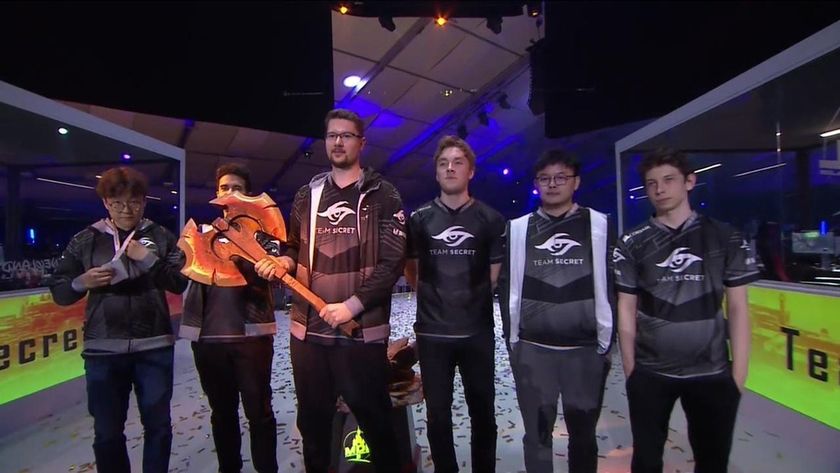 Team Secret are your MDL Disneyland Paris Major Champions
Title image courtesy of Dota2RUhub
In a reverse sweep, Team Secret trampled over Team Liquid to take the championship title at MDL Disneyland Paris Major 3:1. 
MDL Disneyland Paris Major has come to a thrilling end following an intense playoff series with some of the best Dota 2 games in the DPC 2018-2019 season. 
After Team Liquid took the first game in the Lower Bracket finals from Evil Geniuses in a dynamic fashion, taking barracks in just 12 minutes, the second game was a pure display of dominance featuring a flawless and unstoppable Amer 'Miracle-' Al-Barkawi on Morphling. The clean 2:0 sweep over the North American giants gave Team Liquid the spot in the Grand Finals and EG their third, 3rd place finish at a Major this season. 
A nearly two-hour break gave time for Team Liquid to recover as they then took to the stage to face the formidable Team Secret, who has proven over and over this season to be in their peak form. 
The first match showcased a quadruple ramapage from Miracle-, once again on Morphling with a 23:1:9 record.  After banning out the OP hero, Team Secret answered back in game two with 2 kills in the first 30 seconds. They didn't stop there, Team Secret instead kept their aggression and tempo going to take the victory and tie up the series. 
With the playing field once again level, Team Liquid were able to secure the Morphling pick, but found out rather quickly, it wasn't going to be as effective this time around as the Templar Assassin and Troll Warlord ended up being too much for Team Liquid to handle. The game was intense, but always belonged to Team Secret and they maintained a firm grip and control through to the end. 
What ended up being the last game was nothing short of a resounding victory for Team Secret as they trampled over Team Liquid in just 29 minutes, with Michal 'Nisha' Jankowski having a perfect performance with Sven. From Draft to execution Team Secret outclassed and outplayed Team Liquid in the reverse sweep for the championship title and the lion's share of the prize pool and points. 
Upper Bracket
Round 3 - Best of 3
Round 4 - Best of 3
Lower Bracket
Final
MDL Disneyland Paris Major Format
Group Stage - May 4th - May 5th

Sixteen teams are divided into four GSL groups of four teams each
The top two teams advance to the upper bracket of the playoffs
The bottom two teams advance to the lower bracket of the playoffs
All games are Bo3

Playoffs - May 6th - May 12th

Sixteen teams play in a double-elimination format, with the final four days being in front of a live crowd
Eight teams begin in the upper bracket, eight in the lower bracket
All games except Grand Finals and Lower Bracket Round 1 are Bo3
Lower Bracket Round 1 are Bo1
Grand Finals is Bo5
MDL Disneyland Paris Major Prize Pool Distribution:

The total prize pool for the event is $1,000,000 split between all 16 teams. In addition to the handsome financial reward, teams will be awarded DPC points as well. 
1st place: $TBD + 4,950 DPC points - Team Secret
2nd place: $TBD + 3,000 DPC points - Team Liquid
3rd place: $TBD + 2,100 DPC points - Evil Geniuses
4th place: $TBD + 1,350 DPC points -PSG.LGD
5-6th place: $TBD + 900 DPC points -OG/Ninjas in Pyjamas
7-8th place: $TBD + 450 DPC points - Virtus Pro/Vici Gaming
9-12th place: $TBD + 150 DPC points - paiN gaming/Mineski /compLexity Gaming/Keen Gaming
13-16th place: $TBD + 75 DPC points - beastcoast/Team Empire/Chaos E.C /Fnatic