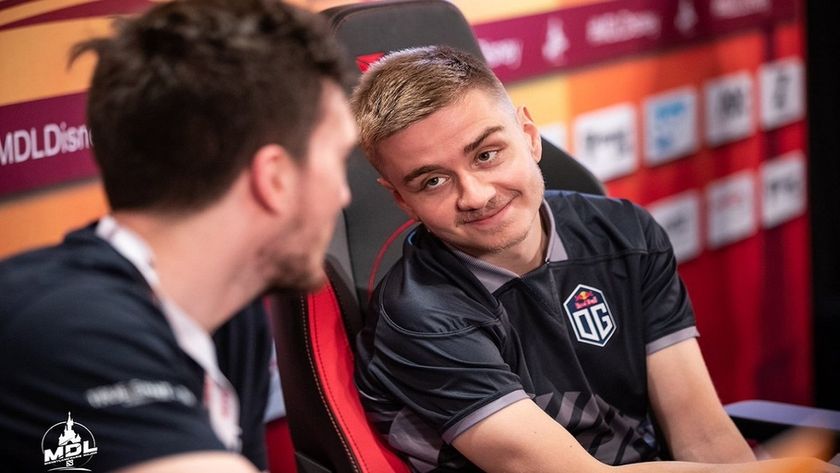 Europe triumphs in first day of MDL Disneyland Paris Major
Title image courtesy of MarsMedia
The first upper bracket series of MDL Disneyland Paris Major has been played out with OG and Team Secret advancing further along on the high road. 
The first day of the playoffs for MDL Disneyland Paris Major started off with two of the upper bracket series. Based off of the group stage results and performances, the matches were expected to be exciting — and they didn't disappoint. 
PSG.LGD were pitted against Team Secret, who has been trying some unconventional drafts and hero selections and looking to be in prime shape. The Chinese team's only win was flanked by two extremely dominant performances by Team Secret. Despite their secured place at TI9, the Europeans continue to prove that they are still in it to win it and very much as competitive as always. 
The top world team, Virtus.pro met up with a very prepared and very hungry OG. The first match was an evenly contested game with the gold advantage only being 3k at the most. One bad team fight for Virtus.pro who seemed to desperately be chasing the Drow Ranger, ended up not only in a failed attempt but a full teamwipe on their end. That was all the opening OG needed to end the game in their favor. The second match was very one-sided in favor of the TI8 champions. With a 4 protect 1 strategy VP had a difficult time taking fights the way they wanted to and kept getting picked apart. In just 19 minutes the game was over yielding the victory and series to OG. 
The action continues with two brutal best-of-one elimination series up next. 
Upper Bracket
Round 3 - Best of 3
Round 4 - Best of 3
Lower Bracket
Final
MDL Disneyland Paris Major Format
Group Stage - May 4th - May 5th

Sixteen teams are divided into four GSL groups of four teams each
The top two teams advance to the upper bracket of the playoffs
The bottom two teams advance to the lower bracket of the playoffs
All games are Bo3

Playoffs - May 6th - May 12th

Sixteen teams play in a double-elimination format, with the final four days being in front of a live crowd
Eight teams begin in the upper bracket, eight in the lower bracket
All games except Grand Finals and Lower Bracket Round 1 are Bo3
Lower Bracket Round 1 are Bo1
Grand Finals is Bo5
MDL Disneyland Paris Major Prize Pool Distribution:

The total prize pool for the event is $1,000,000 split between all 16 teams. In addition to the handsome financial reward, teams will be awarded DPC points as well. 
1st place: $TBD + 4,950 DPC points
2nd place: $TBD + 3,000 DPC points
3rd place: $TBD + 2,100 DPC points
4th place: $TBD + 1,350 DPC points
5-6th place: $TBD + 900 DPC points
7-8th place: $TBD + 450 DPC points
9-12th place: $TBD + 150 DPC points
13-16th place: $TBD + 75 DPC points