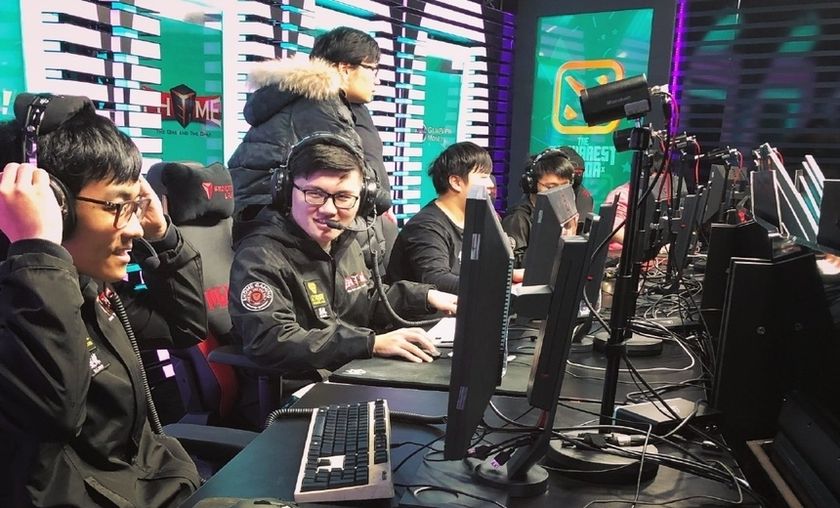 EHOME seize first Grand Final slot at Bucharest Minor

Photo courtesy of EHOME
With the Grand Finals at stake, the Chinese squad held Gambit to a winless series where absolutely nothing came easy.
Gambit Esports has ridden the momentum of their victory at We Play! Dota 2 Winter Madness into the Bucharest Minor, but got stonewalled by an equally impressive EHOME squad. The upper bracket finals was a grueling series which featured swings back-and-forth due to both clutch plays and costly mistakes.
Game one extended into the ultra-late phase in which patience and experience morph the game into a chess match. Gambit drafted a lineup revolving around a Medusa, while EHOME countered with the last pick Sniper - a common answer at the event thus far. In the waning moments of the game, it seemed as though Gambit was gaining the upper hand in team fights until the final skirmish. Gambit was able to kill the EHOME Terrorblade during the early moments and advanced onward to claim victory. However, in the middle of the map, Sniper dug his feet into the ground and unleashed an onslaught of right clicks which melted Gambit's heroes along with any hopes of winning the first game.
Gambit fell back on a Gyro-Wisp duo in game two as a means of extending the series, but a sluggish early game set them behind against a hero you do not want to fall behind against. The EHOME Antimage had the freedom to do anything he wanted on the map. A few ill-advised fights by EHOME allowed for Gambit to make it a close game, but Gambit returned the favor enough times to lock in a Grand Final spot for the Chinese.
Gambit may be pushed into the lower bracket, but their tournament may be far from over. EHOME and Gambit have set themselves apart from the rest of the field and a possible rematch between the two is imminent assuming Gambit can win the lower bracket finals.
Upper Bracket
Round 2 - Best of 3
Round 3 - Best of 3
Lower Bracket
Final
The lower bracket final will begin tomorrow at 10:00 CET between Keen Gaming and Gambit Esports. Afterward, the Grand Finals to decide who will claim the final spot at the Chongqing Major.