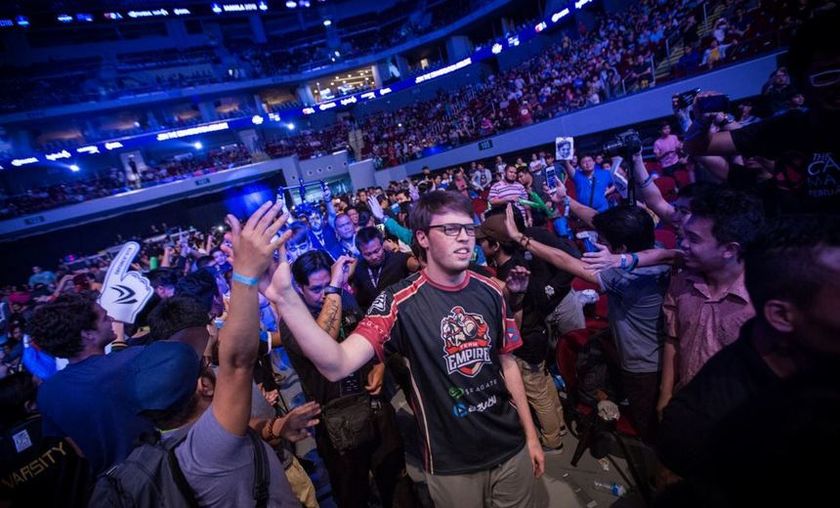 Team Empire are the Global Grand Masters Champions

photo credits: ESL One
Team Empire defeated Vega Squadron in the best of five grand finals of the first ever Global Grand Masters tournament.
Empire entered the finals of GGM with a one game advantage, having come from the winner's bracket final, and needing to win only two games to become the Champions of the first season of Global Grand Master. Along their way to the grand finals, they had won every series, defeating Escape Gaming, Power Rangers, and Alliance. Their path to the finals could have been very different however, as they were set to face Team Liquid in round two of the playoffs. Liquid however, after defeating Power Rangers 2-1 in the first round of the tournament decided to withdraw from GGM altogether only one hour before their game against Empire was supposed to start. This bumped the formerly defeated Power Rangers back up to the winning bracket, and they faced, and lost to, Empire instead.        
Vega Squadron's path through the lower bracket began when they lost 2-0 to Alliance in round two of the playoffs. In the lower bracket they eliminated Escape Gaming and Power Rangers before their rematch with Alliance. The Swedes were sent home by Vega on the back of a Shadow Demon/Luna combo in both games played
Upper Bracket
Round 2 - Best of 3
Round 3 - Best of 3
Lower Bracket
Final
Vega put up a good fight in the first game of the grand finals, and looked in control for most of the first game on the back of a very farmed Broodmother, but ultimately fell victim to an out of control Dmitry 'Undershock' Kostrov Storm Spirit as the game progressed.
The second game went faster as Empire's Drow Ranger/Medusa Core combo paid off, pushing Vega and a questionable Undying pick, out of the game around the 20 minute mark, and securing first place for Team Empire.  
Winning Global Grand Masters, Team Empire takes home the first place prize of $25,000, while Vega receives $12,500 for finishing second.