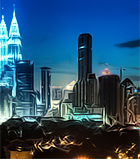 Mineski announces G1 Gaming League
The Mineski organization has recently expanded to Malaysia, and they will be lancing their first tournament on Malaysian soil - G-1 Gaming League. Featuring a prizepool of $10,500 as well as lots of gaming products, the tournament aims to promote competitive gaming in the country.
Mineski plans to put their recently opened cybercafes in Malaysia to good use. Through their main website, the organization announced a new series of tournaments, G-1 Gaming League. With a prizepool of RM 34,000 (roughly $10,500 USD) and lots of gaming products to win, the tournament seeks both gaming veterans and new talents alike, aiming to promote eSports in Malaysia.
Kenchi Yap, the vice president of Mineski, stated:
"Mineski is always supporting the eSports scene since 2004 in the Philippines. Now that Mineski is already here in Malaysia, we're planning to do the same here" organizing tournaments will be essential for growth of the eSports scene in the region and that these tournaments are "important platforms to make the local teams stronger and train to be those of world-class caliber and it will also generate new people to join the eSports scene."
With these tournaments serving as a training grounds, Mr Kenchi hopes that this will help propel new teams to become more widely-known and hopefully become sponsored teams someday. He also said that Mineski plans to support a local team, but more importantly will be setting up a foundation first.
The Malaysian G1 Gaming Tournament will start this September and last till December. For more information about registration and schedule, check out the official event page here.
Source : Mineski