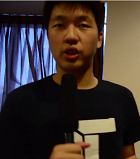 Ohaiyo gives tour of Titan's Gaming House
Ever wonder what a gaming house looks like? Worry not as Titan's Ohaiyo walks us through team Titan's gaming house.
The Malaysian team's offlaner toured us to their entire gaming house, and he even showed the rooms including the 'aegis deny' room.
The team's gaming house is located in Johor Baru, Malaysia, and they have been staying there since last year. It is about four hours drive from the city capital Kuala Lumpur, and is actually closer to Singapore which is just an hour away.
Titan is currently en route to Seattle for The International 4.