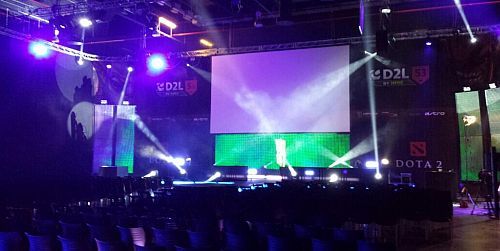 Na`Vi vs Mouz at DH Valencia to conclude Raidcall D2L
Na`Vi, fresh off their return from China, will be taking on Mousesports in the grand final of the Raidcall Dota 2 League in Dreamhack Valencia tomorrow. According to our Gosubets, Na`Vi is the heavy favourite to take the tournament at 86% of the total branches placed.
The epic conclusion of the Raidcall Dota 2 League will be held in Dreamhack Valencia tomorrow between two of the finest team from Europe.
This is Natus Vincere's first shot at a Dota 2 League title as they did not compete in the first season and only performed mediocre in the second one. Fresh off their return from China, Na`Vi was seeded directly to the semi-finals and took down Fnatic to reach the grand finals.
Mousesports did not have an easy road to the grand final, having to meet Team Dignitas in the quarter-finals and tournament favourite, Alliance in the semis. To the shock of many, Mousesports were able to take down Alliance in straight games under the leadership of Adrian 'FATA-' Trinks as the Puck in both skirmish.
Heading into the grand finals tomorrow, the Ukrainian team is the heavy favourite, claiming 86% of the total branches placed. Mousesports will have a lot to prove at Valencia before flying to Seattle to compete in The International 3. The grand final is set to begin at 19:00 CEST.
Round 2 - Best of 3
Round 3 - Best of 5
We have been informed that Aaron 'ayesee' Chambers will be the main broadcaster of the tournament while Salome 'Soe' Gschwind PenskiSoe will be the host of the tournament. The picture of the arena above was tweeted by ayesee a few hours ago.
The winner of the grand final will take home $5,000 in cash while the second placer will settle for $3,000. The winner of the third placer match between Alliance and Fnatic will take $2,000 but the match has yet to be scheduled.
Raidcall D2L Season 3

Placing

Teams

Prizes

1st place

 

$5,000

2nd place

 

$3,000

3rd place

 

$2,000
   RaidCall D2L Season 3 Coverage Hub
Check link for results, news, format and VODs