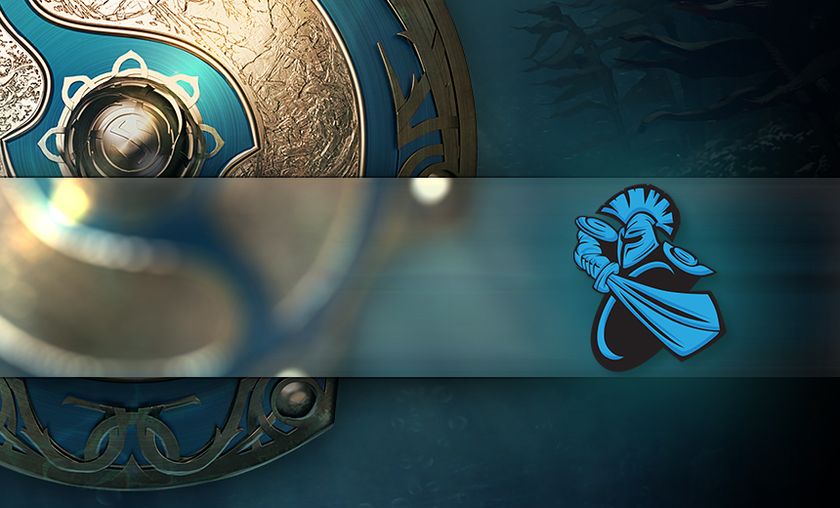 TI 7 profile: Newbee a team that can write history
For most of the players and teams attending The International 2017, the goal is to take home the most prestigious trophy we have in Dota 2, but for a few of them the dream is to reclaim it. No team has won two Internationals so far and this year the  three who will try to change that are Invictus Gaming (TI2 Champions), Newbee (TI 4 Champions) and Evil Geniuses (TI 5 Champions). This TI 7 team profile will try to give some insight into Newbee, the most constant Chinese team through the past year and one of the strongest contenders going to Seattle.
Newbee is no stranger to The International big stage. Back in 2014, when the organization actually made its Dota 2 debut, they won The International 4 with a legendary trio, namely Zhang 'xiao8' Ning, Zhang 'Mu' Pan, and Chen 'Hao' Zhihao. In the meantime, these three players went on a hiatus from their professional careers and after a 9th/12th place finish at TI 6, Newbee realized that they need to take a different approach.
Newbee restart
In Mid-September 2016 Faith, a TI2 Champion, was brought to Newbee and took the captain role from Kaka. Alongside him, two less familiar faces, Sccc and uuu9 (renamed Moogy now), joined the squad to contribute along Newbee's road to TI 7.
Newbee roster from position 1 to 5:
Xu 'Moogy ' Han

Song 'Sccc' Chun

Damien 'kpii' Chok|

Zeng 'Faith' Hongda

Hu 'Kaka' Liangzhi
Although not exactly Dota super-stars when they joined Newbee, both Sccc and Moogy were not rookies either. Moogy grinded his way into a tier one team after almost four years at TongFu where he initially played as mid-laner, then switched to the carry position. In his last year at TongFu, Moogy got to play alongside Faith and they were both recruited at the same time by Newbee. So when they joined Newbee, Faith already knew exactly what Moogy was made of.
With Sccc the story is a little bit different. Only 21 years old, Sccc is a Chinese People's Liberation Army veteran, having served three years. He started his Dota 2 professional career only after he finished his military service and his first team was Newbee.Young, which he officially joined in April 2015, also taking on the captain role. By the end of the same year, Sccc had already participated in his first Valve event, the Frankfurt Major. Sccc's promotion to the main team came naturally and when paired with Moogy, the two cores became a unique phenomenon in the current professional scene.
Moogy and Sccc - a unique duo core that defines Newbee
Moogy and Sccc successfully formed a truly unique duo core and both are equally important for Newbee's success. It's been the same since day one of this roster's existence, and Faith has been working ever since to elaborate strategies that can protect the laning phase of both mid and safe laners at the same time. This translated into a team that's not eager to initiate fights, and that will not adventure in early ganks, waiting instead for their opponents to become aggressive. When that happens, Newbee's adversaries are facing a great defensive wall, as three or even four teleports would come to protect Sccc or Moogy.
In most cases Newbee's retaliation is deadly, as they can quickly turn around and stomp most early aggressive moves that their enemies might throw at them. Moogy usually plays carries that are not relying on their ultimates, and when he is handling a hero like Juggernaut he doesn't save the Omnislash for a killing blow, preferring instead to do any amount of damage on as many possible targets so Sccc can clean from behind with a Queen of Pain, Lina, Storm Spirit or Invoker, or any other hero that provides a good amount of AoE damage.
Through the ten months they have spent playing together, Newbee tried a lot of tactics, sometimes even ignoring the meta. From Morphling - Drow Ranger split push strategies to Templar Assassin - Slardar - Dazzle minus armor combos or really late game drafts that would bring Kpii's Naga Siren into the spotlight, Newbee seems to have found what suits them the best after the big change made to the game on the 12th of December 2016 with the 7.00 New Journey patch. Two weeks after the patch was deployed, Newbee finished the year at the top of the Chinese Dota 2 Professional League Season 2 and began 2017 placing top 3 at three LAN events ahead of the Kiev Major.
Newbee's results in 2017:
2nd place - ESL One Genting 2017
3rd place - Dota 2 Asia Championships 2017
1st place - Dota2 Professional League Season 3
9th/16th place - The Kiev Major
3rd/4th place  - StarLadder i-League Invitational Season 2
2nd place - The Manila Masters
1st place - ZOTAC Cup Masters
1st place - Galaxy Battles
3rd place - Mars Dota 2 League 2017
After the disastrous result from Kiev Major, Newbee worked on improving the supports farm distribution and it became a habit for Kaka to spend more time in the jungle farming key items on heroes like Sand King, on which he boasts a 72.2% win rate in 18 matches on the 7.06 patch. He's not afraid to lurk in the enemy jungle more, ready to help Kpii to have a smooth laning stage instead of bouncing from safe to mid lane. This way, Faith has more room to farm his own Jungle and from his fifth support position he often surprises his enemies with a below 30 minutes Aghanim's Scepter on heroes that can make great use of it, like Visage or Shadow Shaman.
However, despite the fact that Crystal Maiden has fallen out of meta lately, Faith is still happy to pick her in the first drafting phase. In the 7.06 patch, Crystal Maiden is still Faith's most played hero with an impressive 75.00 % winrate in 16 games (12 wins/4 losses). One hero that has been constantly buffed seems to have caught Faith's interest as well. During MDL 2017, Faith played Shadow Shaman six times and won five of those matches. At the same event, Kpii gave it a go to the Underlord hero who likes to stay on the frontlines to stack his Atrophy Aura. Moogy has also tried a few new things and let Sven to rest a little in favor of Venomanacer, Faceless Void or Lycan.
Newbee in numbers in the 7.06 patch
58 matches
35 matches as Dire
23 matches as Radiant
62.00% winrate, 36 wins/22losses
Newbee's top ten played heroes in the 7.06 patch:
| Hero | Total | Wins | Losses | Winrate |
| --- | --- | --- | --- | --- |
| Sand King | 20 | 14 | 7 | 70.00% |
| Crystal Maiden | 16 | 12 | 4 | 75.00% |
| Queen of Pain | 16 | 10 | 6 | 62.50% |
| Juggernaut | 12 | 9 | 3 | 75.00% |
| Ursa | 10 | 5 | 5 | 50.00% |
| Batrider | 9 | 6 | 3 | 66.67% |
| Puck | 9 | 6 | 3 | 66.67% |
| Clockwerk | 9 | 6 | 3 | 66.67% |
| Disruptor | 9 | 5 | 4 | 55.56% |
| Tidehunter | 9 | 5 | 4 | 55.56% |
Newbee's most successful hero combos in the 7.06 patch
| Heroes | Total | Wins | Losses | Winrate |
| --- | --- | --- | --- | --- |
| Puck +Sand King | 5 | 5 | 0 | 100% |
| Qeen of Pain + Batrider | 4 | 4 | 0 | 100% |
| Crystal Maien + Juggernaut | 9 | 7 | 2 | 77.78% |
| Crystal Maiden + Night Stalker | 5 | 4 | 1 | 80.00% |
| Crystal Maiden + Clockwerk | 5 | 4 | 1 | 80.00% |
| Disruptor + Ursa | 5 | 3 | 2 | 60.00% |
| Sand King Queen of Pain | 5 | 3 | 2 | 60.00% |
Newbee is one of the few teams we had the chance to see playing after the release of the 7.06e patch. In their 18 games in total played at MDL, they played 43 different heroes from which Shadow Shaman was played six times in combination with another strong pusher and sometimes also paired with Sand King for the extremely efficient crowd control combo Hex-Burrowstrike-Shackles. This could indicate that they might prepare some fast forward pushing drafts for Seattle.
Once again, Valve has set a new record in esports with the TI 7 prize pool, which already surpassed $21.5m thanks to  community contributions. Newbee can be the ones who can set a Dota 2 record as well by becoming the first organization to win a second Aegis of the Immortals this year. For four of their players, it will be the first time to lift the most wanted trophy above their heads. But for Faith, the team captain, winning the International twice would make him a living legend.
Stats gathered from datdota.com
Click here for results, VODs and all the other information