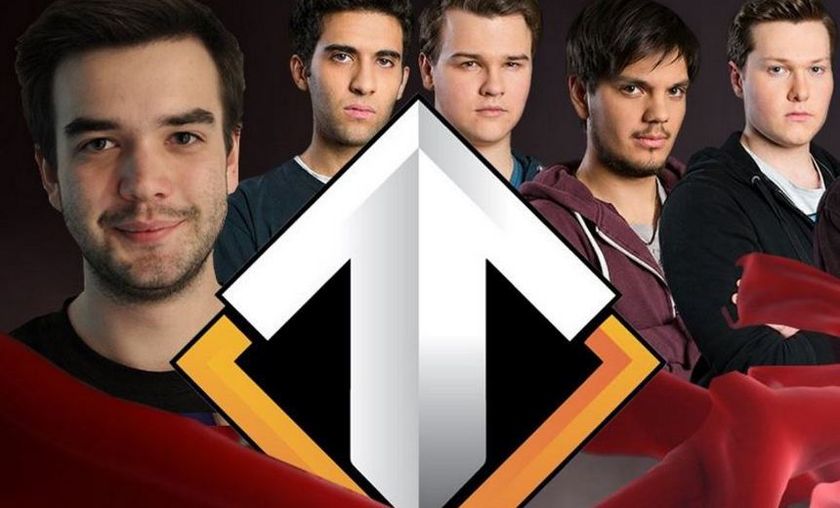 Escape Gaming CEO, Till Hoffmann and syndereN in one eloquent interview ahead of TI6

The Interview was conducted by Allen 'Bonkers' Cook
---
Till Hoffmann, CEO of Escape Gaming
Till; firstly, congratulations on how your new squad has performed, and whilst nobody will say the job is done yet, it must still be pleasing for you that the team have given themselves a real chance of playing in the main event at TI. What plans can you share for the build up to the TI wildcard matches?
It's certainly far from over, but so far we're extremely pleased with the performance of the team in The International qualifiers. They were certainly confident going into the event, but now that they have achieved their Wild Card position a lot of heads have been turned. We're going to give it everything in the WIld Card event, attending the main event would be a huge success and something that each player is really motivated to achieve. We're currently working with the team to ensure that they get all of the preparation that they need; after our bootcamp success in Dortmund for the TI qualification we definitely want more of the same.
For those that don't know, my understanding of Escape gaming is that alongside your new Dota line-up you also run a successful CS:GO team and are maybe interested in getting into the Hearthstone arena? What is your vision for Escape Gaming in the next 6 months?
One of our main goals is to work with players in the largest eSports titles and to give them an opportunity to grow with our support. We're happy with the progress in our CS:GO team and want to expand that to other areas; which is why we are in the process of bringing a Hearthstone player into the Organization at the moment. We're also turning our sights to League of Legends, though we intend to take our time and wait for the right opportunity there. We're also bringing several partners to our brand which we are looking forward to working with; this will also help us to achieve our goal of setting up a team gaming house in Germany.

image source
Before acquiring No Diggity, did you consider any other teams? How long did it take you to decide to go with No Diggity?
We spent some time watching the DotA2 scene and speaking to various people for advice before stepping in to approach the team. We did consider our options carefully at the time; but after working with the team for the last few weeks we're more than certain that we made the right decision. The team was very professional in initial talks and with the help of the Nordic eSports Agency and the team's agent Rasmus Simonsen we were able to come to a very quick agreement.
What support network does the team currently have in place, for example, a team coach, manager, stats person etc?
The guys have been working with their manager, Marie "Jeez" Ringdal (@JeezDota) since before we signed them and we're happy to work closely with her going forward. We also like to get to know each player personally and really value spending time with them so that we can better understand their individual needs. We're also going to be picking up Benjamin "Notah" Läärä (@NotAHax) as a coach for The International, he will be travelling along with us to help support the team in that aspect. We're looking forward to seeing how he will be able to support the team at the event since his remote coaching for the qualification stage was very successful. Of course, syndereN is an extremely analytical player and as Team Captain he spends a lot of time planning drafts and strategizing for future matches.
Are you planning to attend TI yourself, and have you been to an event of this magnitude before?
We'll be taking all of the management with us to TI since it's the largest event of the year and certainly the largest event that our relatively young organization has qualified for. We're all really excited to visit Seattle and meet with other teams and people in the DotA2 community. It's certainly the largest event of magnitude that I will have visited so far!
---
Troels 'syndereN' Nielsen, Dota 2 team Captain of Escape Gaming
---
syndereN hello, let's go straight with the questions. What advantages have there been so far in joining an organization?
Stability and opportunities. We had a great bootcamp for the qualifiers for TI and will have another one before TI as well. Salaries help for the stability of the players. The organization is driven and we all want the best for the project.
How much sleep did you lose considering going with mouz for this TI?
None, really. mouz doesn't seem very involved with Dota 2 and haven't been for a while. We were looking for something else.
For Khezu and Yapzor, being in a professional organization at a major event will be a new experience. Have you done any special preparation with these guys, and do you have any concerns about how this could affect them?
They both really don't have LAN/important tournament jitters. Both at Epicenter, DreamLeague and the TI qualifiers they were playing solidly, and you couldn't really tell their inexperience. I think, if anything, they will perform even better.
There's a good chance you could face compLexity in the Wildcards; how much would it affect someone like Era who played with Chessie, or Limp who played with Handsken for the best part of a year before NiP broke up?
It means the players know each other and their play styles a bit better, but I don't feel like these things make that big of a difference. Their importance often gets overstated in commentary, I would say.
What are your minimum expectations for TI6?
Boring answer, but we really take one step at a time. I'm expecting us to make it out of the wild card round and then to just push ourselves as far as we can. CDEC showed at TI5 how far a wild card team can go, and in an interview with one of them it was said that the wild card games were the hardest because of the pressure. After that they could loosen up more and play their games, enjoy their time and get as far as possible. I feel the same way. The only true disappointment would be not making it into the main event of TI, because then we never know "what could have been" and don't get to fight with all of the other teams to get the placement we deserve among the entirety of the pack.
Whilst I appreciate you wouldn't intend to share them, will you plan on (or indeed have you already planned) any pocket strats or surprise drafts (such as suppofling™ ) or do you believe just to play to a more traditional format? Also Lina has been missed a lot in this recent patch, do you think she's being overlooked at all?
We will of course have some things prepared (surprise drafts, if you will), but I will not be sharing any details on it.
Do you think you've learned something new as a player at the time you were coaching Alliance at the Manila Major?
Yes. You get a different perspective on the game from seeing another team play and interacting with them as I did during that time. It's also a good confidence booster having a team like that listen to and appreciate your feedback on their play. It helps reinforce me in some of my ideals for the game, while they also "teach me" while I'm coaching them, because I get to see some different things and we bounce ideas off each other.

The International 6 Coverage HUB
Click here for results, VODs and all the other information