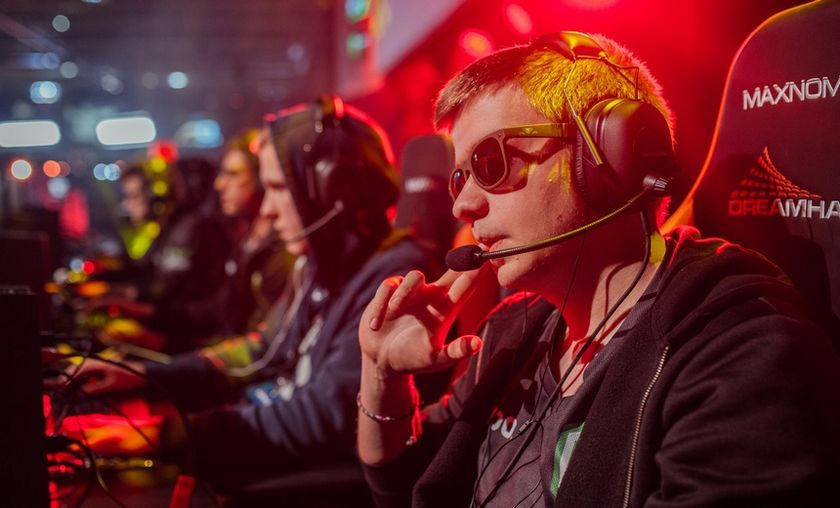 Get ready for a DreamLeague weekend
For the fifth season, DreamLeague has implemented a new system for Dota 2 competitions, featuring a mini-prize pool up for grabs in the League play where eight teams faced each other in a best-of-two round robin format with hopes of qualifying for the playoffs.
Each game rewarded the winners with $1,000. First place finishers in the league group are Natus Vincere with 11 victories, $11,000 prize money. The other two teams making it into the Playoffs are No Diggity and Virtus.Pro, both with eight wins - $8,000 already in the bag. OG are the defending Champions from DreamLeague Season 4, therefore received a direct invite for the main event Playoffs.
Keep in mind that this season will not be played in front of a live audience, the four participants will travel to Stockholm, Sweden but the playoffs will be played at DreamHack Studios. The entire event will be broadcast via twitch.tv on the official DreamHack channel.
DreamLeague Season 5 participants:
Natus Vincere
It's been a while for Na'Vi fans patiently waiting for the Ukrainian beast to come out of hibernation, but 2016 has finally brought a glimmer of hope for the long awaited comeback. Although they haven't won anything yet, they displayed great form at every LAN event they've participated. The second place finish at StarLadder i-League Dota 2 Invitational, where they lost the Grand Finals to Vici Gaming Reborn is their best performance this year in offline tournaments.
Looking back at their recent official games we find that Na'Vi has already defeated all of their opponents from this DreamLeague Season. OG fell short against the Ukrainians a month ago at SL i-League Dota 2 Invitational while No Digiggity and Virtus.Pro were eliminated by Na'Vi from the ESL One Frankfurt European qualifiers.  
All these results should put Na'Vi as frontrunners to win DreamLeague Season 5 but Dota 2 is a difficult game to predict.
No Diggity

image source
There's quite a difference between the first incarnation of Troels 'syndereN' Nielsen's team in December last year when Steak Gaming made its appearance on the professional scene, and what he has now at No Diggity. From the old roster syndereN kept only with Adrian 'Era' Kryeziu and put together a lineup with great potential. Their recent performance at Manila Major European qualifiers where they finished on the third place and the success at the EPICENTER European qualifiers are signs of a team ready to deliver the big surprise any moment now.
Three of the No Diggity players have great Dota 2 professional experience behind, while both Yazied 'Yapz0r' Jaradat and Maurice 'KheZu' Gutmann are two very talented but still new competitors on the big scene. For Yapz0r it's been nearly one year since he joined the professionals. He started in Balkan Bears and played afterwards for a variety of tier two teams featuring big old stars. KheZu is the most recent player to switch from Heroes of Newerth to Dota2. From HoN he comes with "The Most Valuable offlaner (suicide laner) " title and he is also the player with the all times highest earnings , ahead of swindlemelonz and Chessie. 
Last week's performance of No Diggity at EPICENTER wild card competition is far from a satisfactory one but Moscow marked their first appearance in an offline tournament format and in their series against Fnatic they displayed amazing teamplay.
From all the DreamLeague Season 5 participants, No Diggity has the most official games played in the new patch. If we add on top of that their huge determination to establish a name for themselves in the professional Dota 2 scene, we might witness a surprise this weekend at the DreamHack studios. Maybe they still have a lot to adjust as a team but a top three finish is very likely to be achieved by the five boys from No Diggity.
Virtus.Pro

image source
Virtus.Pro have been struggling to find their stride since last year's International where they finished sixth place, the highest position for an European team at the event. The straight line decline has triggered big roster changes in both winter and spring shuffle seasons. However, they are yet to find a way of rejoining the top shape that defined them a year ago.
With the recent participation at Manila Major European qualifiers, where they haven't been able to pass the group stage, their captain Artem 'fng' Barshak has changed the position 5 support role with the offlane. A great decision considering he now has both Ilya 'ALOHADANCE' Korobkin and Alexander 'NoFear' Churochkin in his team. But the new role change will take time for VP to adjust to and they may run out of time for this season's biggest events.
Judging on their recent performance at EPICENTER and on their poor results at the Manila Major qualifiers it's hard to picture how Virtus Pro will be able to put up a fight against any of the three teams they have to face at DreamLeague Season 5 Playoffs.
OG

image source
Much like Virtus.Pro, OG has impressed everyone with their amazing run at the first ever Dota 2 Major, back in November last year, but failed to deliver the same spectacular performance in any other big LAN event that came afterwards.
However, they are one of the fewest teams to stick in the same formula since their inception and after their more than disappointing results at Shanghai Major, DotaPit Season 4 and SL i-League Invitational, they finally reminded us at EPICENTER why OG is a named to be feared and respected.
A skeptic can say that they show nothing with the third place in Moscow but realistically speaking, OG's shape from last week is by far the best they had this year. And that was just the first tournament played in the current patch. Their adversaries from DreamLeague Season 5 are not as tough as the ones from EPICENTER and that's why OG should not have any problem in defending their title in Sweden. 
DreamLeague Season 5 playoffs bracket and schedule:
The four teams will be playing across the two days LAN studio playoffs event, May 21st and 22nd in a double elimination bracket, best-of-three series and best-of-five Grand Final for a share of the $100,000 prize pool money.
Upper Bracket
Round 1 - Best of 3
Round 2 - Best of 3
Lower Bracket
Round 1 - Best of 3
Round 2 - Best of 3
Final
The first day of the event schedules four series and two teams are bound to exit the competition, leaving day two only with the lower bracket finals and the grand finals to be played.
Prize pool distribution:
1st place: $50,000
2nd place: $25,000
3rd place: $15,000
4th place: $10,000
headline image source: DreamLeague