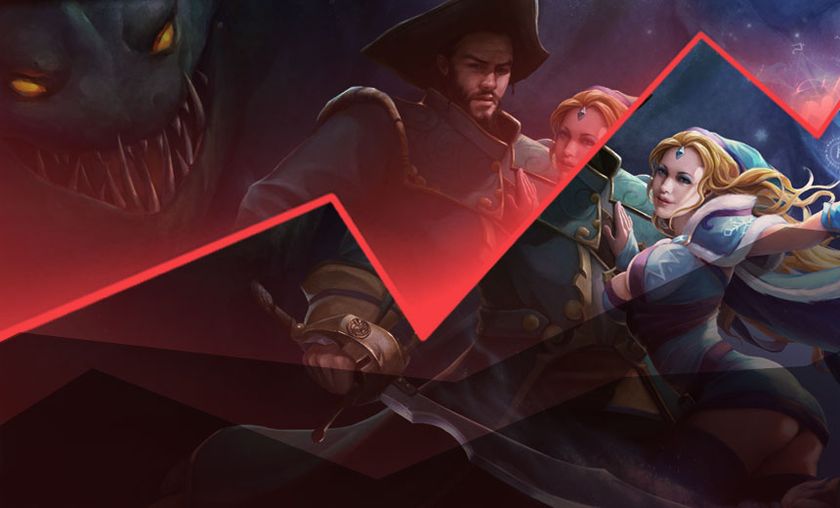 May report: The month for Team Secret
What are the GosuRankings?
The GosuRankings is the most extensive player and team database in existence for Dota 2. Fueled by the GosuGamers tournament database which currently spans over more than 270 tournaments, the Dota 2 rankings track teams' career-long performance in all tournaments, qualifiers and show matches they take part in and appoints them a certain numbers. The rankings also take into account the so called "tournament importance" meaning winning the Major tournament means more than coming on top of a weekly open cup.
Below, we take a look at the bigger events that happened in the month of May.
 
Note 1: May's results aren't solely responsible for the final rankings; they merely add to players' lifetime career performances.

Note 2: Tournament importance varies even within a particular tier (i.e. not all tier 2 events are equal)

Note 3: Tiers are NOT the official way of determining/naming tournament importance by GosuCrew. These are used so that some basic mechanics of the system are articulated better to our readers.

Best performing in May


All ranking numbers are as of . It's possible that rankings have changed at press time.
We don't think that anybody will argue if we call Team Secret the best performing team in May. After their horrendous finish in April, they switched their captain from Ludwig 'Zai' Wåhlberg to Gustav 's4' Magnusson and things started turning for the better. S4 showcased his first time in the captain position at Red Bull Battle Grounds and while they did not play many games in the groupstage, they took Invictus Gaming to five games in the grand final and ultimately, won their first title ever.
The title came as quite of a surprise to the community but they did not doubt Secret anymore when they took down The Summit 3 title just a week after. Team Secret was on a 8-0 winning streak throughout May and with two titles under their belt, they took a rest from I-League 3 and Dota 2 Champions League 5 to prepare for MarsTV Dota 2 League, which they won as well. But we'll save that for the June report.
Widely regarded as the best performing team in 2015, Vici Gaming below average in May and finished second place twice in Dota 2 Champions League and I-League 3, and third in The Summit 3. 
Vici Gaming came into the month of May strong, going on an undefeated streak since April 12 in both online leagues and offline tournaments. However, the introduction of the patch 6.84c has slowed down the Chinese giant a little, putting their ability to adapt to question. Vici Gaming scored only a 68.4% win rate after the patch was introduced.
Despite that, we have to agree that coming top three in these major tournaments is no easy feat and they did beat a lot of TI worthy teams on their way there. With ESL One Frankfurt and The International 5, the month of June should be the month Vici Gaming makes a comeback. Watch out. 
You could say that LGD is the dark horse in the month of May. In the months prior to the last, LGD has been slowly improving, placing decently in many Chinese tournament and they did not make a big deal out of it. 
Now that we are two months away from The International, LGD has begun showing its fangs. They surprised Vici Gaming in the grand final of I-League 3, defeating the heavy favourites 3-0. Prior to I-League 3, LGD also won the MarsTV Dota 2 League Chinese qualifier and finished fourth in The Summit 3. 
LGD ended their May run with an impressive 15-3-4 record, allowing them to jump up three positions in GosuRanking to third place.
Live rankings' top 10
 
The highs
- Cloud 9 third position in MarsTV Dota 2 League raised their rank to 3.
- Team Secret and Vici Gaming solidifies position on 1st and 2nd respectively off a strong run in MarsTV Dota 2 League
- Swedish teams NiP and Alliance made it to top 10 as they reach the grand final of jD MLG Season 2.
 
The lows:
- Evil Geniuses early exit at jD MLG Season 2 caused them to drop one rank.
- Invictus Gaming's lackluster performance allowed Empire to overtake them.
 
Notes: Fnatic (ex-MY) are not in top 10 because they are taking over the Fnatic slot. They are currently in position 32 and will need a little more time to calculate their true ELO.
Images taken from BTS flickr.
 
---
More content on GosuGamers