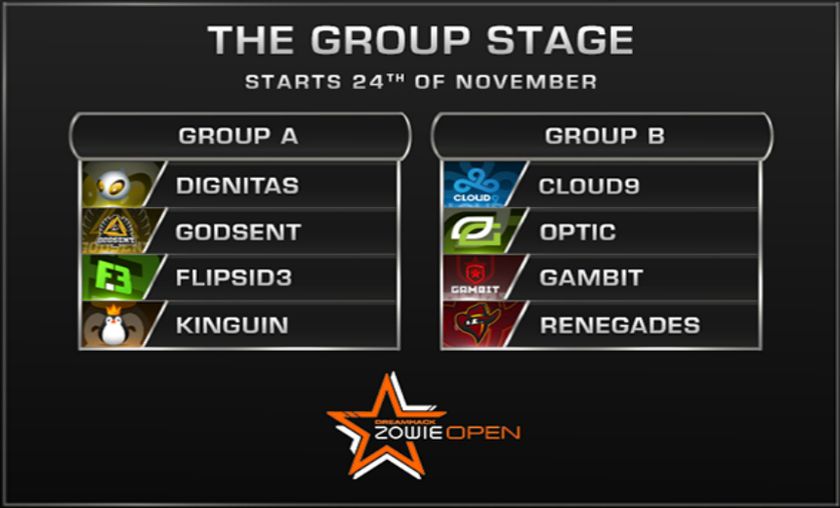 DreamHack Winter 2016 - Groups and scheduling revealed
DreamHack have released information regarding the group draws and schedulling for the upcoming DreamHack ZOWIE Open.
With DreamHack Winter 2016 just two days away, the organisers have announced group draws for the eight participants. Five of the eight participants received direct invites, whilst three of the teams were admitted through a closed qualifier. FlipSid3 Tactics bested Epsilon eSports in the first round of four with a 2-1 map score, securing the first placement at the LAN finals. Following the Ukrainian roster we saw Gambit Gaming secure their placement with a 2-0 victory against Team Kinguin. Finally, Team Kinguin entered the race through extraordinary circumstances, whereby FaZe Clan were supposed to participate, but withdrew last-minute from the event due to a crowded schedule. For their spot a decider match was played between Team Kinguin and Epsilon eSports, where Kinguin superseded the Swedes with a 2-0 map score, deciding the last roster participating at the tournament. 
Following are the two groups we'll see at the tournament:
 

The LAN finals of the event will be taking place in Jönköping, Sweden at the Elmia Exhibition and Convention Centre on November 24th through 26th. A grand prize pool of $100,000 is on the line, with some of the finest teams in the CS:GO professional scene butting heads for the dearest slice - $50,000. The group stage will see a Bo1 format, with the deciding matches as Bo3s. The top two contenders from the group stage advance to the semi-finals. Playoffs will see Bo3 matches exclusively, including the Grand final.
Below is the prize pool breakdown for all placements:
1st place - $50,000
2nd place - $20,000
3rd & 4th places - $10,000
5th & 6th places - $3,000
7th & 8th places - $2,000
For those interested in the scheduling of the matches, below is a comprehensive schedule (all times expressed in CET):
All matches can be viewed on DreamHack's Twitch.tv channel.
Thursday, November 24th - Group stage (Bo1)
12:30 -
Team Dignitas vs.
Team Kinguin
14:00 -
Cloud9 vs.
Renegades
16:30 -
GODSENT vs.
FlipSid3 Tactics
18:00 -
OpTic Gaming vs.
Gambit Gaming
19:30 - Group A - Winners' Match
21:00 - Group B - Winners' Match
Friday, November 25th - Deciders (Bo3)
12:00 - Group A - Elimination Match
15:00 - Group B - Elimination Match
18:00 - Group A - Decider Match
21:00 - Group B - Decider Match
Saturday, November 26th - Playoffs (Bo3)
11:00 - Semi Final #1 - B1 vs. A2 
14:00 - Semi Final #2 - A1 vs. B2 
18:00 - Grand Final

Headline image courtesy of DreamHack