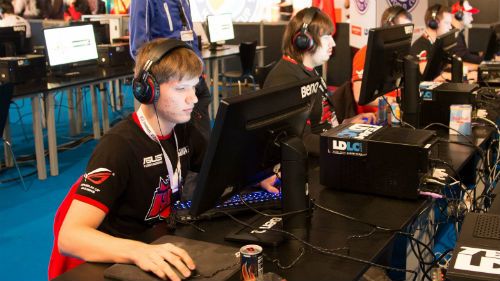 ESWC Day 2 Recap: HellRaisers, Team Dignitas Top Groups
Day 2 of ESWC 2014 has concluded and the last four teams heading to playoffs have been determined. HellRaisers and Team Dignitas finish on top of their groups.
After another exciting day at ESWC, both HellRaisers and Titan get through group C scoring 4-1 in the process. However, since the Ukranian team has the head to head against the French, they will be moving on as the first seeded team. The only team who managed to beat HellRaisers was Copenhagen Wolves. The Danish team had a nice showing during the group stages and ended up finishing third with 3 wins an 2 loses. Ninjas in Pyjamas once again underperformed, placing fouth, although they had a chance at going through groups with a win against Titan during their final game.
In Group D, Team Dignitas and iBUYPOWER asserted their dominance and easily finished in the top two slots. Their match was an amazing game to watch, but in the end the Danish team came on the top with 16-14 score and the first seed in the group. iBP had their only loss from that game, scoring 4-1, while Dignitas came out undefeated.
Round 2 - Best of 3
Round 3 - Best of 3
Schedule for November 1st:
09.30 CET - Team LDLC vs Titan - Bo3
09.30 CET - Natus Vincere vs iBUYPOWER - Bo3
12.00 CET - Team Dignitas vs Virtus.pro - Bo3
12.00 CET - HellRaisers vs Fnatic - Bo3
14.00 CET - Semi Final match 1 - Bo3
16.00 CET - Semi Final match 2 - Bo3
Headline image: Source
Click here for results, VODs and all the other information