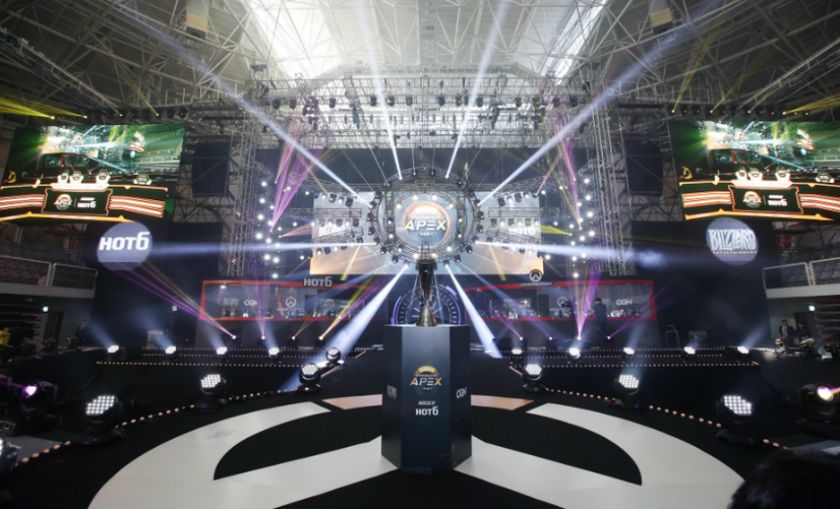 Everything you need to know about OGN Apex Season 3
With OGN Apex starting today, here is all the information you need to know to properly enjoy the games
When season 2 of OGN Apex ended, it left a hole in competitive Overwatch. Luckily we had several online tournaments to fill the gap, but none of them compared to the high production and skill level we've come to expect from Korea. OGN did manage to sneak in another season before the OWL is supposed to start, only making us wait three weeks between S2 and S3. APEX Season 3 kicked off today, with Lunatic Hai getting pushed to a fifth map by KongDoo Panthera as the first game.
This article will feature everything you need to know to enjoy Season 3.
Western Teams
This season only two western teams were invited to the tournament. Last seasons, OGN would invite four western teams, one for each group. However, perhaps due to the upcoming Overwatch League, this season they decided to only invite the following two:
Neither one of these teams is a surprise. EnVyUs has been at every single season of Apex, winning the first one. Rogue has been wreaking havoc in online tournaments in NA, going undefeated for all of 2017 beating out nV in the Rivalcade final this past weekend. Lets have a look at how these 2 teams stack against some of the Korean teams.
EnVyUs
This one is the easiest to compare seeing as they have consistently played against these teams. EnVyUs won the first season of Apex when the meta worked in their favour. Last season the meta did not work in their favour however. They recently played in the Overwatch Rumble which displayed the best NA teams. nV handily made their way to the final where they narrowly fell to Rogue. So the former kings of NA are still fighting for the crown.
NV recently lost INTERNETHULK to Rogue. INTERNETHULK's contract expired and he moved into the head coach role with Rogue, albeit on a trial basis. This happened immediately prior to the Overwatch Rumble and so nV got Lui to sub in. NV has announced their roster is now seven players large:
Despite having these sort of last minute adjustments, nV performed well in their last matches and should be able to make a good show in South Korea. 
Rogue
Rogue recently moved from EU to NA and has since been dominating that scene. The French roster moved to Las Vegas, likely for the upcoming OWL, where they got set up and got down to business: not dropping a match in 2017 yet. Rogue narrowly beat out nV in the Overwatch Rumble finals proving they are the best in NA. At least for now.
As stated, Hulk has joined Rogue as their new coach. He has travelled with the team to South Korea and will be helping his new team beat out his former team. In an Overview episode INTERNETHULK said that, among other reasons, he joined Rogue so as to be able to exact revenge on nV, after his team mates voted him out. For more information on the change read our article here.
What is interesting about Rogue is their playstyle compared to Koreans. Rogue runs dive style no matter what the situation is. SOON is an absolute Tracer god and NICOGDH is a top 5 NA Genji. But a lot of Korean teams run the dive style as well. Will Rogue be able to beat the best in the world at their own game? Doubtful, but there is only one way to find out.
Players/Teams to watch
Every season brings a different storyline to the game. Last years was a Cinderella run by a team that captured our hearts; season 1 gave us the first real West vs East final. We are going to have a look at the players and teams to keep an eye out for this season.
Runaway
Fresh off their Cinderella run all the way to finals where they narrowly lost to Lunatic Hai, RunAway may now have the resources they need to upgrade from an amateur team to a mainstay pro team. RunAway didn't even have a proper organisation. They were balancing full time competing on top of their normal lives, some of which included caring for children and jobs.
On top of this the team has addressed their weakest link in support player Shine. This isn't to say that Shine is a bad player, just that he isn't on the same level as the rest of one of the best teams in the world. RunAway have chosen 2 players to replace him, taking advantage of the substitute rule change in OGN. This will give RunAway more stamina for those long matches like the final against LH. They also receive some extra skill in the support department, hopefully allowing players such as Kaiser to carry the team even harder.
Lunatic Hai won the tournament last year. They started off slow and ended up barely beating RunAway on map 7 of the game. It was one of the best matches played in a long time. To build on that success Lunatic Hai wanted to acquire a couple of extra players so they could make substitutions.
Those 2 players were Claris and Munchkin.
However, due to controversy surrounding Munchkin he was ejected from the roster. And due to Claris' proximity to Munchkin he too was accused and felt too much pressure to play. He has since voluntarily left the roster.
To fill the gap Lunatic Hai added GIDO, an unknown player who ranks high on the skill ladder in Korea. We haven't really seen GIDO play in an competitive environment yet, but at least he is not surrounded in controversy. An important consideration for Lunatic-Hai, and Korean organizations in general.
Keep an eye on how the team will integrate GIDO into their formation and whether they will be able to continue their top form.
The Kongdoo name means a lot in Korean Overwatch. They have two top 5 teams, owning 40% of the best Korean Overwatch players. Sort of. Out of the two Kongdoo teams, Panthera is the one to keep an eye on.
Just like about every team they have gone through massive roster changes, both the rosters. For full roster changes check out our article about it. We are just going to discuss Panthera's changes.
The most notable one is the removal of EVERMORE. This signals a shift in the thinking of Panthera. They want to move away from one-trick players and give themselves more flexibility in how they play the game. The way that the team played last season revolved entirely around EVERMORE. If a team was able to contain him then they were able to win the match. Getting rid of EVERMORE and bringing in Void, who is new to the organisation, will make it harder for teams to contain Panthera and will offer the team more flexibility; which is important given the current meta.
They also got rid of Bling and brought in BirdRing from Uncia, the sister team. Bling and EVERMORE will not be playing for the sister team instead; it is unknown what they will be doing. BirdRing was moved from Uncia to Panthera to take the role of DPS. Wakawaka will be moving from the DPS role to the healer role to make it fit.
This role swap and player change is huge for Panthera. They have effectively changed 50% of their roster; it will be interesting to see how the team performs considering the tournament started this quickly. They haven't given themselves a lot of time to practice with their new roster. KongDoo Panthera is one of the few teams not to make use the new 8-player rule. Employing only 6 on their roster gives them no substitutes, reducing their flexibility. Kongdoo Uncia does have a 7th man, but perhaps Panthera is still weighing their options and looking for the right fit.
LW Blue took bronze last season of Apex. Showing us all what a superstar DPS like Flow3r can do. LW Blue won the IEM Gyeonggi tournament before that; crowning themselves the best in the world for a short period. The team is following the trend of taking advantage of the 8 man roster rule that OGN has instituted, a rule we hope the OWL will also have. LW Blue has reunited one of the best DPS pairings in the world: Flow3r and Pine. These two should be able to put out enough damage to offset even Ryujehong and Chipshajen.
On top of this LW Blue deemed it necessary to add another support, despite them already having a strong backline. They have signed Sylph, formerly of MVP Space and MVP Infinity.
Season 3 of APEX will be broadcasted over the coming months, with two matches played every Tuesday and Friday. This time around, with Monte and DoA moving to North America, the English cast is being covered by Achilios, Wolf, Atlus and PapaSmithy over at the OGNGlobal Twitch Channel.
More information on the event is available at our event hub; keep an eye on our matchticker so you don't miss a match!
For more competitive Overwatch news, follow us @GosuOverwatch.