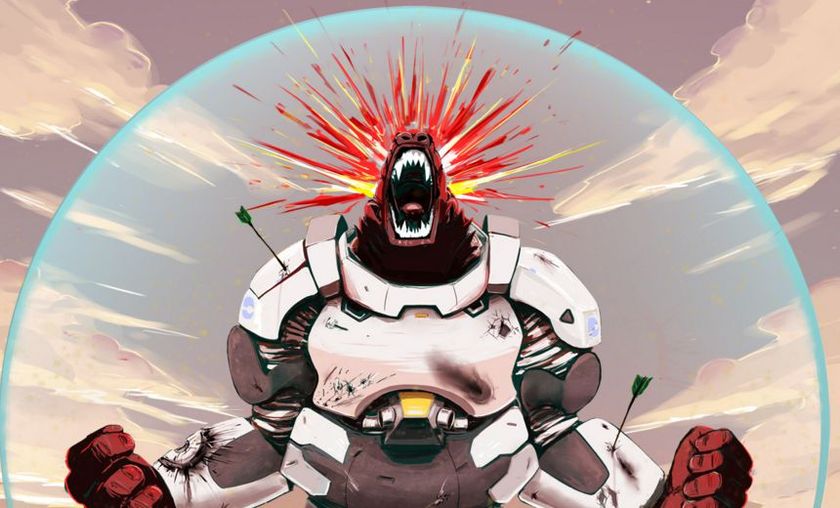 Hex's Overwatch Power Rankings #1
Image courtesy of /u/stlemons, creativelyferalart.tumblr.com/
As the Overwatch beta went on break, our GosuGamers Rankings could tell you everything you needed to know. Hubris (EnVyUs) was number one, followed by Melty, NotEnigma, Fnatic (REUNITED.gg), and Eccentric. Now that we've had a weekend of matches during our GosuGamers Weeklies, the number rankings don't tell the entire story.  
5. REUNITED.gg
Previous: #4
I'm going to continue my trend of underestimating REUNITED.gg (formerly Fnatic), and then being delighted when they prove me wrong. I had the chance to interview this roster, and they seem very exicted to be under their own brand, and their play showed it. REUNITED.gg has a strong showing in our GosuGamers EU #3, making it to the finals, before losing to IDDQD. The problem is, I can't accurately gauge how impressive that run is, as I'm still uncertain about IDDQD. For REUNITED.gg, the real test comes when they play against teams like Melty and EnVyUs, who they've struggled with in the past. REUNITED.gg had a strong start to the second part of beta, but this team doesn't want to make finals, they want to win finals.
Player to watch: Vallutaja
It's high noon, and we're just sitting in the sun, dying. Vallutaja has been one of the best McCrees in the game since the beta went live. His uncanny ability to pluck Pharahs out of the sky makes other teams afraid to run her. He is very likely one of the best 'pure' fraggers in the game, and gives REUNITED.gg a chance to win every game with a single well-timed and well-flanked ultimate.  
4. Mixup
Previous: #3
Yes, this very well might be my TF2 bias speaking, but I expect Mixup to be moving up from this spot shortly. The core of NotEnigma is now rebranded as Mixup, not to be confused with, but kind of is, the TF2 team Classic Mixup.  Mixup is still colloquially known as Seagull's team, but has added TF2 veterans Milo, PYYYOUR, Harbleu, and Ruwin, all of whom have extensive and impressive tournament histories. I expect given some time to find their team rhythm in Overwatch, we will be seeing Mixup once again consistently battling EnVyUs for the top spot in North America.
Player to watch:  Not Clockwork
Clockwork was NotEnigmas fragger and hitscan specialist. Early in the beta, he posted an impressive 21-killstreak on Tracer in a dev lobby. Rumors are Clockwork is returning to his TF2 roots to shoot nerds on Viaduct with team FroyoTech. Someone has to step into his position and play McCree and Soldier:76, two hitscan heroes very strong in the current meta. It remains to be seen if the answer to this role is on the roster, or if Mixup needs to search their friendslists to find a replacement.  
3. Melty eSports Club
Previous: #2
Melty had a rough weekend, by Melty standards. They lost in the semi's of our GosuGamers EU Weekly, then lost in the finals in our GosuGamer's NA Weekly. Those results would be phenomenal for nearly any other team, but Melty expects to win. Most worrisome for Melty is that they lost pretty badly to team Eccentric, a team within their own region. With the competition seemingly getting stronger, Melty needs to adjust to the new strategies and game modes. However, Melty has never shyed away from new, interesting, and effective strategies, and I believe that they will get back to championship level, likely using hero compositions we didn't even think of.
Player to watch: baud
The man who gives hope to Symmetra players everywhere. If you've heard me cast you've heard me say that Melty's play is defined by their defense, and baud's Symmetra has been at the core of that defense. Melty does a great job of giving baud the time he needs to setup teleporters and turrets, and Symmetra's shield and ability to pierce shields are an often overlooked part of her strength. As the meta evolves, and new strategies emerge, will Symmetra's usefulness increase or diminish? What unsung hero will baud bring us next?
2. Eccentric
Previous: #5
An incredible weekend out of Eccentric vaulted them to number two in our rankings and begs the question: How long until this team gets sponsored? Eccentric was my team to watch after phase 1 of beta, as they put up strong games even in defeat against the top teams in the scene. Watching them play was exciting and frustrating, because I got the sense that they were just so close to putting everything together. They have gelled as a team and the results show it. Moreover, they have claimed the new King of the Hill game mode as their battlefield, giving them the most diverse map strengths in the scene.
Player to watch: Pluppie (TviQ)
Pluppie on Soldier: 76 is a thing of beauty. Don't let the hero role designation fool you, Soldier shines on defense, and Pluppie absolutely shuts down teams with Soldier:76 on both Hollywood's and King's Row's first points.
1. EnVyUs
Previous: #1 
They were either going to be #1 or not on the list at all. EnVyUs did not compete during our GG Weekly #4 tournaments, which gave a lot of other teams a chance to showcase their talents, but the bottom line is that EnVyUs is simply the best team. They have beaten every other team on this list convincingly and their only loss was to NotEnigma. Now under the EnVyUs banner, the former team Hubris only has to focus on improving their play, and that should frighten other teams. When EnVyUs returns to the Overwatch scene in the coming weeks, I expect them to continue to dominate other teams and remain #1 for a long time. 
Player to watch:  Esper
The reason EnVyUs is in the top spot of our rankings is because of their support play. And while Minstrel runs a great Lucio, I can not say enough about Esper. A player with a non-fps support background, who was picked up by the team from a public game. His Mercy resurrections changed the tide of battle for EnVyUs more than once, and in my opinion, he is the best support player in all of Overwatch. However, Mercy has recieved signifcant reduction in the range on her Resurrection. Can Esper continue to dominate games by bringing the dead back to life, or will the patch find his astounding Mercy play on the outside of the meta looking in? 
Honorable Mention:  IDDQD
They won the GosuGamer's EU #3, and they don't even make the list, what gives, Hex? Well, the easy answer is that it is simply too early to put them ahead of the other teams on this list who have a longer history (that two month Overwatch history) of success. I was impressed by IDDQD, they 2-0'd Melty, and beat REUNITED.gg in a five game set. I absolutely believe they have the skill to win more tournaments, but until they repeat their performance from the past weekend, and until I can say their name without stuttering, they are #6 on this list of 5.
For more competitve Overwatch news, follow us @GosuOverwatch.