New Blizzard Announcement
A new splash image is up at Blizzard.com and tradition tells us that this means a new game. Strong indications say that it's Diablo 3.
The latest updates can be found in the bottom of this news!
The announcement is most likely to be made this weekend at Blizzard's
World Wide Invitational
in Paris, where GosuGamers will be on-the-spot.
Splash image day 1
The history of Diablo III rumours
Diablo I and II was originally developed by a company that, after Blizzard bought them, has been known as
Blizzard North
. In 2005, Blizzard North was moved and integrated with Blizzard's head quarters in Irvine.
Gaming Steve
, claims that
Diablo III was completed but "wasn't fun"
and thus moved to the main head quarters where "
the bigwigs in Irvine could better track and follow the development of [Diablo 3]
".
Even if that would not be true, Blizzard stated that
the team previously known as Blizzard North "will continue work on an unannounced project"
.
April 2005,
DiabloII.net
reported that they got an email from a Czech musician who said the following:
"I have recently been to Bratislava in Slovak Republic for recording sessions with local Radio Symphony Orchestra, where we just recorded music for Diablo 3"
That is, according to
GameSpot
, the exact same location and orchestra that recorded the official music for Diablo II's expansion back, four months before the pack was released.
In early 2006,
Blizzard looked for people
who could be working with "
the team behind Diablo I and II
" (old Blizzard North)
to develop "an unannounced PC project"
.
In the end of 2006, Richard A. Knaak, the author of several Diablo books, said in an
interview with BlizzPlanet
about his new Diablo book that he is "
not writing for a dead world... but a world with dead. 'nuff said!
", when answering a question whether or not Diablo III would come out.
In July 2007, Blizzard told
GamaSutra
that they have a total of 2,700 employees where at least three different teams work with game development.
The
StarCraft II
team consist of 40 people, the World of WarCraft team are 135 and
"team 3" are 40 people
. Team 3, most likely the team previously known as Blizzard North (who made Diablo I and II), are "
working on something really awesome. I can't give you any hints, but it's totally awesome
", Frank Pearce told GamaSutra.
At World Wide Invitation this weekend, a press conference has been scheduled right after the 'opening' presentation of WWI. The conference, scheduled to 13.00, has no title yet.
There's a lot more of this kind of information but this should give you a brief overview of the Diablo III related rumours. Note that we have not covered the details or rumours about any other possible game, even though such rumours might exist.
Monday, 23, 18.11 CET:
The speculations continue as for whether or not this is Diablo III.
WorldofWar.net
claims to have solved the splash screen
by finding that the image contains artwork from
Arthas' runeblade
. They made the conclusion that it's not Diablo III because of this.
Nonetheless, the tradition says that a new splash screen is always a new game, not a beta, patch or anything else. The only exception to this rule was when the current Battle.net website was released.
The second expansion to World of WarCraft, called
Wrath of the Lich King
, and StarCraft II, has already been announced. That most likely rules out the possibility of this being a new game in either of those series. That leaves us with Diablo and WarCraft, unless a new series is to be introduced or a really old one revided (Lost Vikings, anyone?).
It does indeed look like Arthas' runeblade. At this point, another WarCraft game seems unlike and that leaves us with the guess that this is a diversion rather than anything else.
Diversion or not -- we'll see about that. If Blizzard are true to the tradition, next splash image should be published around early morning tomorrow (Tuesday).
Tuesday, 24, 09.47 CET:
New splash image added:
Splash image day 2
We've also seen a new piece of a piece of artwork. The first piece, found yesterday, looked like this:
Artwork piece 1
The new piece, published today, was this:
Artwork piece 2
Whether or not these images are related to the game title is unknown, but obviously Blizzard is aware of subtly dropping these images in the source code of their web page, intentionally wanting us to see them.
NumbSchiller
proved true to his nick and posted some
interesting speculations about the numbers
that these images all have. First of all, a number found in the URL of these pictures is
232309
. NumbSchiller pointed out that in the alphabet,
these numbers represent W, W and I
, adding another hint to what it already as good as confirmed, that the new game will be at WWI.
He also noted that the pieces of "artwork" were also numbered to something representable by the alphabet; yesterday's piece was called
04
.jpg (the letter D), and today's picture was called
15
.jpg (the letter O), thus giving us the letter combination
D
and
O
, which are the first and last letters of the word
Diablo
, as WildLife pointed out.
Also, today's rune added to the splash image is a
Hel Rune
from Diablo II, showing that yesterday's rune from WarCraft indeed wasn't the final answer.
Helrune
Helrune enlarged
Tuesday, 24, 13:28 CET
Oh, if we didn't mention that already, Diablo3.com was
purchased
by Blizzard earlier this spring. The site, now known as DiabloFans.com, was a community site for Diablo. At the time, "Blizzard said it acquires domain names all of the time", IGN reports.
Some of you may draw parallels to StarCraft2.com being owned by Blizzard which made you believe SC2 was going to be released, but be advised that StarCraft2.com was purchased by Blizzard around 1998.
If Diablo 3 indeed has been in the making the last couple of years then it is surprising to see that the domain name would not be acquired until now. Then again, if Diablo 3 is to be released, the domain needed to be purchased sooner or later, assuming the current standard of
one-game-one-domain
is to be kept.
Artwork piece 2
Wednesday, 25, 12:21 CET
A couple of hours ago the ice broke open a little bit more, as expected. There's also no great surprise that today's "rune" is the mark of the Protoss, giving us one from each of the major series of Blizzard.
Here's today's splash:
Splash image day 3
Today's rune
Updated image of the artworks:
Artwork piece 3
Thursday, 26, 13:05 CET:
The ice is opening more and more, and some say they can see a face in the stars. It could just be big snow flakes. Another rune has been added in the bottom right.
Splash image day 4
And the penguin-lookalike has gotten an update too, where the name of the image is
cold
:
Artwork piece 4
Friday, 27, 09.58 CET:
Well, oh, well, isn't that interesting.
The penguin is complete: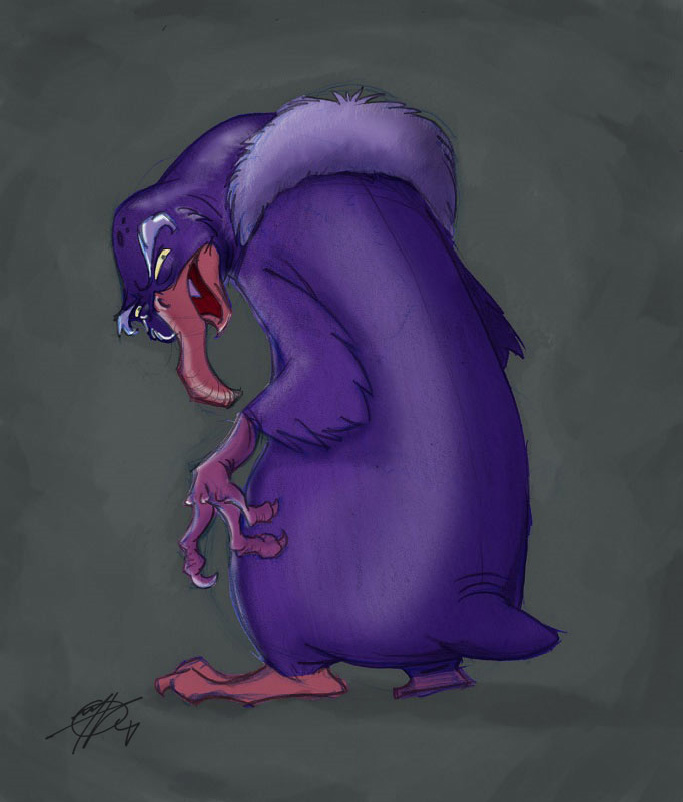 Spash for Day 5
We've cleared this news post or all the old images and changed them to links if you still want to see them.
Tomorrow just after 13.00 (1PM) we will know who's looking at us. GosuGamers will be on-the-spot giving you live updates. We'll be posting whatever new information we get
into this news
and as soon as the new game is announced, we'll add a new headline on the front page so make sure to comment in that news post instead!
I (Mazor) will be leaving this afternoon and
VildaMalin
(StarCraft section leader) is just about to leave for her flight down to Paris as well.
If you have any questions to Blizzard about the new game,
do start a forum thread
and submit all of them there, and we'll make sure to try to forward them.
Saturday, 28, 09.57 CET:
We're at the event! VildaMalin and I are waiting at the opening ceremony that should begin in about two hours. We've got a WiFi connection here so we'll definitely try to give live updates assuming the net is not overloaded.
I can give you an interesting update: In the goody bag everyone receives at WWI, you get a 'Diablo Journal' each, a black little book with Diablo on the front. No suprise there, eh? :)
The splash image has changed, where the runes are more lit up and the face in the void is much clearer.
Saturday, 28, 11:28 CET:
Not much left now. We're sitting here at the main stage, third row from the front, waiting for the annoucement. We have internet connection still, so looks like we'll remain online.
We're guessing it's going to be announced at 12.00 since the stream begins 15 minutes before.
Make sure to check the
stream
that begins in 15 minutes.
After this there will be a press conference in which we'll attend, giving you Q&A's from the press to the Blizzard Staff.
Expect more updates shortly!
Saturday, 28, 11:38 CET:
Now that we're just waiting, let me describe what I see so far. We're at the 'main stage' where perhaps a thousand people can sit. I honestly don't know, really hard to estimate, but a lot of people. Several have to sit at the tournament stages where the opening ceremony is broadcasted to.
We're in the press area with lots of international press. I heard there's some 300 press invited. We have a little corner here for at the third and fourth row from the front, with us, SCLegacy, TeamLiquid and StarCraft.org represented. We also met guys from SC2 ESP, WGT and other sites.
The main stage has four really, really big screens, and loud music is being played with some Blizzard art running in the backgrounds.
We begin in 4 minutes! :)
K live updating now, its is beginning with lots of nice art flashing by.
It's awesome so far! All the screens projecting different things, real cinematic experience.
It's a lookback of all the games now, Diablo I just flashed by. Now we see SC2.
Here's Kerrigan and here comes Arthas of WC3.
Short introduction is over, two people entering stage. They'll be doing it in English and French simultaneously, taking turns in talking. Good for me who update live :D
We're being welcomed, "make some noise".
Someone Frederik Menou was just presented on the stage, thanking the players and the fans for being here. He's talking about the European offices of Blizzard and mentions that WoW was released in 4 European countries etc. Actually this might not be so interesting for you guys, hehe.
WWI was just declared open.
Some special guests are being presented.
Lots of the executives of Blizzard were just presented and applaused: Rob Pardo, Mike Morhaime, Leo Howard (?), etc.
Progamers are being welcomed on stage.
Savior comes first, I see Mondragon and Dreiven, all the StarCraft players are there.
I see Savior, Stork, Sea[Shield], Mondragon, Dreiven (said he was from Ukraine, he looked mad and then they changed to Poland :D), Idra and one of the Koreans in between. Haha you guys know the gamers better than I do, I'm just a code monkey these days. lol :D
Here comes WC3 progamers.
Here's ToD, FoV, Moon, Shy, Grubby, Lyn, XlorD, SaSe.
All the World of WarCraft teams are being presented. Wow, they're so many. I thought it was CS for a moment, hehe, then I realized where we are :)
The teams are Pandemic Black (?). MoB and fnatic, EG, SK-Gaming. Think I missed some. Oh, well.
Aha, that was WoW from the US, here comes the WoW teams from Europe.
Is this confusing? You're on GosuGamers, following the opening ceremony of the WWI.
Now the Asian WoW teams are being presented. I forgot to note the names of the European teams.
Raistlin reports that the stream has begun working now.
Some chattering on the screen now, I think they're done with the presentations etc, hopefully we're going to the annoucement!
Oh, CEO and Co-Founder of Blizzard; Mike Morhaime.
He's thanking all the players, all the fans. I think we were just on the stream, btw. Mike still holding his speech, he speaks of the WWI history, the gaming scene of Europe, etc.
Mike now speaks of games. I think we're announcing... oh, no, he's showing some look backs from the SC2 announcement on a video now.
Announcement probably right after this video.
Note: We'll be posting all about the new game in a separate news. Please make sure to comment in that one instead, once the game is out. I'll drop the link here and close this comment page, in order to keep it organized for you to follow.
Now the video is over, Mike is talking, taking long time because he knows everyone is on their toes... :D
He speaks of WWI and what the event has to offer.
OK, "One more thing we have to do". HERE IT COMES.
Diablo music playing on guitar. D3 being announced. Switching news to this one:
Links
Blizzard.com
- Check the splash screen