357 and Dai enter DK, LongDD joins TongFu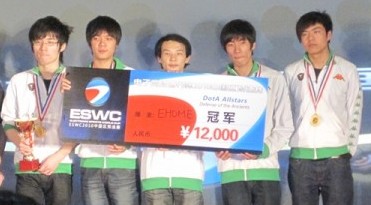 EHOMe '10 (L-R 820, Dai, 357, KingJ, Burning), Photo Source: SGamer
In what is the first big Chinese roster change after The International 2, Dai and 357 are reported to have joined DK.
The two remaining players from EHOME's lineup of 2010 team up with BurNing, another player from that former team. This happened after LongDD and Zippo were reported to have left DK.
Meanwhile, LongDD stated on his microblog: "Thanks everyone for the support. Leaving DK is very emotional. I wont retire, I will continue to strive. You will still be able to watch my competitions." It was later confirmed that he will be playing for TongFu to fill the slot previously occupied by Kabu.
Kabu had replied to LongDD's microblog, saying "Good luck LongDD. I will find a new team."
At the moment, there is still no information about the future career steps of Zippo.
New DK Roster:
BurNing / AAA
Dai
357
rOtk_xb
Super (Yueru)
New TongFu Roster:
Hao
Mu
LongDD
Awoke
SanSheng
Current EHOME Roster:
LaMn
KingJ
Source:
SGamer