Scythe.hyhy interviewed ahead of Gamescom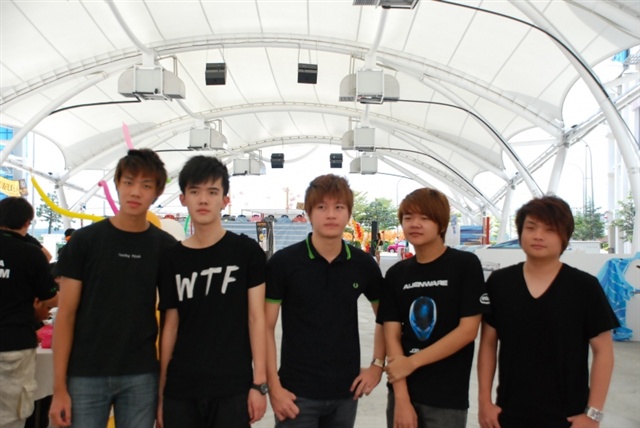 Old Scythe: Roy, Sharky, hyhy, Koy, Yamateh
In a GosuGamers special, the charismatic Singaporean captain sits down with GosuGamers to discuss his thoughts about Dota 2's imminent arrival, his preparations for The International at Gamescom and his predictions for the event.
Following a slump in the Asian DotA scene the past few months, many teams have left us wondering about their existence. With the announcement of The International, it looks like these teams have once again sprung back into action.
Joining back his old teammates, hyhy and Scythe's full Singaporean roster will be making their grand entrance at Gamescom after falling into obscurity with the conclusion of the I-City Championships in January.
Today, Gosugamers brings you a special interview with the man himself, hyhy.
What have you or your team Scythe been doing prior to the announcement of your invitation?
"All of us were each into our own stuff, be it work or studies. Whatever free time was spent playing League of Legends, since DotA 1 is kinda dead in Singapore.""
How have preparations for The International been like?
"Basically just playing and adapting to the game, but it has been difficult as the game is still in beta and naturally unstable, with occasional crashes. Another problem for few of us is the system requirements for Dota 2, as we have teammates running on 1.0 ghz processors or something. We can't play at all till they get an upgrade."
What do you do in your free time when you are not practicing for the event?
"Stalking girls on facebook."
Many European teams such as MYM and NaVi are holding bootcamps. Does Scythe get together and crash at someone's house for trainings?
"We haven't had any plans for bootcamps yet, as we want to get our individual skills up first before going into teamplay. We would probably do so a few days before Germany."
"
It is kind of worrying knowing Maelk and co. are already training hard."
Have you guys been training with the other participating teams? If so, who? How have the games been like?
"We have not been training with other teams yet. We are still waiting for a few of us to get the PC upgrade before doing so. The rest of us are simply playing as parties of 2-3. It is kind of worrying knowing Maelk and co. are already training hard."
What is your order of business for the trip to Germany? In other words, when will you guys leave Singapore and are you planning to do any sightseeing when you land in Germany?
"We are leaving on 15th of August and heading back on the 22nd. I doubt the itinerary Valve set for us allows any free time for sightseeing."
What is the lineup and roles of your members in Scythe?
"hy, crispy.roy, tofuboi, xy and Chawy. We are still in the midst of deciding our roles. But mostly Chawy and I will carry, while tofu and xy take the other solo roles."
How confident are you of your team's performance at the moment? Do you think Scythe can take home the one-million dollar prize?
"I haven't seen the other teams play as a team, so I can't give an accurate gauge. But I will say I'm satisfied at the rate we are improving. Only time will tell."
Which team(s) or player(s), in your opinion, will pose the biggest threat to Scythe at Gamescom and why? Which team(s) or player(s) are you looking forward to meet at Gamescom?
"Russians. They are fierce people and I am scared of them. Mostly Dendi."
Do you have any strategies/tactics specially prepared for this event? How about studying (the replays) or training to counter any particular team(s)?
"
I'm still mistaking Shadowfiend for Doombringer."
"I don't think I'm allowed to go into details, so I'll leave it at that. No, we haven't prepared strategies yet. I'm still mistaking Shadowfiend for Doombringer, etc. Like i said, teamplay and strategies will come later."
Which continent, in your opinion, will dominate Gamescom (Asia, China, or Europe) and why?
"Europe. The russians."
Do you think Dota 2 will be able to crush its competitors (e.g. HoN, LoL, etc) once and for all when it hits the shelves?
"It's Valve, they will manage somehow."
Where do you see your career in DotA after the tournament? Will you stick to the original game, make a complete move over to Dota 2, or play both games?
"Probably Dota 2, or I'll make a career out of selling pirated Dota 2 copies.
Oh yeah when sniper assasinates, it plays the sound of the counterstrike AWP weapon being fired - which is why it's my favorite hero now."
Scythe.SG's roster:
hyhy
roy
Tofu
xy-
Chawy