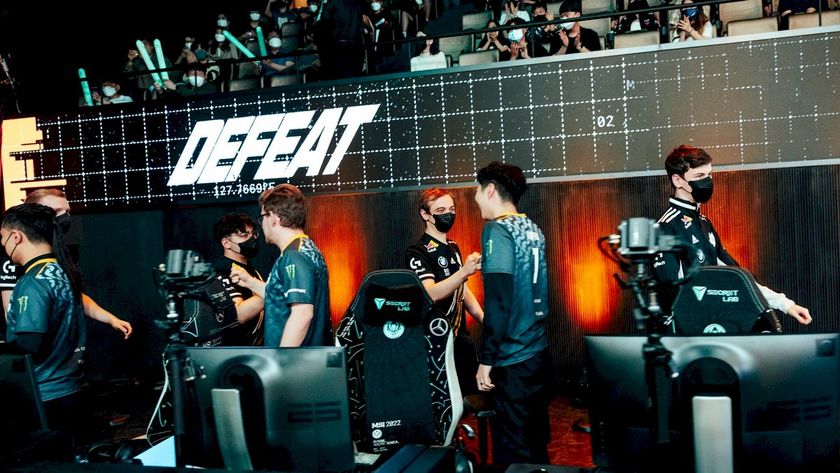 G2 Esports tops Group C while Evil Geniuses stumbles on Day 2 of MSI 2022
G2 Esports puts themselves in a prime position to start Day 2.
To start the second day of the Mid-Season Invitational was a double-header featuring Evil Geniuses going up against G2 Esports and then ORDER. EG's second match against G2 almost went their way this time with a near-comeback opportunity but could not keep their composure. Fortunately, they didn't end their day in disappointment as they managed to overcome ORDER to get some much-needed points on the board.
After dismantling EG yesterday, G2 came into their second match-up brimming with confidence. They started the game strongly with G2's bottom lane confidently taking the game to EG, building on a healthy lead that they managed to hold for much of the game. EG did try to get themselves back into it but was always second-best for the most part. It was the mid-game when both teams came alive and EG was able to claw themselves back to keep the gold and experience lead even.
A slew of team fights that went their way put EG in a prime spot to exact revenge, going so far as to destroy G2's structures. Sadly, this overexertion cost them dearly as G2 was able to defend their base with their lives, holding off EG before team-wiping them a few minutes later and taking the game.
In EG's second game of the day against the LCO's ORDER, the LCS boys decided to stick with the same Gwen pick, which worked out well for them this time. The game did take some time to pick itself up with both teams content with sitting back and farming instead. But due to EG's team composition, it was only a matter of time before they started taking the game to ORD. Their early game rotations were crucial in setting themselves up for success in the later portions of the game.
While ORD was able to regain some footing in the game, they were never truly in the races with EG keeping them at arm's length for most of the match. Even with a rather long pause due to a potentially game-breaking bug, EG decided to continue the game and went on to win it a few minutes later. This win puts them in the second seed while ORD sits in third.
It will be the LCO's turn tomorrow when they welcome both G2 and EG in their own double-header. They will be hoping to take both matches tomorrow but after what they went through recently, it's hard to see what ORD will do differently against both teams.