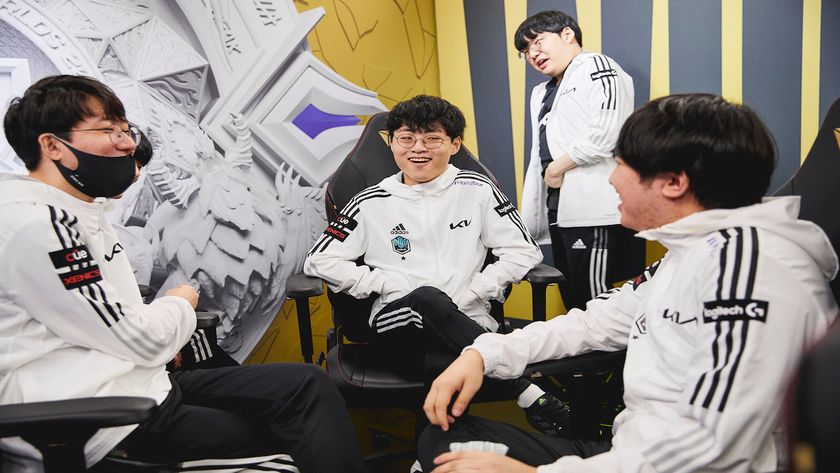 DWG.KIA and Cloud9 make it to the knockout stage in Day 4 of Worlds 2021
Day four of the Worlds 2021 Group Stage brought plenty of drama and action to the table with DWG.KIA and Cloud9/FunPlus Phoenix confirming their slots for the knockout stage.
After a 24-hour break, we started day four of the Worlds 2021 Group Stage with Group A as DWG.KIA went the entire tournament without dropping a single game. The Worlds 2020 winners made light work of their group, setting the bar for how a high-calibre team should perform consistently. But aside from DWG.KIA's domination, Group A also brought about the fight for second place between Cloud9 and FunPlus Phoenix. As for Rogue, they are unfortunately out of the tournament after a string of poor results.
DWG.KIA has been dominant
When DWG won Worlds 2020, they did more than just bring pride to South Korea; they also ended the LPL's two-year hold over the Summoner's Cup. Many were predicting that the LCK will probably take this year's Worlds and it's looking very likely that it'll be DWG.KIA once more. The LCK Spring and Summer 2021 champions have been on hot form as of late, winning all six of their games without breaking much of a sweat.
While both Rogue and C9 did manage to put up a convincing appeal when going up against the LCK victors twice, it was the South Koreans who ran riot in the end, proving that they are the team to beat in the tournament. After winning all six games, DWG.KIA also set up a double tiebreaker between the three teams to determine who will be the second-placed team to make it through.
The death of the Phoenix
In Greek mythology, a phoenix never dies but instead, burst into flames before being reincarnated from its ashes. Unfortunately, this phoenix will not be part of the never-ending cycle as FPX are officially out of Worlds 2021. The former Worlds winners have been hot and cold throughout the tournament, losing twice to DWG.KIA in as many days.
While they were able to beat both Rogue and C9 during the first three days of the group stage, they couldn't replicate that performance today having lost both games with no response. The slice on an already disappointing cake for FPX was losing to Rogue once more in the first tie-breaker, thus ending their run in Iceland.
A true underdog story
Rogue has had one of the best fairytales in Worlds 2021 this year. After automatically qualifying directly to the Group Stage, the LEC third-placed finisher have had a torrid few days. They only managed a single victory against C9 before losing their next three. But it all changed when they defeated the Worlds 2019 winners, eliminating them from the tournament in the process.
Unfortunately, their run at Worlds 2021 came to a bitter end in the last tiebreaker against C9. Try as they might, Rogue just didn't seem to have an answer for the LCS squad. While they were able to defeat them on opening day, it was their last two matches against C9 that matters most with Rogue losing both games.
Cloud9 have done it
After pulling through in the Play-In Stage, many were writing off C9 after being placed what many were considering "the group of death." That didn't deter C9 they went on to grab the last remaining spot to the knockout stage after defeating Rogue for the second time today. C9 were 0-3 heading into today but somehow, the team managed to overcome all the odds and took two shocking victories.
Of course, C9 has been down this road before. The team has always had to come up against adversity and half the time, they usually pull through. Their best finish at Worlds came back in 2018 when they lost to Fnatic in the semifinals of the knockout stage. C9 will be hoping to do things differently this time and with the whole of the LCS behind them, anything can happen.
Group B Awaits
With Both DWG.KIA and C9 are now in the knockout stage, we press forward to Group B tomorrow where EDward Gaming will be looking to match DWG.KIA's record of going unbeaten in the group stage. They will have to answer to the likes of T1, 100 Thieves, and Detonation FocusMe as all three teams will be vying for a spot in the next phase.