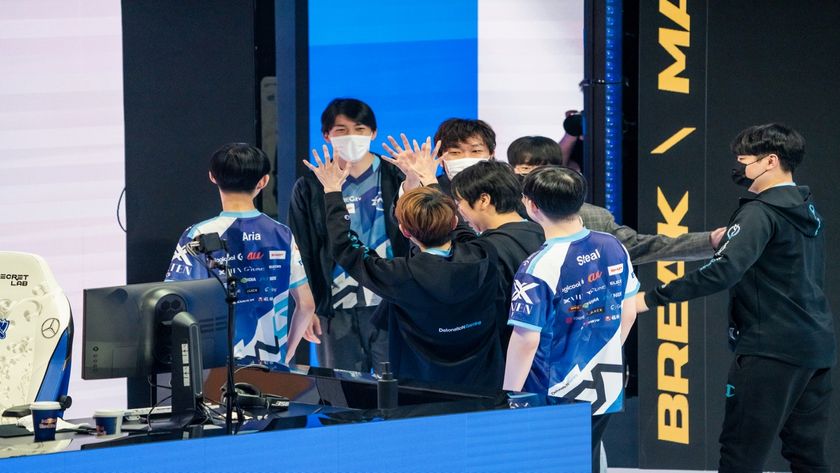 Play-In Day 3 Tiebreaker: Detonation FocusMe creates Worlds history and Beyond Gaming pulls through
Day three has already been a showstopper; throw in two tiebreakers and you've got yourself one hell of an event -- and we're only at day three of Worlds 2021.
After an insane day three for both Group A and B, it was time to head to the tiebreakers. Detonation FocusMe had a convincing win over Beyond Gaming while Unicorns of Love stunned the world when they handed Cloud9 their first defeat of the tournament. This forced both C9 and DFM to go head-to-head in a tiebreaker for first place as well as BYG going up against UOL to determine who goes home.
Heading into the game, Beyond Gaming already holds a one-nil advantage over Unicorns of Love after defeating them yesterday. However, with an elimination tiebreaker, anything was possible, especially for a team like UOL. Unfortunately, that was not the case. BYG started the game similar to their first game against the LCL squad: applying pressure all over the map. This did work to a point as BYG did get a good lead in the early game. However, UOL learned from their previous mistakes and was ready to soak up the pressure and re-apply back onto BYG.
It was a very back-and-forth game with both teams trading kills at will. Unlike the previous match, which was a stomp for BYG, UOL stood their ground this time and brought the fight to them instead. The PCS second-placed team landed the same number of kills from their last game but it was UOL who had the much better performance, able to go toe-to-toe with BYG. They even managed to snatch the Baron from the grasps of BYG.
Sadly, it was all for nought as BYG looked way too strong to be knocked back. Try as they might, UOL threw everything but the kitchen sink but it was still not enough. After 35 minutes, they could not do much else except throw in the towel. As for Chiu "Doggo" Tzu-Chuan, he had another excellent game, this time putting his Draven to work. He should be pretty pleased with himself for that performance, securing 10 kills and four assists for his team whilst only dying twice.
With that win, BYG keep their tournament hopes alive and will make their way to the second round of the Play-In Stage. They will have to potentially play two best-of-five series. That is if they can get past Galatasaray Esports first before facing Hanwha Life Esports.
Detonation FocusMe has been a revelation at Worlds, putting on show after show and keeping everyone on the edge of their seats. It felt like the universe had aligned itself perfectly for the LJL squad as they defeated Beyond Gaming with ease while Unicorns of Love pulled off an upset over Cloud9. This forced the tiebreaker between DFM and C9 and boy was it one to remember.
To date, no team from the LJL had ever made it past the Play-In Stage, let alone play on the main stage. However, all that changed as DFM has created history by being the first LJL ever to qualify to the Group Stage. Of course, they had to go through hell in the form of C9. Having already lost their earlier game, C9 came into the tiebreaker looking to put all the doubters to bed. They even went for the Olaf pick on Robert "Blaber" Huang, a champion he is renowned for.
Both teams had a fairly slow start to the game but it was DFM who eventually grew into the game first, claiming a quick few kills in the opening minutes. C9 have managed to keep themselves within touching distance for most of the game, being able to distribute farm well amongst their core players. However, it was DFM who was on another level, being able to pick off C9 on multiple occasions. Due to sloppy movements and rotations, C9 could only trade kills in many team fights, oftentimes coming out on the losing end. 
DFM had already beaten C9 before at the Mid-Season Invitational and while they did lose their best-of-one against them on day one, it was a different tale today. The team was well-coordinated and executed their strategy to perfection. Both Yuta "Yutapon" Sugiura and Lee "Aria" Ga-eul were on exceptional form today, securing six kills each for their team along with similar numbers for assists. Being the first team from the LJL to make it to the Group Stage and as the number one seed from their group, DFM will be one to watch in the coming days.
Play-In Stage: Round 2
After three gruelling days of Play-In Stage games, we're now ready to head into the second round where two more teams will be looking to book their spots in the Group Stage. Tomorrow will see PEACE go up against RED Canids in a best-of-five, followed by another but it'll be Galatasaray Esports versus Beyond Gaming instead. The winners will go on to face both Cloud9 and Hanwha Life Esports respectively in another best-of-five series to determine who will make it.
(Image credit: Riot Games)