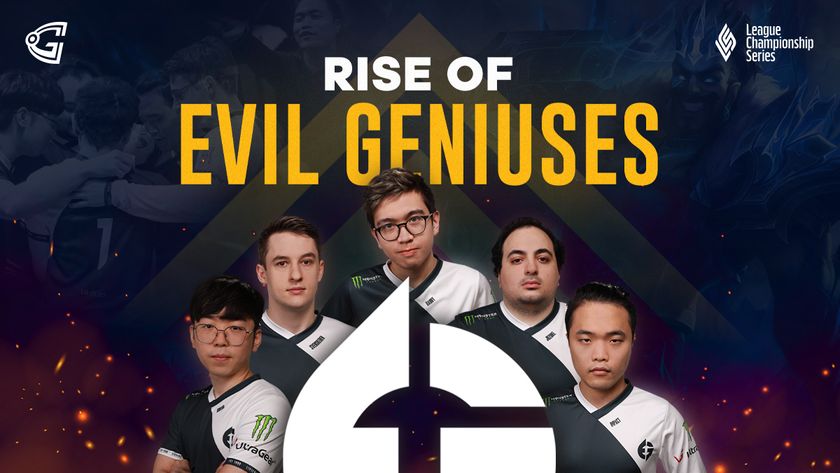 Evil Geniuses has resurged in the LCS Summer Split
NA doesn't disappoint with the LCS Summer Split as Evil Geniuses ends up being one of the top three teams in the region right now.
The LCS Summer Split is officially done with its group stage games as it moves on towards the LCS Championship, which will be played in front of a live audience in New Jersey. With the playoffs set to start in a few days, we want to talk about one of the top teams in the LCS region at the moment:

Evil Geniuses .
The boys in blue have had an entertaining Summer Split heading into the LCS Championship. After their dismal Spring Split showing where they just barely squeezed through into the playoffs, they bowed out to

TSM in the first round of the loser's bracket, ending their tournament early. However, they have dug deep and worked hard during the off-season.
This was also around the same time the team decided to part ways with Matthew "deftly" Chen and promoted Kyle "Danny" Sakamaki from Evil Geniuses Prodigies . This move proved to be the right one as Danny brought a breath of fresh air into the team. Of course, it did take some time for the team to gel together, which is to be expected when roster changes are made.
He did take some time to get going but performed when it mattered most. Out of the three MVP titles he's got, two came against opponents like TSM and 

Team Liquid . He also shares his three MVP titles alongside his teammates, Dong-Geun "IgNar" Lee and Eon-Yeong "Impact" Jeong .
Another player that has been outstanding for EG is Daniele "Jiizuké" Di Mauro . The Italian midlaner has been on hot form, getting the team's highest MVP count of five. While the likes of Can "Closer" Çelik and Mingyi "Spica" Lu are the midlaners to look out for in the LCS, don't count out Jiizuke just yet. His performance against 100 Thieves on the last day of the LCS group stages was key to proving that EG has what it takes to run with the big boys.
EG making moves
Unfortunately, things didn't quite pan out at the beginning of the Summer with EG losing all three games in the first week. Consistency was the team's key weakness during the first few weeks as they could not seem to string consecutive victories without stumbling. After four weeks of games, EG was stuck right in the middle of the table alongside
Cloud9 with a score of 6-6.
The team's overall performance during their first 12 games was very much like a roller coaster ride with plenty of highs, lows, and twists along the way. It didn't look like they knew how to close out games when they should half the time with bad rotations and decision-making being some of its main factors.
But out of nowhere, EG decided to go on a six-game winning streak, taking out the likes of

100 Thieves ,

Immortals , and

Counter Logic Gaming to name a few. From there, EG would go on to lose just three more games from week seven to nine, one of which was against fellow playoff finalist, Team Liquid. In that run, the boys in blue also won a further five games while taking out another top team like TSM and 100 Thieves.
Speaking of the other top two teams, EG has come out on top when facing both teams in what was essentially a best-of-three series. Against TSM, EG took the series two-nil while against 100 Thieves, they went all the way to three games, coming out two-one victors. This shows that EG does have what it takes to claim its stake as one of the best teams in NA at the moment.
Another factor that could have pushed EG to another level was bringing in Juan "Contractz" Garcia from their

Evil Geniuses Academy to take over in the jungle for certain games. He came out on top when it mattered though, especially against the likes of TSM and 100 Thieves.
The Road to Worlds
As the third-seeded team heading into the LCS Championship, EG will go head-to-head against

Dignitas in a best-of-five series. In their match-ups during the group stages, EG went two-to-one against Dignitas, which should be a confidence boost for them heading into the match. If EG were to win, they would then face off against 100 Thieves. While a best-of-three is one thing, a best-of-five is a totally different ball game. 100 Thieves are a top team and they know what it takes to get the job done.
For a team as prolific and legendary as EG, the team has never fared well in the Rift. It didn't fare well in the EU LCS region back then and even after moving to NA, it still never found its footing before leaving LoL entirely in 2014. After a five-year hiatus, it came back with new ambitions and finally, we're seeing the hard work come to fruition. The team has never qualified for Worlds for the time it has been in LoL but this could be its chance now.
It's a long way to go in the LCS Championship but with TSM and 100 Thieves both leading the odds to go to Worlds 2021, EG is within a shout of grabbing the final slot.