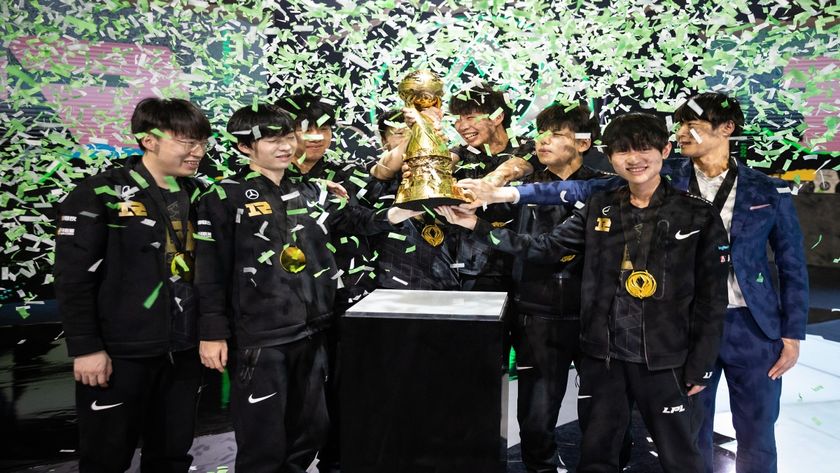 Mid-Season Invitational 2021: RNG takes the crown in a five-game thriller
As it stands, RNG should now be the best team in the world.
In what turned out to be the closest of series,

Royal Never Give Up came through in the clutch, securing a 3-2 victory over
DWG KIA . It was an exciting outcome with both teams trading wins back and forth. DK had to come back twice before RNG dealt the finishing blow.
All in all, it was a tightly-contested affair throughout and DK should be proud of how they performed... even if the drama did leave a slightly sour taste in their mouth. Nevertheless, this leaves China with an additional slot heading into Worlds 2021.
Royal Never Give Up vs DWG.KIA - Game 1
RNG started out the series strong, creating calculated fights, trading blows with DK without giving up anything. The Chinese team held a slender gold lead to go with its three kills to two. DK did well in holding off the pressure with ease, taking the fight to RNG only when necessary.
Everything came to a head when Heo "ShowMaker" Su took out Yuan Hao "xiaohu" Li in the top lane, signalling for DK to surge forward mid. RNG did well to respond to the push, forcing DK back and losing two in the retreat. It was a game of tactics at this point with RNG always able to come out on top in each team fight while keeping a great gold lead. An attempted Baron snatch soon after from DK proved dreadful and they lost four. It was soon evident that this was RNG's game to lose as they pushed with purpose and authority into DK's base and soon taking it down for good.
Royal Never Give Up vs DWG.KIA - Game 2
Game two started out in a similar fashion with RNG taking the first blood.  A fight at the top-side river turned out to be a massacre with DK losing four. However, DK was able to mount a comeback, quickly surging ahead in gold and kills by the 25-minute mark. This came through calculated pick-offs, opening up the map for them even more.
After taking out all of RNG's towers, DK was in the driver's seat at this point of the game. This all started after catching Cheng-wei "Cryin" Yuan out of position, which gave DK the numbers advantage to push into RNG's base. DK saw their opening and took their chance, cleaning out the rest of RNG in their own base and taking Nexus down.
Royal Never Give Up vs DWG.KIA - Game 3
The series now essentially becomes a best-of-three with both teams needing only two more wins. Game 3 started out differently this time with DK finally able to secure the first blood. The game was pretty much even by the 20-minute mark with each team having four kills and 34K gold each. With that said, a fight soon broke out a few minutes later at DK's tier-one mid-tower. Dong-Ha "Khan " Kim was able to dash across the map terrain, sniping out Yan "Wei" Yang-Wei in cold blood.
This gave DK the chance to take the Baron but RNG were not having it, rushing straight in to contest. It soon turned into a bloodbath with both teams trading kills, but RNG ultimately came out on top with Chen "GALA" Wei and Yuan Hao "xiaohu" Li the sole survivors after the exchange. RNG was in control of the game from then on and another fight on DK's bottom lane turned into a disaster, losing three and giving RNG free access to their base. From then on, it was a matter of when DK will call GG.
Royal Never Give Up vs DWG.KIA - Game 4
With their tournament lives on the line, DK knew that perfection was the answer to taking the fourth game. They managed to secure the second first blood of the game, which was a good morale boost to start. It was a tight back-and-forth tussle between both teams with DK having the slight upper hand on gold and kills by the 10-minute mark. They also managed to snipe out the porting Yuan Hao "xiaohu" Li right in front of them, killing him the moment he appeared. This was the opening they needed to push RNG out of the mid-lane by taking out the first tower and leaving the second in bad shape.
The 25-minute mark was a highlight reel on itself for DK as they managed to chase RNG away from the Baron's pit, even with two down. This was time for YongJun "Ghost" Jang to shine, taking a pentakill for his troubles. After taking the Baron, DK soon marched towards RNG's base, taking over their base and wiping them out again, forcing the GG call.
Royal Never Give Up vs DWG.KIA - Game 5
The game everyone was hoping for - game five. Of course, many did expect it to go this far, this editor included. as expected, both RNG and DK did not disappoint. In the final game, RNG took the last first blood of the series to give themselves a much-needed boost. The Chinese squad was able to take advantage, keeping DK at arm's length until the 10-minute mark as a two-on-one gank on Heo "ShowMaker" Su resulted in a trade-off with Cheng-wei "Cryin" Yuan going down.
RNG soon took their game into overdrive, taking out DK all around the map and giving themselves the opening to destroy the mid towers after a team fight. Chen "GALA" Wei came through in the clutch soon after, claiming a triple kill on the mid lane and took all off DK out. With nobody left, RNG took their time to take the base, deciding not to end it just yet. The game was in its eleventh hour by then and it was time for RNG to end it, charging straight for DK's Nexus.
DK had other plans up their sleeve as they were able to repel RNG out of their base, picking off three for good measure. This was just a delay at most as RNG soon amounted to another five-man death push into DK's base and this time, they had no answers, calling GG soon after.
Post-match Thoughts
While DK did force RNG to five games, the former did look worn out by then - could lethargy and lack of energy be the issue? One could only guess. With that said, RNG stuck with an Udyr and Kai'Sa combo in all five games. They also picked Gragas and Leona in three games, both of which worked out well for them.
DK went with a different strat, choosing to go with Morgana for the first three games before deciding to ditch it. They then went with two different lineups to go with the same Aatrox pick but it didn't quite work out for them in the end. Yuan Hao "xiaohu" Li was one of the stars of the tournament, dominating both the mid and top lane with class and style. But it was his teammate, Chen "GALA" Wei who took the MVP award of the tournament.
As MSI 2021 draws to a close, RNG now gives the LPL an additional slot heading into Worlds 2021. DK should hold their heads high in the end, giving a new landmark for the LCK in this historic showing as well as an additional spot. But for the Chinese squad, it just proves how dominant they can be by being the two-time MSI champion.