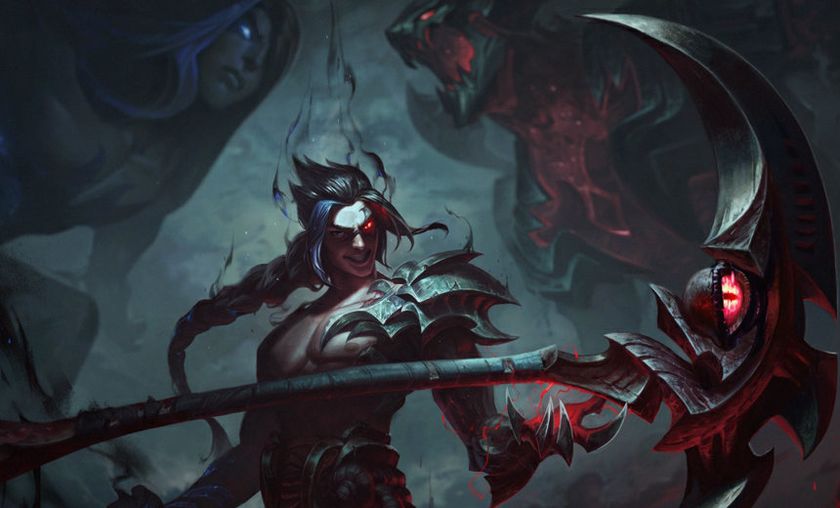 EU LCS: Unsuccessful debut for Kayn, wins for Roccat and G2
Kayn's LCS debut may not have been stellar but the game three performances from Roccat and G2 certainly were.
Unicorns of Love were first on the Rift this week, but started slowly against Roccat, getting behind on kills and (slightly) behind on gold. Just as Xerxe's Cho'Gath picked up his first stack from the Wind Drake, Roccat pounced on a catch in the middle, following it up with a tower and opening up a 2k lead. Roccat maintained and extended their advantage by rotating around the map, picking off towers and a handful of extra kills. 6k was the gap by 25 minutes, and the Baron dance was on. Roccat started it but we're forced off, trading a kill for a kill. Second time was the charm, and despite Phaxi's Galio getting picked off, Roccat continued to extend their lead with the Baron buff. Roccat used the buff to its fullest potential, ending the game with a huge lead before the second Baron even spawned.
Roccat broke out the world's first professional Kayn for game two, but it was UOL who had the best of the opening exchanges. By 10 minutes in,they were up three kills, an Infernal Drake and about a thousand gold. A tasty Rift Herald was too much for Roccat to ignore but it turned out to be the perfect trap for UOL to really open the game up.The buff itself was left stranded as Roccat gave up an ace. UOL were relentless in their pressure, taking the Baron itself and closing the game out in under 25 minutes. Pridestalker's Kayn did have 100% kill participation, but since his team only had four kills you can see why the champion was so ineffective.
Kayn did not return for game three and Pridestalker's Warwick actually got the opening kill, and the second. UOL kept the kill score close but a 3-0 tower lead kept Roccat in the ascendancy going into the mid game. Still, UOL did what they do best: they picked a team fight in their favour, and suddenly the gold was even, despite a 3-2 tower deficit. Things looked to be turning in UOL's favour until Roccat snuck a Baron at the low cost of Pridestalker's life. Things slowed down again until the Baron respawned, at which point things got messy. Roccat won a team fight and took the Baron down, only to lose a team fight almost immediately afterwards and give up their middle inhibitor. And then suddenly the game was over. Exileh got caught out in mid lane, leading to an eventual massacre in Roccat's favour and a 2-1 win for the underdogs.
In the second match of the day, G2 esports were looking to return to form against H2K. They picked up the W in game one but were hammered in game two by a resurgent H2K. Game three started well for the Spring Split champions, especially Expect's Renekton who started 2/0. He never looked back, and the croc ended a dominant game with no deaths as G2 closed out the victory.