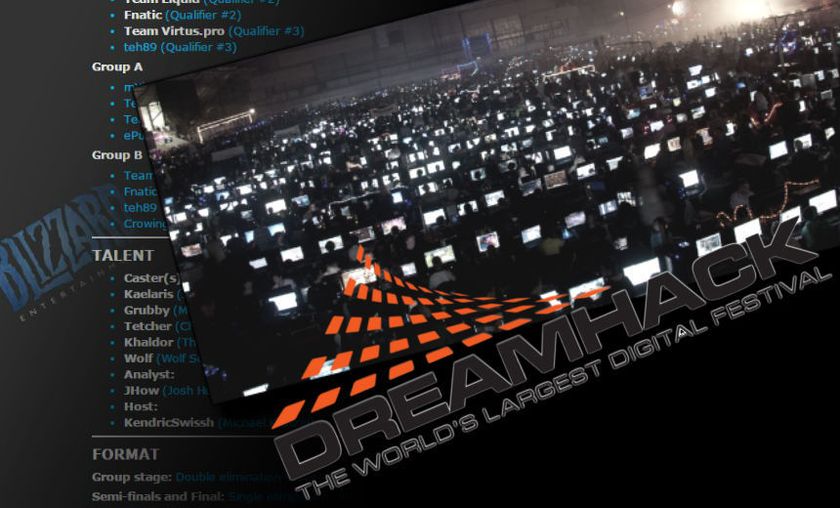 A Viewer's Guide to Dreamhack All Stars - Valencia (EU Fall Regional #1)

It's been almost a month since mYinsanity claimed the title of best team in Europe by defeating Team Dignitas 2-0 twice during the 2nd group stage of Dreamhack All Stars - Summer.  Are they still the best team in Europe? Or has one of its competitors, like Team Dignitas or Fnatic, surpassed them?
Details Released
Blizzard released the survival guide on Reddit earlier today.  The event takes place on July 14 and July 15, starting at 11:15 CEST on both days.  There will be two streams: the official one and the secondary stream.
The casting talent will be Kaelaris, Grubby, Tetcher, Khaldor, and Wolf, with Jhow taking over the analyst role from Dreadnaught this event and KendricSwissh hosting the event as usual.
Like during the Summer regionals, the semi-finals are Bo5 matches and one team from each EU regional qualifies for Blizzcon, which is the Fall Regional Championship.  The 2nd EU Regional is held at ESL Gamescom.  
The teams are as follows:
 
Team Dignitas (Invited)
mYinsanity (Invited)
CrowingChickens (Qualifier #1)
ePunks (Qualifier #1)
Fnatic (Qualifier #2)
Team Liquid (Qualifier #2)
Teh89 (Qualifier #3)
Virtus.pro (Qualifier #3)
 
Group A
mYinsanity is obviously the favorite in this group, with Team Liquid the likely 2nd place finisher.  While Virtus.pro isn't likely to do much (the team did not play in EU Regionals during the Summer and will not be sponsored after this event), ePunks, a new team who qualified in the 1st qualifier for this event, could surprise.
The Group A losers' match will be on SolidJakeGG's stream, with the rest of this group's matches on the mainstream.
Group B
Team Dignitas and Fnatic are the favorites to come out of this group.  However, with both teh89 and the new team CrowingCocks in the group, anything could happen.  (CrowingCocks qualified in Qualifier 1 by defeating Fnatic and teh89 knocked Team Dignitas out in the Group Stages of Dreamhack All Stars - Tours)
The opening two matches of Group B will be on SolidJakeGG's stream.  The rest of the group's matches are on the main stream.
Follow us on Twitter @GosuGamersHotS and on Facebook for more competitive Heroes of the Storm news and coverage from around the world.