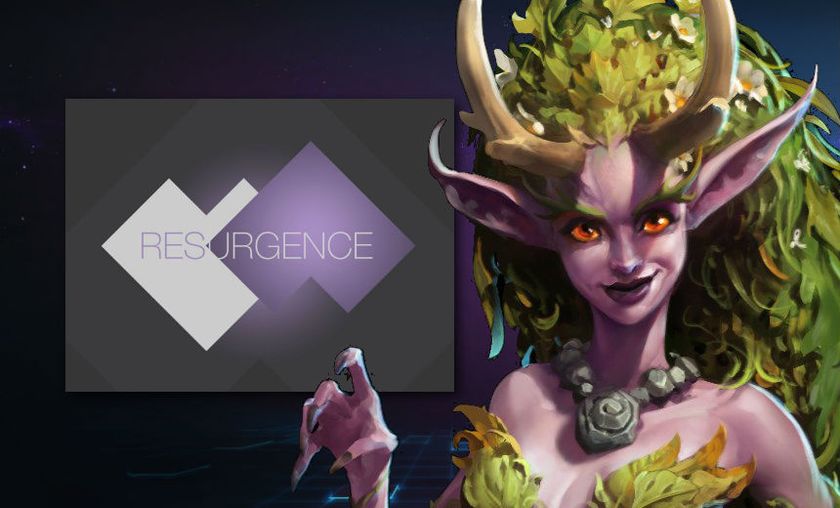 Enter The Storm NA Cup 2 Qualifier #3 finds Resurgence standing on top.
Qualifier # 3 Brings off-meta picks and Tassadar and Zagara show off their power to control objectives.
The third qualifier in the Enter the Storm NA Cup #2 found COGnitive Gaming facing off against the newly reconstructed Resurgence in the finals.  COGnitive boasted impressive victories over 2ARC and Tempo Storm on their way to the final best of three, but ultimate the day would belong to Resurgence. Using off-meta picks in the form of Lunara and Rehgar, they won the finals 2-1. 
In fact Rehgar turned out to be the support of choice often used by Resurgence throughout the qualifier, sometimes even pairing him with Tassadar for double support sustainability.
Throughout the qualifier both Zagara and Tassadar seemed to be either banned or on the winning side of many of the matches. 
The last match was played on Towers of Doom. Resurgence took control of the game early and maintained it up for 17 minutes by controlling team fights around the objectives with Tassadar and Zagara. The frequency of Force Wall and the effectiveness of Maw proved to be too much for COGnitive as Resurgence appeared to be in complete control points.
And yet, a disastrous team wipe for Resurgence, at the 17:35 mark would quickly turn the tide. COGnitive quickly capitalized on the 5 for 1 trade pushing down all three Resurgence forts and taking the boss.  Resurgence would recover in a key objective fight at 22:35 taking out three COGnitive heroes and putting COGnitive on their back foot for the rest of the match. 
EDIT: As a side note, the tournament admins would like to mention that the pause delay during the finals match was no one parties fault and all of it boiled down to lack of communication between teams and admin. It just took some time to discuss in order to reach a fair agreement on, which they eventually arrived at.
Be on the lookout for more great Heroes of the Storm action at the ETS NA 2 Qualifier # 4 taking place on 5 February, 2016 21:00 CET.  
Follow us on Twitter @GosuGamersHotS for more Heroes of the Storm Esports news.