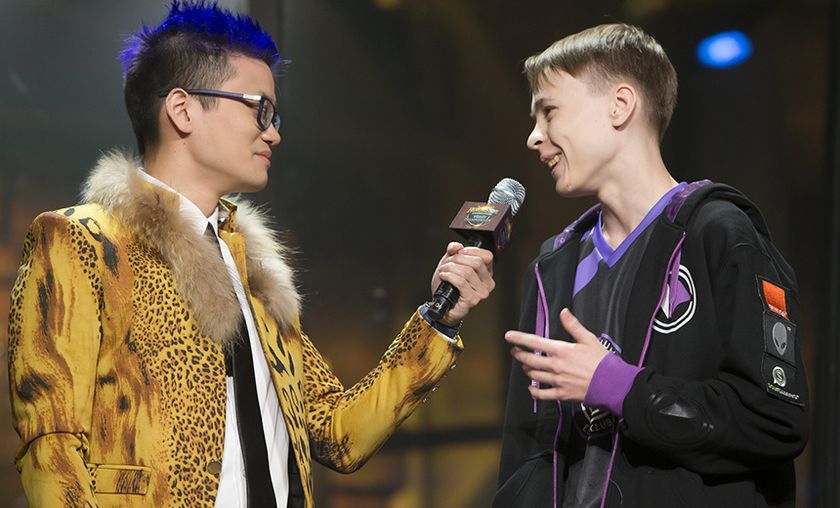 Pavel is the 2016 Hearthstone World Champion
The redemption story of the "comeback kid" is complete.
Pavel "Pavel" Beltukov of team Millenium hoisted the 2016 World Championship trophy, standing over the defeated Artem "DrHippi" Kravets of Virtus.pro, and kept the championship trophy in Europe after what's been a dramatic and emotional run.
A blitz-quick game one saw DrHippi's Dragon Warrior rush down Pavel's C'Thun build, as the Russian's hand was clogged by end-game cards with no optimal way to react to the ever-growing board of his rival.
But then, Pavel did what he's been doing all tournament: slaughtering Malygos Druids. What was the downfall of Amnesiac in the quarter finals was also DrHippi's demise in the last match of Worlds. The battle between the two Europeans ended in game six, as a huge 10/10 Edwin vancleef, unanswered due to the lack of mulch in DrHippi's deck, started a two-turn clock which ultimately ended the tournament life of the Ukrainian.
Completing his championship run, Pavel puts an end to his redemption story, which began with him missing last year's Blizzcon on the back of critical misplay. Pavel came close to elimination this year as well, starting the group stages on a loss, but persisted through and scored five consecutive win to win the $250,000 check, the biggest in Hearthstone to date.