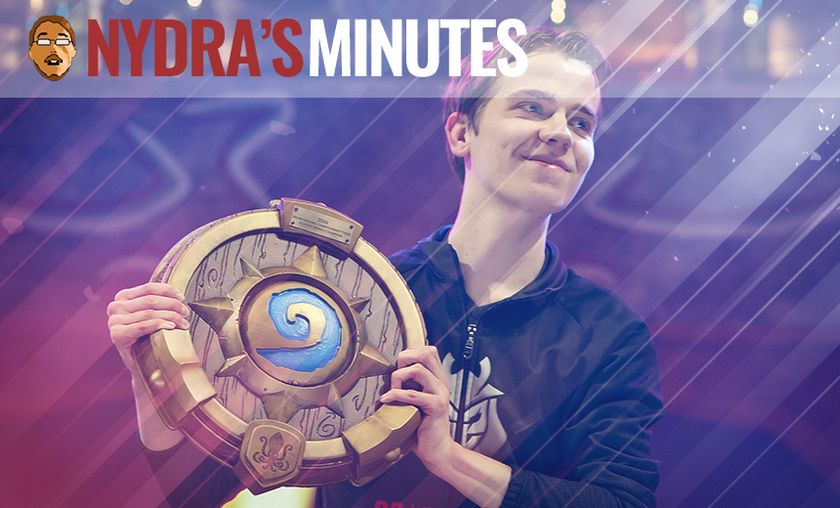 Nydra's Minutes: Hearthstone excellence should be celebrated way more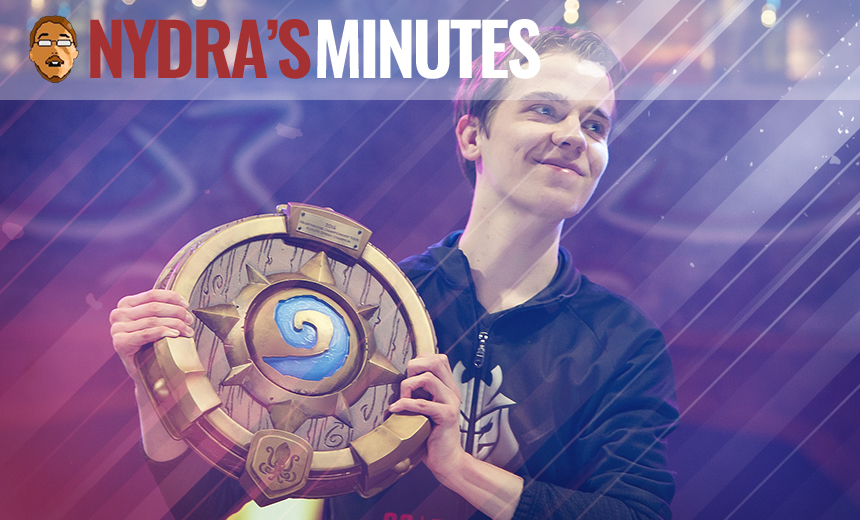 Photo: Carlton Beener / Blizzard
Achievements in competitive Hearthstone have always been looked at with a good dose of skepticism or even ridicule. Whether we're talking the regular one-off major tournament victory or career-long consistency, the degree varies little. Hoisting a trophy or finishing high in a circuit of tournaments almost always comes with an asterisk.
The reasons for that are twofold. First, it's Hearthstone's very nature. Being a card game, Hearthstone is tied to the slings and arrows of fortune, to a greater or lesser extent. Timely top decks, lucky RNG hits and bad opening hands can singlehandedly decide a match, often even a series. Then, there's the way the community perceives the aforementioned first reason.
It is both easy and unfair to pass quick judgement on the layman and the casual fan. It is natural to the human brain to record, remember and talk about the stand out moments, rather than think about the big picture and the overarching series of events which led up to said outstanding moment. It is not uncommon—even in traditional sports or more established esports—for a match outcome to be reduced in the public's eye to "lucky" goal, a chance headshot or one in a million [card]babbling book[/card] pull, because it's more intuitive than processing the reams of data that go into paiting the complete picture.
Therefore, the development of the skeptic viewership culture in Hearthstone is no surprise, and neither is its perpetuation by parts of the pro player community itself. Hearthstone's random elements are good excuses to justify failure—and success for that matter. They are a convenient ally which, unfortunately, diminishes the significance of consistency in Hearthstone, even though the deeper logic dictates that it should be exactly the opposite and be celebrated way more.
The development of the skeptic viewership culture in Hearthstone is no surprise.

Take Young-Ho "Flash" Lee, widely considered the best StarCraft player of all time and one of the greatest progamers in all of esports to the point where not even his biggest rival, Jae-Dong "Jaedong" Lee, was really his true equal. Flash competed in a game with virtually no variance and which hadn't changed for a decade, on a top two team with dedicated practice partners and coaches there to hone his skills, and in every match all that decided the outcome was Flash's own form and that of his opponents, where Flash was usually miles ahead. All-time, Flash's map record is 457-180, or 71.74% win-rate percentage. In Bo3's and Bo5's, the numbers are even more impressive at 50-15, or 76.9% win-rate. Between 2007 and 2011, Flash won eight major golds, including three OSL and three MSL titles, the only player in history to achieve that.
Take note that these are truly outlier numbers and it was rare even in a game like StarCraft for a player to reach such consistency and most high-tier progamers would struggle breaking the 65% win-rate mark. Even winning multiple instances of a major franchise was considered an outstanding achievement. In the 13-year-long history of the OSL, only eight players have won more than one championship and only four have won three. When it comes to the MSL, only six players have won more than one.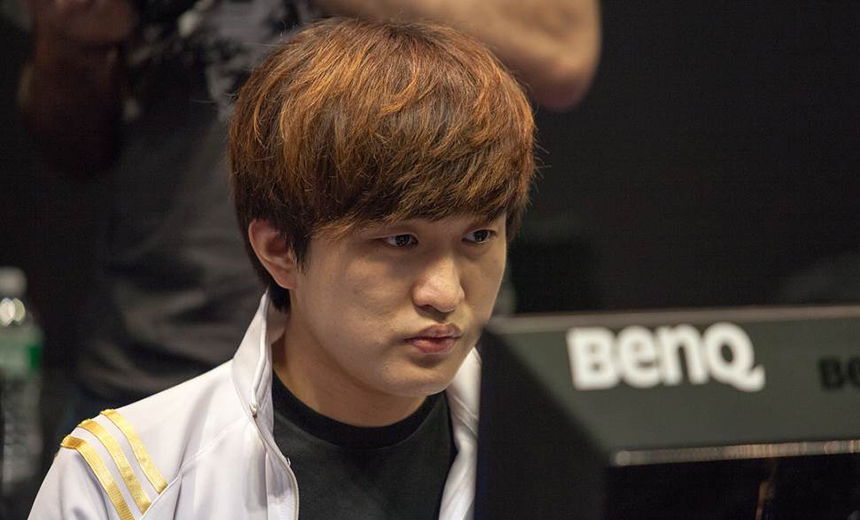 Flash. Photo: Team Liquid
Let's look at Hearthstone by comparison. The current reigning world champion Pavel "Pavel" Beltukov sits at 147-58 all-time record (most of which on non-Bo1 matches), or 72% win-rate. In less than half a year, he's won three major LAN titles, including two HCT titles. Thijs "ThijsNL" Molendijk has almost 500 non-Bo1 matches on record and holds a 62% all-time win-rate, a number comparable to those of top tier StarCraft players and has four LAN titles including back-to-back HCT European Championships. In their peak periods, players like Jon "Orange" Westberg maintained almost unheard-of win-rates for card game players (80% in December 2016 to January 2017).
To win "Player of the year", Sebastian "Xixo" Bentert put up consistently positive record all year long, most of the time floating above the 60% mark with little to no periods of win-rate famine. In all four years of competitive Hearthstone, six players have managed to win the same LAN franchise more than once: ThijsNL (two HCT EU titles), Dima "Rdu" Radu (two DreamHacks), Jason "JasonZhou" Zhou (two Gold Series championships), Orange (two SeatStory titles), Il-Mook "Handsomeguy" Kang (two HCT APAC titles) and James "Firebat" Kostesich (two Gfinity titles).
Flash and Jaedong will never lose the first round of a qualifier. Pavel, ThijsNl and the rest regularly will, beaten by the luck of the draw.
And that's looking at titles mostly. If one is to take into account grand final appearances or simply top eight finishes, the argument for the truly consistent players becomes even stronger. Granted, drawing a direct parallel between StarCraft and Hearthstone is not entirely fair due to how different the scenes are. Competitive StarCraft in Korea was a culture ahead of its time and was extremely professional even in the mid-2000s, while Hearthstone—even competitively—is largely open with lots of opportunities for everyone to succeed so the quality of players and the extent to which their potential could be unlocked cannot be easily compared.
At the same time, there's no easy way to put Hearthstone achievements in perspective other than using "traditional" esports and numbers do help in that instance. Every time a Hearthstone player's record or trophy cabinet is close to that of a competitor in a non-variance game one has to take into account the extra hurdle the Hearthstone player may have to clear. Flash and Jaedong will never lose the first round of a qualifier or an open cup. Pavel, ThijsNL and the rest of the Hearthstone clique regularly will, beaten by the luck of the draw.
On top of sheer statistics, there lies the heap of commitments a Hearthstone pro player needs to take to even come close to these numbers. Simply being good at Hearthstone isn't enough and many players considered revolutionists and masters in the field never translate their skill to meaningful results. Winning championships in any esport takes discipline and dedication. It takes mental strength and practice efficiency. It takes long hours of often joyless grinding (StarCraft professionals would practice mutalisk micro for hours on end until they get it right, just like Hearthstone professionals would play the same match-up for hundreds of games to figure out mulligans).
In the case of Hearthstone, it further takes abandoning the self-serving bias, blaming failures on external factors (like RNG) which is an easier trap to fall into and harder to admit to than in other games, all while predicting what cards will be played in the next tournament. It also means staying on top of a game that completely changes every few months and which will often force players to abandon their comfort playstyle zones in order to fit a certain dominant metagame. 
There is too much information that is hidden too deep for the casual viewer to take into account.

As mentioned, this is simply too much information that is hidden too deep for the casual viewer to take into account when judging the significance of Hearthstone achievements, which is why this argument needs to be made public. Even though a [card]ragnaros the firelord[/card] hit can decide who wins a championship, there are dozens of games, hundreds of turns and thousands of decisions leading up to that very championship that should not be disregarded. To take a DreamHack LAN, for example, a player needs to win at least 11 out of 13 Bo5's, or have 84% win-rate in the tournament. To win a world championship in the old HCT system, a player had to have months-long consistency to make it to the qualifiers and from there lose no more than three series total against the best players in the world.
So the next time a [card]babbling book[/card] [card]polymorph[/card]s a [card]malygos[/card] to win a game, don't get stuck in this single moment of mad chance and use it to define everything that has and will ever happen. There's way more to a Hearthstone championship than dumb luck and it needs to be celebrated way more than you might think.
It's so god damn hard.