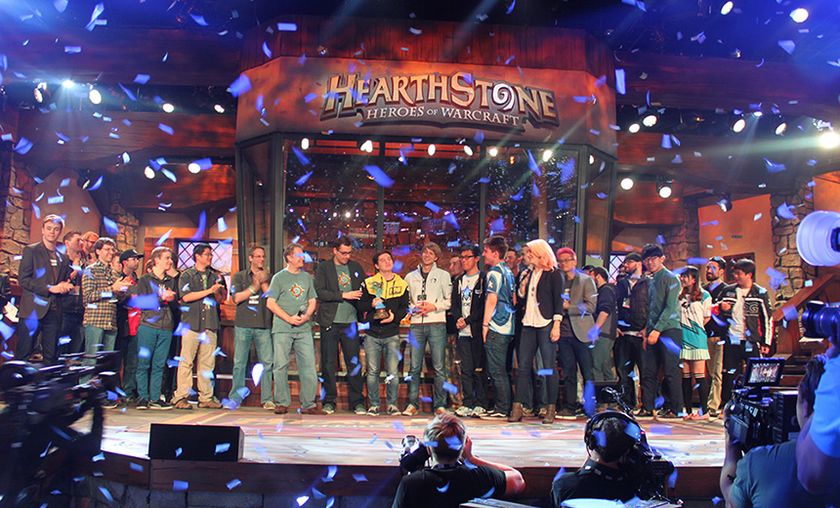 The Blizzcon awards: The best stories from 2015 World Championship
The "Best match" award: Thijs vs Ostkaka
---
Every year has its highlight series. We still have a month left of 2015 but unless WCA pulls of some spectacular stuff, this one in particular could not only be the match of the World Championship but the one of 2015 as a whole.
For many Hearthstone fans, ThijsNL versus Ostkaka should've been the grand final of Blizzcon, especially given the fact how the actual concluding match eventually ended. Unfortunately, the European juggernauts, widely regarded as the best players in the tournament right from the start, had to play in the semi-final round, but the outcome was no less spectacular.
Set aside an hour of your time for the most tense Bo5 of the year so far.
The "Play of the tournament" award: Ostkaka's ping
---
Paste your ResidentSleeper memes all you want, but there's no denying that Freeze Mage mirror, much like its Control Warrior cousin, is a match-up requiring incomprehensible amounts of skill and planning.
In that same ThijsNL/Ostkaka game we just awarded, the Swede gives a good example of why that is. Ostkaka is down to 10 health, with no cards in his deck. He know Thijs has both Fireball and Frostbolt, a combo that would put him down to 1, just enough for the fatigue tick to finish him off. In a brilliant display of strategic thought, Ostkaka points his hero power at himself, inflicting one damage but staying safe from that one-two punch of ThijsNL for at least a turn.
ThijsNL still won the game as he popped Ice Block first but it takes nothing away from Ostkaka's understanding of the match-up and the math behind it all.
The "RNGesus saves" award: Hotform vs Kno
---
When you have a 7/7 Dr Boom, a Piloted Shredder and Truesilver Champion in hand against an 8-hp Tempo Mage, you've pretty much won.
Except if you're Kno facing Hotform. The Canadian happened to have double Flamewaker and with "small" help from his Arcane Missiles – not a single one of which went to waste – and Mirror Image he cleaned more or less the entire board of the Japanese, turning the game upside down.
This is where normal people flip their tables and quit Hearthstone and maybe gaming in general.
The "Biggest disappointment" kind-of award: North America
---
Before you man the freedom pitchforks, please hear me out. This is not me saying North America is bad at Hearthstone. This is me saying the contrary: That it had so much talent at Worlds only to face almost complete elimination is, well, disappointing.
True, NA didn't have the star power that Europe brought to worlds. Nias and Hotform were relative unknowns and few bet on them to go far. Then there was JAB, a player experiencing his best tournament days but still behind the very best in the world. In fact, Purple was NA's biggest hope, praised for his genius and uncanny understanding of the game.
By the end of the opening week, all but one of those players got eliminated in the group stage. The Patron killer Nias had no Patrons to slay. JAB lost two in a row to semi-finalist Kno. Purple's Freeze Mage – a deck he loves and plays to perfection – went 0-5 against Pinpingho, betraying him to his death. Hotform became the unlikely dream keeper for the region, reaching as far as the last match only to be destroyed in a grand final as one-sided as the previous one.
I am sorry, North America, but that just wasn't your tournament.
The "Cinderella story" award: Asia-Pacific
---
If NA was the biggest disappointment of HWC, Asia-Pacific was certainly the most pleasant surprise. The rag tag quartet of players arrived in California with everyone expecting to get slaughtered by the western muscle. In the span of two weeks, they not only proved they are not to be taken lightly, but also that they're more than capable of beating the big boys of Hearthstone.
The first signs came at the group stage, where APAC was statistically the best region, having three of its four players advancing to playoffs. Their complete success wasn't very far off either, and it came down to Neilyo losing an unlikely Control Warrior versus Oil Rogue match-up that could've eliminated NA complete if not for Hotform's impeccable play.
So this year, when Taiwan, Japan, Korea and Southeast Asia come to a western tournament, don't be condescending. Remember they are the reason why some of the most hyped names in the game could never lift the trophy.
The "Team of the tournament" award:  Team Celestial
---
Natus Vincere might've won Worlds, ROOT might've come second and G2 might've had the best performing player overall, but praises must go to Team Celestial for this one.
Founded by TiddlerCelestial, the original roster had just him, SilentStorm and FrozenIce, a line-up that got pummeled at ATLC so hard they were an auto-win every single time. Then, in the biggest talent acquisition in Hearthstone history, Celestial picked up every single good prospect in the Chinese scene acquiring, among others, Zoro and DieMeng.
Both of those players qualified for HWC and both ended up winning their groups, towering above names like Kranich, Lifecoach, Purple and Neirea. Come playoffs, Celestial were the best represented team there, having 100% success rate, and even though neither of Zoro and DieMeng went any further, to deny their ascend from nothing to World Championship quarter finalists would be a travesty.
The "Deck of the tournament" award: Oil Rogue
---
Yeah, Nydra, ha-ha, very funny. What's the deck of the tournament for real?
I don't know. Maybe it was the deck left forgotten while Patron Warrior ran unchecked played by a class perceived as worse as Shaman. Maybe it was the deck that just three players dared include in their line-up. Maybe it's the deck that had insane turn-arounds and won incredibly unfavored match-ups. Maybe it's the deck that not one but both grand finalists used. Maybe it's the deck that won that very last game, proclaiming Ostkaka as the new world champion.
Not maybe. Surely.
The "Guy you never thought you'd cheer for but end up doing so nonetheless" award: Pinpingho
---
Each tournament – and each crowd – has its favorites. There were many such players at HWC, but nobody won viewers' sympathies faster than Pinpingho.
Pinpingho is not exactly a new name to the scene but coming from an untelevised region he didn't have many fans either. His appearances on big tournaments were scarce and in the largest one he played, the ESL Legendary Series finals, he was overshadowed by western giants like Chakki and Darkwonyx.
Then came HWC 2015 and in several two-minute interview clips, Pinpingho won me over completely. The Taiwanese spoke of his love for Shaman with such affection and with such a broad smile that nobody could stay impartial. As he proceeded to destroy Purple's freeze mage with Bloodlust, my affection with his character grew. Suddenly, I was cheering for him in every match he played, even as he faced fellow European Ostkaka in the quarter finals.
Because, you see, being a star is not just about winning. It's about being remembered. And if there are four words from HWC 2015 that I will never forget, they are "I am Shaman itself".
Note: Let this category be known henceforth as "The Pinpingho award!"

Photo: ESL