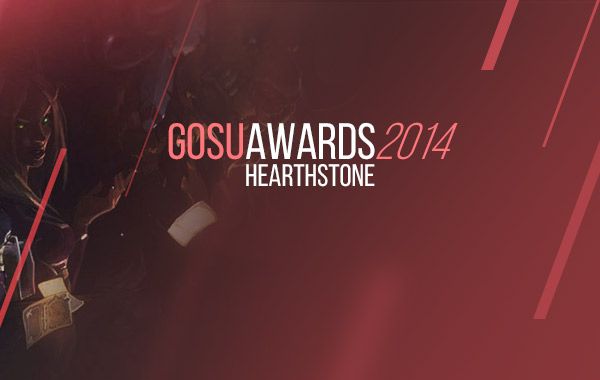 GosuGamers Awards 2014: Hearthstone nominations

Welcome to the first ever GosuGamers Awards (or GosuAwards for short) for Hearthstone. Since the HS section is new and many of its readers might not know what this is all about, we feel that a short explanation is in order.
The GosuAwards are a long standing tradition of our community, dating back almost a decade. Every year, teams, players, stories and personalities from the major eSports titles are nominated in several categories and the GosuGamers community gets to vote for who they think deserves the title. At the end of the year, during the official GosuAwards ceremony, the winners of runner-ups of each category will be announced. There will be two of those for each category: one awarded by the GosuCrew committee which is also the body that determines the nominations and another chosen by the community vote.
For our debut year in Hearthstone, we've split the nominees in elevent different categories. The polls will be open starting today until after the Christmas holidays. Before the end of 2014, the winners will be announced in a special GosuAwards 2014 article. 
So, what are you waiting for? Get to read on each nomination, cast your vote and choose wisely (i.e. objectivism over fanboyism). 

All of the seven nominated players showed consistency as well as versatility, winning high profile events or regularly placing high in online tournament. The nominations are not based on any rankings (GosuGamers, money won or otherwise) and are solely determined by the GosuAwards committee. 
Aleksandr Malsh from Ukraine is the reigning guy-to-beat at Hearthstone these days. He recently won DreamHack Winter, redeeming him of his Blizzcon World Championships loss. Kolento, a Cloud 9 member and a ladder grinding machine, popularized the Miracle Rogue archetype and has consistently finished at the top in most tournaments that he joined.
Dima Radu, the 17-year-old Hearthstone prodigy from Romania, made a name for himself as DreamHack Summer 2014 champion. Since then. he's been terrorizing online tournament, juggling school with Hearthstone. He is one of the players who consistently make it to the finals in major and premier tournaments, the first player to break the 1,280 GosuRankings point milestone and the only player to be top two in said ranking systems for three months straight.
Cong Shu is an American Starcraft 2 and Hearthstone player, best known for his druid innovations and consistent results in the early days of Hearthstone. Before the rise of TidesofTime, StrifeCro was also the uncontested king of North America. Currently a member of Cloud 9, StrifeCro constantly ranks high among the Hearthstone legends and though he lacks a second offline gold after SeatStory Cup I, his record is decorated to say the least. 
James Kostesich made history as the first Blizzcon Hearthstone World Champion. The 18-year-old American quietly climbed his way to the top of the Legend Ladder, going straight to the second phase of the BlizzCon qualifier. The eight grueling months of practice, even while at work, eventually paid of. 
Wang Xieyu is a Chinese player who is best known for playing and winning second places both at the Blizzcon World Championships 2014 and the World Cyber Arena 2014, the two highest paying Hearthstone tournaments to date. He has a long history of playing board games and TCGs and is one of the world's top players with the most amount of prize money received from winning at Hearthstone.
Coming to Hearthstone from the world of Dota 2, Drew Biessener has gathered a huge following in Blizzard's card game. He finished first place at the World E-sport Championships 2014, overcoming StrifeCro in the NA rankings as a result and becoming the first Hearthstone player to win upwards of $30,000 in one weekend. The Deck Wars S1 and WellPlayed Cup trophies also sit in his collection.
One of the winningest players in the west in terms of prize money, Petar Stevanovic is a force to be reckoned with. He broke out during the first DreamHack Bucharest where he took the title over notable names like Amaz and Ek0p and then continued to deliver results: first places in Prismata Cup, second places at HearthStats League and the second DreamHack Bucharest and third at World Cyber Arena, the second largest tournament prize-wise after BlizzCon. 
HONORABLE MENTIONS (or who would we also nominate if we had all the space in the world):
 
Janne "Savjz" Mikkonen for his OGN Invitational and SSC 2 gold medals as well as consistent performance in online cups.
Jason "Amaz" Chan for playing priest to perfection and boasting four offline grand final appearances.
Thijs "ThijsNL" Molendijk for winning five ZOTAC cups - an unparallelled feat - and delivering strong offline results at the end of the year.
[easypoll]548d896be4b08e1f99e93174[/easypoll]

Known for their extraordinary deckbuilding skills, these players have managed to invent, polish, perfect and reiterate deck archetypes and having a tremendous effect over the competitive meta. 

Most Druid decks over the course of the first year of Hearthstone were popularized by none other than Strifecro. From watcher to midrange druid, with and without the [card]Force of Nature[/card] and [card]Savage Roar[/card] combo, Strifecro played them all and had a huge influence on the druid class in general.

Hearthstone deckbuilding is often associated with the name of Kolento. The Ukrainian is the evil genius that reinvented miracle rogue and put [card]Leeroy Jenkins[/card] into the deck, as well as having a huge influence on midrange hunter and handlock. He also helped revitalize paladin in times where people regarded it as unplayable.

Firebat might not be a played who invents brand new archetypes but his minor touches to already established ones are magical. Known for his calculated plays and extensive preparation, the World Champion knows exactly how to modify decks in order to squeeze out every last bit of additional win percentage, one of the reasons he won the first World Championship. 

Despite not having a shelf of tournament results, Koyuki shines bright as the creator of most popular and viable versions of paladin we saw over the first year of Hearthstone. Hearthstone fans will remember the giants paladin he brought to ESGN and a little known fact is that he was also the one who told Strifecro to put the [card]Force of Nature[/card] and [card]Savage Roar[/card] combo into his deck, which changed the meta forever.

Kitkatz is regarded as the number one Warrior player in the game, making the deck into a strong contender in every meta game. He shaped most of the popular versions from very early in the game, when nobody even thought of playing a control variant of the class.

Teammate of Kitkatz, Hyped is a mage and miracle rogue specialist. Dubbed one of the most innovative deckbuilders in the game, Hyped's most recent invention was the post-Naxx secrets mage with [card]Duplicate[/card], as well as the extremely aggressive versions of miracle. 
[easypoll]548d8a1be4b08e1f99e93176[/easypoll]

While the team entities might not be as central in Hearthstone as in other games, they are still of great importance. The nominated organizations below boast strong line-up of individual players and a sizable list of their achievements.

Even though the team is currently undergoing a major exodus of most of its players and by the end of the year it will be reduced to just one member, at the time of this article MYM's status quo cannot be denied. The blue devils are spearheaded by two DreamHack champions in Rdu and ThijsNL, the former also nominated for player of the year, but also boasted a number of online cup crushers like Skip, Semijew and Kunzi.

Without a doubt, Cloud 9 is one of the most stacked teams when it comes to individual talent and number of achievements. The team has three nominations for player of the year and two for innovator of the year. On the forefront are names like Kolento (Viagame and DH:W champion), TidesofTime (WEC winner) and StrifeCro (SeatStory Cup champion) but also old dogs like Ek0p and Gnimsh. 

With TidesofTime no longer part of the team, a big part of Tempo Storm's power disappeared. Nevertheless, this team cannot go without a nomination, if only for the deckbuilding ingenuity they possess. Not only their roster has Hyped and Kitkatz, known for perfecting mage and warrior, but there's also Gaara, a two-times DreamHack grand finalist and one of the most consistent players in Hearthstone.

Despite being a small team, always having just two players at a time, Team Liquid is a name deserving of a nomination. If we had unlimited space for the best player category, the names of Savjz and Amaz (currently of team Archon) would certainly be there. 

The story of team IHearthU actually dates way back, in the early days of Hearthstone, when team Don't Kick My Robot is founded. Being one of the oldest team on the scene, DKMR saw lots of roster changes and was home of notable players like Alchemixt, Hosty and even world champion Firebat. Today, now under the IHU hat, the team is led by Dtwo and Faramir as its two most accomplished players but also features names like Powder, Impact and Varranis.

When one talks about Eastern Hearthstone, the name Golden Coin ought to come up. Since its creation, its players have been the kings of Korea and the roster includes BlizzCon top 4 Kranich, BlizzCon top 16 RenieHouR and WEC runner-up Surrender. Although the Coins recently lose RenieHouR to SK Gaming, they remain a powerhouse and whenever you see a Korean player going far in a HS tournament, chances are he'll be from Golden Coin.
[easypoll]548d89e0e4b08e1f99e93175[/easypoll]

Hearthstone might be a budding eSport still but already rivalries are starting to get formed. Whether they're between players, teams or just someone fighting his bad luck, rivalries make the game fun and enticing to follow, maintain its pulse and create stories which everyone gets to enjoy.

Amaz and Rdu met a lot in tournaments in 2014 and competed for the top spot in the GosuRankings for several months in a row. Their rivalry began in the finals of DreamHack Summer (3-0 for Rdu), a face-off somewhat overshadowed by the cheating controversy, and got three more chapters since: at the IEM Shenzhen semi finals (3-2 for Amaz), the VGVN #1 group stage (3-2 for Rdu) and the WCA group stage (2-0 for Rdu).

In terms of numbers of games played, the rivalry between these Cloud 9 players is not as rich as between Amaz and Rdu. Kolento and Strife played just two times, at BlizzCon and DreamHack Winter, and the series score is tied 1-1. However, this goes beyond match scores. Acclaimed players both, Kolento and StrifeCro are in a race for who's the most consistent Hearthstone player.

These two teams are the most prominent teams in Hearthstone, having some of the best players in the game on their rosters. Because of their strong rosters, a friendly rivalry developed over time in terms of which brand will win more. Add to that Tides' recent jump from TPS to C9 and you get why this is a rivalry worthy of a nomination.

Self-proclaimed unluckiest player in the game, Reynad had to deal with a lot of awful RNG over the course of his Hearthstone career, not just losing games in ladder and tapping into the SALT mode but also losing important tournament matches. This rivalry is also the reason why we get footage like that or that. 
With a colorful personality and tongue-in-cheek attitude, Ekop is one of the most polarized figures in all of Hearthstone. The DogeHouse founder and now a Cloud 9 member is no stranger to getting a lot of hate from other players, streamers and especially the community, to the point he's dubbed by people like Reynad as unworthy of getting tournament invites.

We all know and love the stories of Kripp and his arena adventure, often ending in a salty mood, because mage decks are all over arena, wiping the floor with him. It's an unending battle between the veteran streamer and the barrage of [card]Fireball[/card]s and [card]Flamestrike[/card]s.
[easypoll]548d8b06e4b08e1f99e9317c[/easypoll]

The Hearthstone competitive scene is dynamic. Not only do players change home often but sometimes entire organizations get picked up by established brands. Below are the most impactful transfers and pick-ups for the entire year.

Since Cloud 9's Hearthstone roster was established, picking up TidesofTime from Tempo Storm is probably team's biggest move. The WEC champion was the frontliner of Reynad's team, his most trusted and best performing soldier, until he jumped from one cloud to another. Adding one of the most winning players in NA was definitely big for C9.

Cloud 9's HS division roared right from its creation. With the NA organization picking up the regular and guest members of DogeHouse like Gnimsh, Ekop and StrifeCro, the community knew that light-blue shirts would be an often sight in tournaments. Yet, even if the ex-Doges still perform well in tournaments, Cloud 9's biggest acquisition might be getting Kolento from Managrind as the Ukrainian is one of their best performing LAN players to date.

After an unfruitful coopeartion with Curse, following a parting of ways with DogeHouse, Savjz was eventually picked up as Team Liquid's second member of their Hearthstone division. Since then, the charming Finn has brought TL the gold from SeatStory Cup and another victory from VGVN #3. With Amaz no longer with the team and Neirea's results still lacking, Savjz is TL's most treasured HS possession. 

Speaking of Team Liquid, we should mention how the HS team was founded. In June, the prominent streamer chose to leave ROOT Gaming and become the founding member of Liquid's card game division. In one month, Amaz delivered gold medals from Numericable M-House Cup and IEM Shenzhen as well as the silver from DreamHack Summer. Even though he's no longer with Liquid, this was an explosive cooperation for both parties.  

Even though DKMR has been around forever, the team always struggled to financially support its players so getting picked up by IHearthU - a site under the GEM agency - is only good news for team captain Poach. In return, IHearthU are getting a solid roster of players, including BlizzCon quarter finalist DTwo, qualifier crusher Faramir and Kinguin Invitational runner-up Powder.

To create team Archon was a great move by Amaz. To sign James "Firebat" Kostesich right before the BlizzCon finals was a genius one. We can never know if Amaz knew all along that his team will host the first ever world champion but regardless - he made the right call.
[easypoll]548d8bace4b08e1f99e93182[/easypoll]

Offline events are the heart competitive Hearthstone. The stakes are high, the pool is stacked and players sit face-to-face, eager to show their worth to their opponents. This is where the most exciting storylines as forged and tournament organizers get to shine, delivering quality production.

BlizzCon World Championships was the culmination and the biggest competition of all in 2014. We saw Firebat emerge victoriously from a very long and arduous journey to Blizzcon and got to know TiddlerCelestial, who came all the way from China to Anaheim, California for the event.

Hosted in the Hammerstein Ballroom, the BlizzCon North American qualifiers welcomed sixteen of the best players in the region. The reward - a spot in the world finals. As Tarei, Dtwo, StrifeCro and Firebat emerged victorious, we got to see an incredibly well-produced tournament in a cozy atmosphere, where players would sit by a fireside and sling cards for hours.

Held in Sweden, this was the tournament that introduced us to the underdogs such as Kaor, Thefishou and MrYagut as they defeated community favourites like Reynad, Neirea and Lifecoach. It was also the event that went on for 16 hours on it second day of casting, testing the endurance of players and viewers alike.

Advertised as the most stacked Hearthstone tournament to date, DreamHack Winter welcomed 32 heroes to Sweden. This was the event that gave us the StrifeCro versus Kolento match, one of the best Hearthstone face-offs of all time, and saw the Ukrainian machine of Cloud 9 redeeming himself for his BlizzCon performance.

In October, Viagame impressed as they hosted the inaugural HouseCup, doing some interesting format changes. The nine-class format was introduced in this tournament, often cited by players to be one of the best to use in high-level Hearthsto. This was also Kolento's second offline win after M-House Cup, which put him on top of the GosuRankings for that month.

The second offline event for Hearthstone after SeatStory Cup was a memorable one as many storylines were born. Reynad pulled off a sick play to win a seemingly unwinnable game. Rdu made his first deep run and would later become one of the best HS players of 2014. The first chapter of Gaara's career was written as he made Tempostorm proud by winning the whole thing. 
[easypoll]548d8a75e4b08e1f99e9317a[/easypoll]

Esports was, is and always will be about stories. They bring color to the competition and the game as they give viewers something to follow, something to care about, talk about and get emotional about. Thankfully, despite Hearthstone being in its infancy still, there was a lot to get excited about in 2014.

Riccardo "Kaor" Giammanco was virtually unknown before his performance during the BlizzCon 2014 Hearthstone World Championships, but his humble demeanor and uncompromising play wasn't the only thing people remembered him for. He won the hearts crowd after sharing his dreams of opening a bookstore with his girlfriend and son back in Italy with the  $100,000 prize, and after that, Kaor's very presence at the tournament become something noteworthy.

James "Firebat" Kosesich has been playing hearthstone well before he was a household name. He consistently reached the top ranks of the ladder and played in a few tournaments in which he performed adequately: Nothing to write home about. But when he qualified for Blizzcon NA qualifiers, something happened. He championed aggro strategies, openly challenged the current top Hearthstone players, including Kolento, and sure enough, earned a spot at Blizzcon 2014.

The rest is history, but what we learned about Firebat during his meteoric rise takes his story over the top. During an interview, when asked which players he would prefer not to face in the finals at Blizzcon 2014, without hesitation he said that he "wants to play the best, that is why I am here. I don't want easy opponents". Even after winning the world championship, he couldn't help but mentioned his disappointment of not being able to face RDU! Not many people would care about such things after winning $100,000  but that is Firebat, a champion through and through.

Everyone knows that Hunter is a powerful class, but 2014 cemented this in ways that few could of predicted. Naxxramas introduced a game changing set of cards, but it was hunter that truly utilized the blistering speed of death rattle based strategies. What makes hunter as a class so intriguing in 2014, is that Blizzard's drastic nerfs towards [card]Starving Buzzard[/card], a move that had players shouting R.I.P Rexxar across the globe, somehow made Hunter even more powerful.

Now that hunters could no longer rely on the automatic [card]Unleash the Hounds[/card] / [card]Starving Buzzard[/card] shell, Deathrattle based strategies become faster and faster and more Hunters started attacking the face. When the option of drawing 3-4 cards in one turn was removed, the deck had to finish the game as fast as powerful to make up for it. Turns out, this strategy coupled with the new Naxxramas cards was more powerful than Starving Buzzard ever was. Thank you for opening our eyes Blizzard!

2013 was a very different year for Hearthstone. The game was new, and viewers didn't know if they should take "competitive Hearthstone" seriously. After all, the game promised fun matches in a casual atmosphere: who wants to watch that? Blizzcon 2013's Innkeeper invitational tested and after that success, the game's audience grew larger and larger as the competition grew more fierce.

Now in 2014, Hearthstone is consistently one of the top three most watched games on Twitch.tv. The tournament scene is thriving and with the release of Goblins vs Gnomes, things are only getting more exciting. Hearthstone has positioned itself as a major player in the e-sports tournament scene, proving once again that Blizzard knows how to create games that cater to both hardcore and casual audiences. Who knows what to expect in 2015!

It's really ok if you had no idea who Wang "TiddlerCelestial" Xieyu was before the last four months. You do now because it's hard to forget about a player who manages to qualify 9-0 for a spot at Blizzcon 2014, proceeds to make it to the quarter finals of the CR vs KN Masters, places second at the WCA tournament after defeating both Gaara and Monk, and finally gets second place at the Hearthstone World Championship. All in the last four months.
The Chinese Hearthstone scene is still somewhat of a mystery to western viewers, but TiddlerCelestial is a great example of what is to come as the scene expands internationally and players from different countries start sharing the same brackets.

RNG is a fun part of Hearthstone. We laugh when every knife juggle hits, we cry when Ragnaros defies us and, more recently, marvel when Whirling Blade manages to kill everything. For a while, outcries of lucky and the prominence of certain RNG cards threatened the image of Hearthstone as an e-sport. Viewers who were not familiar with the nature of card games and how difficult it is to make correct decisions while taking into account RNG were quick to discount winning players accomplishments.

But after 2014, it's nigh impossible to make this argument, thanks to the most consistent pro-players that time after time, prove that tactical decision making is the prime factor in tournament wins. Players like Kolento, RDU, StrifeCro, TidesofTime, Gaara, Thijsnl and a whole host of other players don't rely on luck to consistently place on the top of the ladder and win tournaments and as fans, we thank them for transforming Hearthstone into what it is.
[easypoll]548d8ac9e4b08e1f99e9317b[/easypoll]

Although it's ultimately the players who create competitive Hearthstone, it's casters who make their stories intriguing and attractive to the viewers. More often than not, a good caster will save even a terribly produced event, providing quality commentary and entertainment to supplement the ongoing battles. Below, we acknowledge the best in this profession.

We have seen Frodan cast upwards of nine hours straight, but for him, that is probably normal. One of the hardest working staples in the Hearthstone community, Frodan has casted some of the highest profile Hearthstone events and always brings humor, energy, and game knowledge to the table.

When not paired with Frodan delivering awesome Hearthstone commentary, Gnimsh competes under the Cloud9 banner. His strategic insights and up-to-date meta knowledge take his commentary to the next level, often explaining the multiple choices a player can make, and correctly identifying the turn they will make.

Kripparrian is a veteran gamer who wears the hardcore label with pride. It is only natural that his foray into Hearthstone was done so by becoming the foremost expert on Arena play, streaming upwards of eight hours a day. Thankfully, when Kripp isn't growing his already huge YouTube and Twitch channels, he is commentating various Hearthstone tournaments with his signature ruthless approach to calling out misplays while entertaining his maniacal fanbase.

Remember the caster giving surprisingly accurate portrayal of the Innkeepers voice at Blizzcon 2014? That's "ThatsAdmirable". Using his experience as a former full-time poker and Magic: the Gathering Pro Tour competitor, ThatsAdmirable have casted numerous events, including DreamHack and the PvPLive Tavern Takeover. He has since become a fan favorite when behind the commentaries mic.

There isn't enough space to write about Artosis and his extensive past in the E-sports community. With the newfound popularity of Hearthstone, Artosis has once again emerged as one of the more prolific advocates for the eSports growth. As Blizzcon 2013's reigning Hearthstone champion (he admits it was a less competitive time), Artosis has no problem bringing strategic depth to any Hearthstone cast.

Realz is a commentator whose expertise comes from his own personal competitive background in Hearthstone and Magic: The Gathering. He now works as an Associate Game Designer for Blizzard and actively works on Hearthstone. His insights and deep understanding of card game mechanics are invaluable as a commentator.
[easypoll]548d8b74e4b08e1f99e9317e[/easypoll]

Despite an active competitive scene, Hearthstone is most of all a stream-centered title where the most entertaining and educating streamers earn more than decent living out of it. For this category, we nominate those card slingers that have helped aspiring Hearthstoners with precious knowledge and aided them in becoming better at the game.

Trump has been the go-to person when it comes to introducing Hearthstone to beginners. His Trump Teachings channel is one of the most referred-slashed-watched YouTube channels whenever newbies ask "What's the best basic deck to start with?"

Kripp is almost synonymous with Arena these days. He is considered one of the best Arena players in Hearthstone and thousands of viewers follow him as he explains his card choices and plays. He was a former well-know World of Warcraft player and his YouTube tutorials are sought after by players worldwide.
Dog is one of the newest and most well-liked educational Hearthstone streamers on Twitch. He is consistently one of the high-ranked players in both NA and EU. Although he's best known for his signature Ramp druid deck, he also features other decks in his streams and is appreciated by his viewers because of how he explains his plays thoroughly.

Lifecoach is a former competitive poker player and currently an accomplished Hearthstone player. He popularized the "Sunshine Hunter" which featured [card]Savannah Highmane[/card] and is continually one of the sought-after deck builders to date. His informative stream is one of the popular go-to Twitch Hearthstone channels for people who want to learn how to play and also to get deck ideas.
Kolento, the current number one Hearthstone player in Europe, is known for being methodical and careful when it comes to playing. People watch his stream to learn from the reigning top player and to see how he makes game-changing decisions that almost always grant him victory.

Hafu is one of the most popular Twitch streamers. She was first known in World of Warcraft and League of Legends, and now, Hearthstone. She is known for doing arena runs and collaborates with Trump to show viewers how to draft in the Arena.
[easypoll]548d8bcfe4b08e1f99e93183[/easypoll]

Unlike other TCG's, the metagame of Hearthstone changes daily. Decks and cards rise and fall rapidly but there are some which don't bend to the changes: they dictate them! The nominations in this category are about cards and decks that shaped the metagame - both competitive and on the ladder - and were hated or adored, but never ignored. 

Curse of Naxxramas was Blizzard's first offering of new cards, and among the 30 cards, there were some clear winners. [card]Mad Scientist[/card] and [card]Nerubian Egg[/card] made some waves, but their impact can't compare with that of [card]Loatheb[/card], [card]Undertaker[/card], and [card]Sludge Belcher[/card], labeled affectionately by the GosuCrew as the Naxxramas trinity. These cards are so good at what they do, it is almost impossible to find a tier 1 deck that doesn't use at least one of them.

[card]Gadgetzan Auctioneer[/card] is a powerful card, but maybe powerful isn't the best word to describe it. Gadgetzan Auctioneer is influential. Gadgetzan Auctioneer is meta defining.  Whatever it is, this card has single handedly spawned an archetype that brought Rogue to the upper echelons of competitive Hearthstone Decks. Miracle Druid and the lesser known Miracle Shaman also make use of the cards power, but not to the dominant extent of Miracle Rogue. Now that Gadgetzan Auctioneer has been nerfed, we may be seeing the end of an era.

Once upon a time, [card]Leeroy Jenkins[/card] was the dread of any Hearthstone player. Charging in for six damage with virtually no drawback and combo-able with minion boosts and [card]Faceless Manipulator[/card], the infamous hero was fearead for his potential to OTK his opponents with ease, even if their life totals are upwards of 20.
Although he started off as a finisher in aggressive decks, Leeroy eventually moved to pretty much all decks. The card is long nerfed now but in its 4-mana days it was no less than a meta-defining minion.
Hunter's power has fluctuated over the course of the game, but 2014 was its year to shine. Naxxramas cemented aggressive strategies that made the hunter hero power even more powerful, but even before that, Hunters had access to some of the best class cards and decks in the game. The reason behind hunters success is easy to understand: In a game where threats need to be answered, it pays to be the one playing the threats.The influence of hunter is felt in every tournament and only time will tell if GvG will change things.

Firebat's win at Blizzcon World Championships demonstrated the versatility and staying power of druid decks, but the extra evidence was largely unneeded. Druid has always enjoyed a high spot in competitive ranking thanks to its versatility and wide variety of deck archetypes, but one thing usually stays the same. By committing to as little as two cards, the [card]Force of Nature[/card] plus [card]Savage Roar[/card] threatens 14 damage even from an empty board. The "play as if the combo is in their hand" scenario has been played out countless times in 2014 and it may always be something to consider when playing against druid.
No other deck has the reputation that ZooLock has and that might never change. In 2014, we saw untold levels of warlock domination. Off the backs of [card]Haunted Creeper[/card]s, [card]Nerubian Egg[/card]s, [card]Knife Juggler[/card]s, [card]Doomguard[/card]s and pre-nerfed [card]Soulfire[/card]s, Zoolock became the go-to deck for any player that wanted to win. Bots and rank hungry players alike filled the board with an overwhelming amount of sticky minions, easily disposing of any deck that missed their curve during the first 3 turns of the match. Zoolock consistently won tournaments, and when it wasn't played, it is because both players banned it.
[easypoll]548d8b5ae4b08e1f99e9317d[/easypoll]

When there's eSports, there's drama. There's call-outs, cheating, dishonesty, absurdity and downright juvenile behavior. It's a category of nominations we like to save for last, hoping each year we'll get less of that and more of the actual eSports but, let's be honest, sometimes it's just hilarious.

After Dreamhack Summer Reynad, LegendaryLea and several others travelled to Amsterdam together. There they had quite the adventure in the Red Light District with hookers, pulled down pants and lots and lots of awkwardness. In case you weren't on reddit at that time, watching Reynad's colorful recap of it all sure helps. 

In the finals of Dreamhack Summer, RDU was playing Amaz when he got messaged by people in his friend list about what cards Amaz currently holds. This unleashed a huge discussion all over the Hearthstone scene: community members and players accused Rdu of cheating or came to his defense, blaming his inconsiderate friends instead. It was a level of drama capable of ruining an otherwise excellent event.

This isn't strictly a Hearthstone drama but it affected the game a lot regardless. ESGN's launch was historic in its pompous grandeur, the company promising next level of eSports production in a hellishly expensive, high-tech studio. Its program started with Hearthstone's "Fight Night" show and promised to go much bigger than a daily showmatch series.
This is when everything collapsed. Spending more than they were earning, ESGN soon went bankrupt. To this day, our guess is that former employees are still waiting for their salaries.

What happens when an admin fails to do his job correctly? In this case, an entire team is excluded from the playoffs of a tournament in favor of another.
This story follows the roster of vVv Gaming, barred from competing in the Gentlemen Cup due to a calculation mistake. Following a reddit post by vVv player Wampie, the drama grew as viewers accused tournament admin P4wnyhof for advancing PkD purposefully, due to him being an active member of that team. The controversy got difused with the help of the GosuCrew and vVv were rightfully restored their top 4 spot.

In spite of the bold title "World Championship", not all players competed in the race for the BlizzCon trophy and not because they didn't have the skills. The BlizzCon rulebook excluded entire countries like Romania, Greece and Portugal, which prompted prominent tournament champions such as Rdu to vocally express their dissatisfaction with how the tournament was set-up. 

In the last half year, a total of three Hearthstone teams - Curse, Coast and MYM - lost its players. Although different reasons were mentioned, there was one factor that always resurfaced: a sponsorship deal with Azubu. A potential exodus to a streaming platform with much smaller community than Twitch.tv scared the hell out of the Hearthstoners. After all, streaming remains the primary income source for many players and it's no wonder a potential lockdown to Azubu was labeled by many to be a "career killer".
[easypoll]548d8caee4b08e1f99e93184[/easypoll]
GosuAwards committee:
Radoslav "Nydra" Kolev

Nick "Dorazion" D'Orazio

Nico "Stothex" van der Knaap

Grace "Sylvanhunter" Naces

Jan "Nomlix" Lauk

Ziyin "Ziyin" Wang