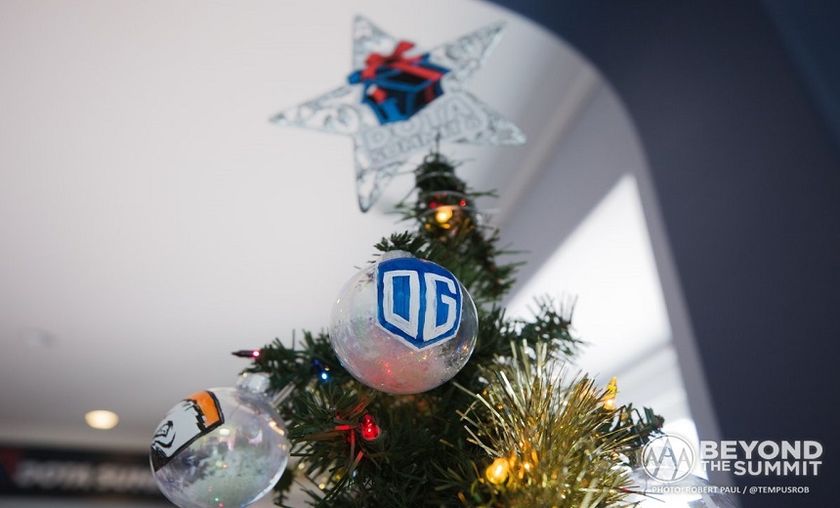 OG joins the ranks of the top 4 for Dota Summit 8 Minor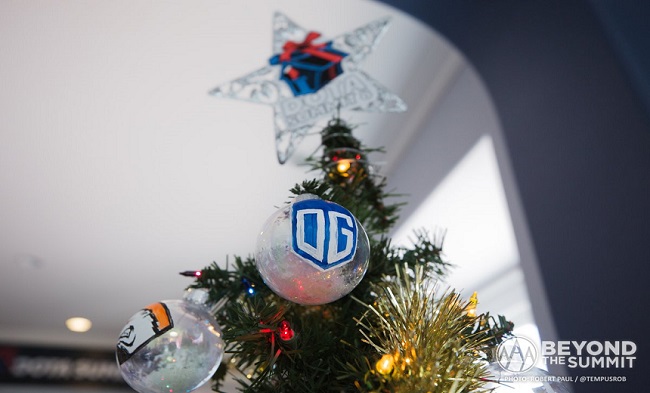 Photo courtesy of BTS by Robert Paul
The final four are now set for the playoffs in the Dota Summit 8 Minor as the event edges towards the grand finals.
After a day of wildcard series, OG prevailed to assume the final spot in the playoffs and secure themselves another set of Pro Circuit points to end out the year. The European team will join the undefeated Virtus.pro, the constantly improving Team Kinguin and the reignited Fnatic in the final minor event of the 2017 year.
compLexity Gaming overthrew OpTic Gaming 2:1 in the first series in a reverse sweep after they were knocked down in Game 1's stomp. Col's victory knocked OpTic out of the event and allowed for them to advance to the final stage of the wildcard series.
OG took down Evil Geniuses in a 2:0 sweep with relative ease. After taking the first game of the series without much contest, OG set the pace with a high tempo in the second match and armed with a very farmed Arc Warden and constant healing from Omni Knight OG became unstoppable for the NA team. Eliminating EG, they went on challenge compLexity Gaming for the final spot.
Starting out the final series, OG and coL were neck and neck with the NA team taking the slight lead and advantage earlier on. Unable to capitalize on it, Anti Mage had become too strong for them to deal with and OG snatched the victory. CompLexity hit back hard in the second series of the game, determined not to end their Summit journey end. With an overwhelming victory, they pushed the series to the limits with a deciding third game. Unfortunately, the NA team found themselves in a similar situation as the first game when they again had a stronger early game but had allowed for the Storm Spirit to become too farmed and strong to deal with in the end, losing their advantage and the game by the end. OG's victory assured them the final place in the playoffs.
The event will continue with the playoffs, kicking off with the semi finals series between Virtus.pro and Team Kinguin at 09:00 PST/18:00 CET.
Dota Summit 8 Playoffs::
4 Teams: 3 group winners and winner of the Wild Card
Single Elimination
Bo3 Semifinals, Bo5 Grand Finals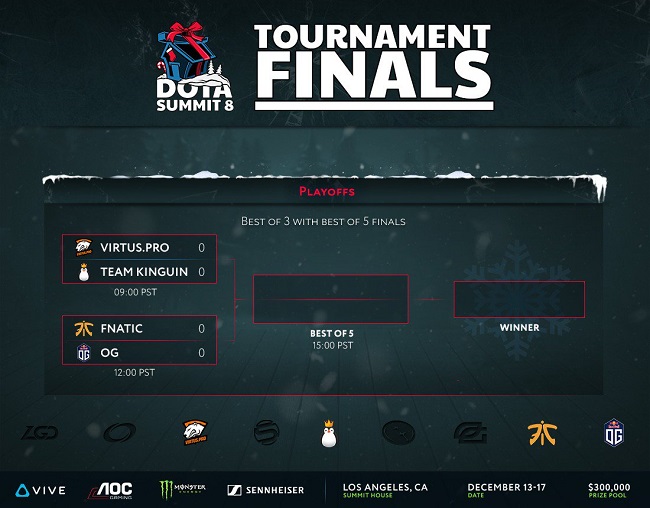 Dota Summit 8 PrizePool:
1st place: $120,000 + 150 DPC
2nd place: $60,000 +90 DPC
3rd-4th place:  $36,000 +30 DCP
5th place: $18,000 - compLexity Gaming
6th-7th place: $9,000 - OpTic Gaming/ Evil Geniuses
8th-9th place: $6,000 - LGD Gaming/Sacred