New Blood, the first-ever amateur only championships give SEA players a chance to rise

The New Blood Championships is exclusively targeted at amateur players from all Southeast Asia, and it comes with a generous $40,000 prize pool, three tournament stages and a shot at breaking into the professional scene.
Hong Kong-based   esports organization, Purpose Win Entertainment Limited (PWEL) and the Malaysian esports company Fallout Gaming (FG), one of this year's Galaxy Battles organizers, joined forces to bring to Southeast Asia the first competitive platform for amateurs. With the sole purpose of finding new rising stars in SEA and kick starting a professional career for them, the New Blood Championships is ineligible for any SEA player with a previous competitive Dota 2 background.
"Building platforms that allow aspiring competitive athletes to further their careers is the ultimate goal, we at Fallout Gaming have always believed in building platforms that allow amateurs to progress further", said Adrian Gaffor, Founder and Managing Director of Fallout Gaming in the New Blood Championships press release. "We've seen it with the likes of Mountain Dew's Dew Challenge with MidOne progressing to Fnatic and then Team Secret in its first season […] This is just one example of many and we strive to continue this drive to give the community more opportunity to actualize their aspirations. Forging partnerships with PWEL and High Grounds only helps to accelerate our vision" were the ending statements of Mister Adrian Gaffor.
With such high goals ahead, the New Blood event will take place in three phases, starting with online qualifiers followed by national LAN qualifiers finals in five countries, and culminating with a $25,000 LAN Main Event which will be held in October in Jakarta, Indonesia. Winners and runners up at the New Blood Main Event will also be rewarded with a spot into the second season of Galaxy Battles, which will take place mid-January next year in Philippines. Third and fourth place finishers will be granted a spot straight into the top 16 of SEA open qualifiers for the same Galaxy Battles season two event.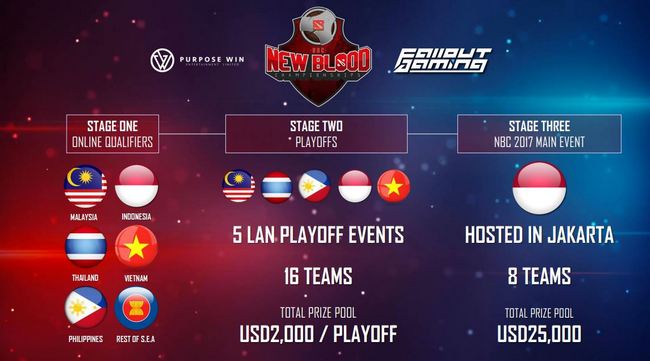 The New Blood main event LAN from Jakarta will feature the winners of each five countries LAN qualifiers, the winners of "Rest of SEA" qualifiers, one team coming from Game Plan's Dota 2 amateur tournament hosted by Genysis Esports with the last slot being yet to be announced.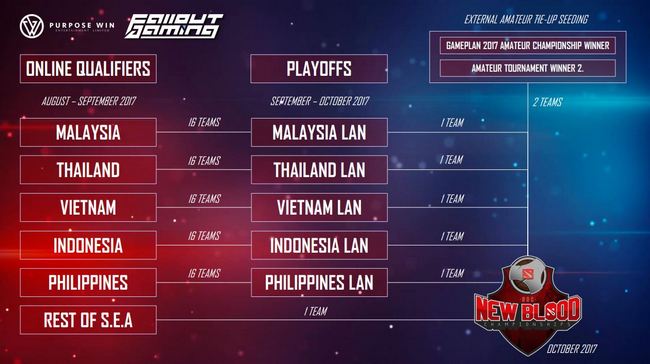 Registrations for New Blood open qualifiers have already started and all those who want to sign up can do so at newbloodchampionships.com
For the latest updates about New Blood Championships head over to our tournament hub and keep an eye on the event official Facebook page.